Ask A Researcher
January 2020
North Dakota Compass launches the 2020 State Legislative District Profiles.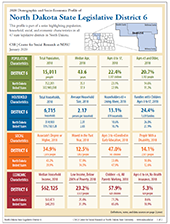 North Dakota Compass is a valuable resource especially developed for North Dakota's decision makers and residents. North Dakota Compass provides a curated collection of reliable, accurate, and unbiased demographic and socio-economic data on a variety of topics which include children and youth, early childhood and education, the aging population, civic engagement, health, housing, the environment, and the economy. One of North Dakota Compass' signature tools, developed to help decision making in North Dakota, is the State Legislative District Profiles.
Originally developed in 2014 in partnership with North Dakota KIDS COUNT, the State Legislative District Profiles highlight 16 measures focusing on population, household, social, and economic characteristics for each of the 47 districts in North Dakota. Each profile compares district information with North Dakota and the United States. The profiles are intended to encourage dialogue among legislators, members of government agencies, community-based organizations, educators, individuals, and businesses about how to best support communities and residents in North Dakota.
The template of the 2020 North Dakota State Legislative District Profiles is slightly modified from the previous editions. Under the Household category, the Householders living alone indicator was replaced with Householders age 65 and older living alone. Older adults represent a population group that deserves attention, especially since their numbers are increasing and projected to continue to increase with the aging of the baby boomers. Monitoring the number and percentage of households with older adults living by themselves helps assess the needs of the elderly population that continue to live independently. Still under the Household category, the Average EITC Credit was replaced with Families with children ages 0 to 17. This change was made to provide an indicator that is being updated at the same rate with the other indicators and using the same data source. Tracking the number and percentage of family households with children under 18 years helps planning for services, schools, and businesses in a district.
In addition to the individual profiles, North Dakota Compass created interactive maps for each indicator and grouped them by category. The maps provide an overall view and allow to easily compare district with district.
We invite you to explore the annual North Dakota Legislative District Profiles either in the map or profile format for a good snapshot of the characteristics of community residents within each state legislative district in North Dakota. They are useful for legislators to better understand the people they represent, to gain insight through reputable data that would otherwise have been difficult to find, and to understand the strengths and challenges of the district they represent. The profiles are also useful for district residents to better understand the neighborhood in which they live, and to better inform and educate themselves on the topics considered.
Read more about the North Dakota State Legislative Profiles.