Data highlight
March 1, 2023
Some unhealthy behaviors decreased among North Dakota high school students in the past decade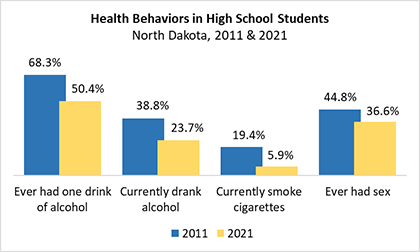 Health behaviors are actions individuals take that affect their health. They include actions that lead to improved health, such as eating well and being physically active, and actions that increase the risk of health problems, such as excessive alcohol intake, smoking, and risky sexual behavior.
The use and/or abuse of substances, such as alcohol, tobacco, and other drugs, by children and youth poses health and safety risks to them, their families, their schools, and their communities. Substance use and abuse can increase the risk for injuries, violence, HIV infection, as well as other diseases.
According to the Youth Risk Behavior Survey (YRBS) administered to high school and middle school students throughout the U.S., the percentage of high schoolers in North Dakota who ever had one drink of alcohol in their life decreased substantially from 68 percent in 2011 to 50 percent in 2021. Similarly, the percentage of high schoolers who currently drink alcohol (at least one drink of alcohol, on at least one day during the past month) decreased from 39 percent in 2011 to 24 percent in 2021. The survey for binge drinking slightly changed in 2017 and does not allow direct comparison with previous years. However, the past three years show decrease in the percentage of high school students in North Dakota who were binge drinking in the past 30 days from 16 percent to 14 percent.
According to the 2021 YRBS, 6 percent of high school students in North Dakota reported currently smoking cigarettes (at least one day in the past month), down from 19 percent in 2011. However, in 2021, 21 percent of high school students reported currently using an electronic vapor product (at least one day during the past month).
Many young people engage in sexual behaviors that can result in adverse health outcomes, such as unintended pregnancy and Sexually Transmitted Diseases, including HIV. The proportion of high school students who ever had sex decreased from 45 percent in 2011 to 37 percent in 2021.
VIEW TOPIC: CHILDREN & YOUTH/YOUTH USE OF ALCOHOL/YOUTH SEXUAL ACTIVITY
February 1, 2023
More than one in four North Dakotans (age 16 years and older) formally volunteered in the midst of the pandemic, in 2021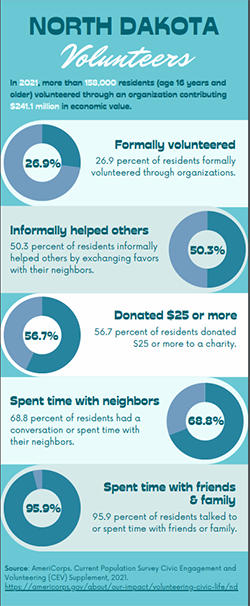 Volunteering is a form of civic engagement that brings significant benefits to individuals and communities. Volunteers are important community assets, helping to enrich the lives of those they serve and often providing care and services that neither government nor the private sector can afford to provide on their own.
The recently released 2021 Current Population Survey Civic Engagement and Volunteering Supplement, developed by U.S. Census Bureau and AmeriCorps, collected data on volunteering and other civic behaviors in the midst of the COVID-19 pandemic, from September 2020 to September 2021. Comprehensive research about civic engagement trends in the U.S. is produced every two years.
According to the survey, an estimated 26.9 percent of North Dakotans (age 16 years or older) or 158,017 people formally volunteered with organizations between September 2020 and September 2021. In total, these volunteers served an estimated 8.6 million hours of service with an economic value of $241.1 million. For comparison, although North Dakotans volunteer at a higher rate than the U.S. (23.2%), residents in neighboring states of Minnesota, South Dakota, and Montana volunteered in higher rates than North Dakota (35.5%, 34.2%, and 31.1%, respectively). Formal volunteering involves helping others through organizations and includes activities like public health efforts, conducting wellness checks on isolated seniors, supporting food banks, and providing virtual tutoring and mentoring to help students stay on track in school.
In addition to formal volunteering, the survey also collected data on informal helping others outside of an organizational context, including spending time or doing favors for neighbors or spending time with family and friends. In North Dakota, more than 273,000 people (50 percent of residents age 16 years or older) informally helped their neighbors during the pandemic in 2021.
Find more details in the infographic and on the AmeriCorps website.
Data source: AmeriCorps. Current Population Survey Civic Engagement and Volunteering (CEV) Supplement, 2021. Analytical version. Washington, DC: U.S. Census Bureau [producer]. Washington, DC: AmeriCorps Office of Research and Evaluation [producer and distributor].
VIEW TOPIC:CIVIC ENGAGEMENT/VOLUNTEERISM
january 1, 2023
North Dakota's population bounces back in 2022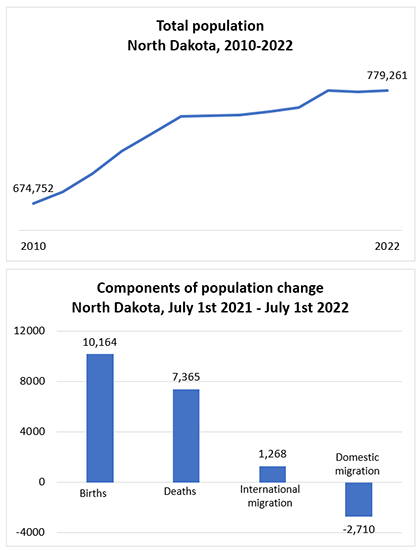 U.S. Census Bureau's population estimates as of July 1st, 2022 (779,261 people), show an increase of 1,327 people in North Dakota's population from July 1st, 2021. This small increase in population comes after a slight decline in the previous year (loss of 1,584 people according to the most recent population estimate). However, in the previous decade North Dakota witnessed tremendous population growth from 2010 to 2015 and steady growth from 2016 to 2020.
A look at the components of change reveal some insight into North Dakota's population change.
North Dakota had 10,164 births and 7,365 deaths from July 1st, 2021 to July 1st, 2022. The natural change (births minus deaths) was larger in 2022 as compared to 2021 (2,799 natural change in 2022 as compared to 2,242 in 2021). This is due to a slightly higher number of births and a decrease in the number of deaths as compared to the previous year.
Another component of population change is the net migration calculated as the number of people who enter the state (in-migration) minus the number of people who leave the state (out-migration). From July 1st, 2021 to July 1st, 2022, North Dakota experienced a larger number of people leaving than entering the state, a negative net migration of 1,442 residents. The negative net migration is due to domestic out-migration (-2,710 people) and international in-migration (1,268 people). These changes reflect a slight recovery after the COVID-19 pandemic that impacted all components of population change in 2021.
Source: U.S. Census Bureau, Population and Housing Unit Estimates, Vintage 2022 Estimates
Note:
The Population Estimates Program uses current data on births, deaths and migration to calculate population change since the most recent decennial census date and produce a time series of estimates of population, demographic components of change, and housing units.
The Vintage 2022 release contains annual estimates for 2021 and 2022 but is not comparable to previous releases due to recent changes in how migration is estimated.
VIEW TOPIC:DEMOGRAPHICS/POPULATION