Data highlight
April 1, 2021
Jobs in industries closely tied to the oil and gas sector followed similar patterns of growth and decline in North Dakota.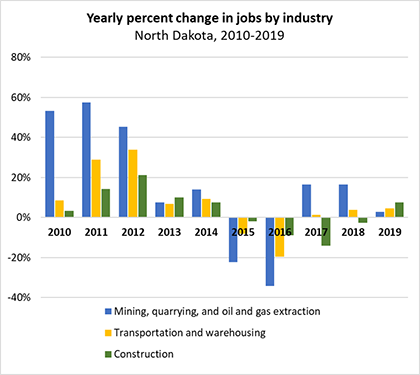 The Mining, quarrying, and oil and gas extraction industry experienced tremendous growth in the number of jobs at the beginning of the oil boom period (53% from 2009 to 2010, 58% from 2010 to 2011, and 45% from 2011 to 2012). While the growth slowed down, the industry continued to add jobs in 2013 and 2014. However, due to low oil prices and the decline in oil and gas production, the industry lost 22 percent of jobs in 2015 and 34 percent in 2016. As oil prices rose, the industry added 17 percent of jobs in 2017, 17 percent of jobs in 2018, and most recent data show a 3 percent addition in 2019.
Other industries closely tied to the oil and gas sector followed similar patterns of growth and decline in the number of jobs. Transportation is crucial for the mining industry as most materials and final products are transported by truck. After gaining jobs through 2014 and losing jobs in 2015 and 2016, the Transportation and warehousing industry added 1 percent of jobs in 2017, 4 percent of jobs in 2018, and 5 percent in 2019.
The Construction industry is also closely tied to oil and gas economic activity by creating the needed infrastructure and by supporting the needs of a growing population in the impacted areas. The Construction industry followed similar trends of growth and decline in jobs from 2010 to 2016. However, unlike the Mining and Transportation industries, the Construction industry continued to lose jobs in 2017 and 2018, but started recovery in 2019.
However, as the global pandemic has had a significant impact on all economic sectors, especially on the oil and gas industry, the job growth and/or loss situation may look very different in 2020.
March 1, 2021
The pandemic led to unmet needs for medical care.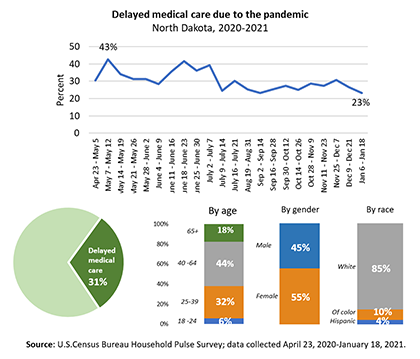 Reduced access to medical care is a serious impact of the pandemic since delaying medical care can result in health complications and even death. In general, people may delay needed medical care due to cost. As a result of the pandemic however, people delayed getting medical care or were unable to get the care they needed due to cancelled appointments or procedures, reduced transportation options, fear of going to the hospital and risk infection, or the desire to not be a burden on the health system, among other reasons1.
In North Dakota, the highest percentage of adults who delayed medical care because of COVID-19 was reported at the beginning of May 2020 (43%), with a couple of other peaks during the month of June 2020. Mid-January 2021, 23 percent of adults reported to delay medical care because of the pandemic1.
On average, nearly one-third (31%) of adults delayed getting medical care because of the COVID-19 pandemic from April 2020 to January 18, 2021. Almost half of adults who delayed medical care were 40 to 64 years old (44%) and one-third were 25 to 39 years old (32%). These two population groups are overrepresented among those who delayed medical care; the 40 to 64 years old represent 28 percent of North Dakota's population and those 25 to 39 years old represent 26 percent of North Dakota's population. Females are also overrepresented in the group of adults who delayed medical care (55 percent as compared to 49 percent in North Dakota's population). Most of the adults who delayed medical care are white non-Hispanic, while 10 percent are of other races non-Hispanic, and 4 percent are Hispanic. This distribution reflects the distribution of population in North Dakota.
1 Centers for Disease Control and Prevention (CDC), National Center for Health Statistics, Reduced Access to Care
Note: Data is provided by the U.S. Census Bureau's Household Pulse Survey, an ongoing survey to quickly provide data on how the COVID-19 pandemic has impacted American households on a range of issues.
February 1, 2021
Homeownership rate continued to decrease for all income groups in North Dakota from 2000 to 2019.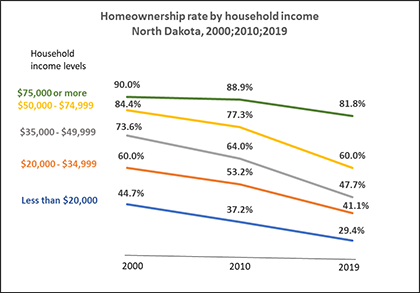 Homeownership is often used as an indicator of overall community prosperity and viewed as an important asset-building strategy for individuals. Owning a home provides an important source of stability for children and their families and is a measure of financial security. In addition to individuals, communities also benefit from high rates of homeownership. Residents who own their homes, in general, feel more rooted, take greater pride in the appearance of their homes, and have greater positive involvement with the community. However, access to homeownership depends on multiple factors such as availability of housing stock, housing affordability, and access to financing, in addition to personal preferences.
The overall homeownership rate in North Dakota decreased from 66.6 percent in 2000 and 66.9 percent in 2010 to 61.3 percent in 2019. Changes in the homeownership rate are partially attributed to changes in demographic characteristics of the population such as age, race and ethnicity, education, family status, and income.
In general, higher household incomes increase the likelihood to own a home. While the median household income* increased in North Dakota from $53,111 in 1999 to $64,577 in 2019, the homeownership rate decreased for each income group from 2000 to 2019. The largest decreases in homeownership were for householders with a household income from $35,000 to $49,999 and $50,000 to $74,000. Changes in government policy and housing market conditions and demographic characteristics potentially contributed to the decline of the homeownership rate for each income category and the increasing income disparity gaps in the homeownership rate.
This trend may be impacted in the near future by lower mortgage rates in 2020 and an increased interest in homeownership due to the pandemic.
*Median household income is adjusted for the effects of inflation or deflation (i.e., in 2019 dollars).
VIEW TOPIC: HOUSING / HOMEOWNERSHIP RATE
January 1, 2021
Voter turnout increased in 2020 in most North Dakota counties.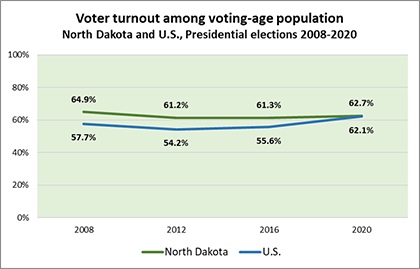 Voting is a right in a democracy. It offers people the means to elect representatives and to influence policy to best meet their needs, and those of their families and communities. Compared to the previous presidential election in 2016, all states increased their voter turnout. The U.S. voter turnout among the voting-age population increased from 55.6 percent in 2016 to 62.1 percent in 2020. Among the states, Hawaii, Utah, Montana, and California increased their voter-age turnout by 10 percentage points or more since the previous presidential election in 2016. In 2020, Minnesota had the highest voting-age turnout among the 50 states, at 75.3 percent.
North Dakota had a voter turnout of 62.7 percent in 2020, an increase from a turnout rate of 61.3 percent in 2016. Out of 581,379 North Dakota's residents of voting age (age 18 and older), 364,251 voted in the 2020 November election.
Among North Dakota's counties, Billings County had the highest voter turnout at 87.6 percent and saw the largest increase from 2016 (12.4 percentage points). Billings, Burke, Golden Valley, McHenry, McKenzie, Mercer and Stark Counties had an increase of 10 percentage points or higher as compared to 2016. The voter turnout in McIntosh, Cavalier, and Eddy Counties stayed about the same with an increase less than one percentage point. Rolette, Sioux, and Benson were the only counties who saw a decrease in voter turnout as compared to 2016.
Note:
Voting-age turnout is calculated by dividing the total number of voters (i.e., ballots cast) by the estimated voting-age population. The North Dakota Secretary of State retrieves voting-age population estimates from the Census Bureau for residents 18 years of age and older. Not all voting-age residents are eligible to vote; the estimated voting-age population may include immigrants without citizenship status, the prison population, and others ineligible to vote. Communities that have higher non-citizen and/or ineligible felon populations will therefore have lower voting-age turnout rates than other communities without these residents, even if the same percentage of eligible voters went to the polls.
VIEW TOPIC: CIVIC ENGAGEMENT / VOTER TURNOUT