Data highlight
MARCH 1, 2020
Housing costs are more of a burden for renters than homeowners.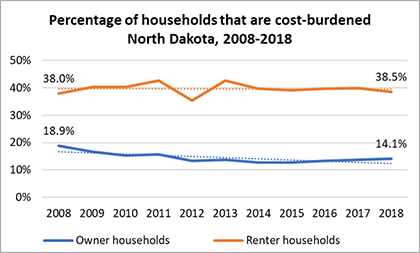 North Dakota ranked 1st in the country with the lowest percentage of households who are housing cost-burdened (i.e., 30 percent or more of the household's monthly gross income is dedicated to housing costs), at 23 percent, in 2018. Housing costs are substantially more of a burden for renters than homeowners. Thirty-nine percent of renters in North Dakota use 30 percent or more of their income towards housing costs, while 14 percent of home owners are housing cost-burdened. While the percentage of housing cost-burdened homeowners has decreased over the past decade from 19 percent to 14 percent, the percentage of cost-burdened renters has stayed the same. Moreover, there were about 11,000 more cost-burdened renter households in 2018 than in 2008 (a 35% increase from 31,533 in 2008 to 42,491 in 2018).
Households paying a large share of their income on housing are likely to struggle to pay for other basic needs, forcing difficult trade-offs. When more than 30 percent of household income goes towards rent or mortgage payments, people have to make decisions that may result in poorer outcomes in other areas of well-being, such as dropping health care coverage or skipping meals to save on costs.
VIEW TOPIC:HOUSING /COST-BURDENED HOUSEHOLDS
FEBRUARY 1, 2020
North Dakota leads all states in percentage increase in child population over the past 10 years.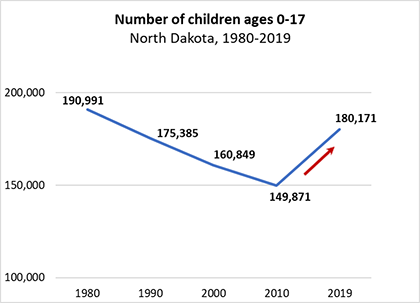 North Dakota's child population (ages 0 through 17) has changed dramatically during the past 10 years, reversing a decades-long downward trend. The change is due to an increase in the number of births along with in-migration of young families into the state.
After decreasing for many decades, the current growth, which began in 2008, has brought the number of children back to levels not seen since 1990 in North Dakota. From 2010 to 2019, the total child population grew an average of 2.1 percent per year, reaching 180,171 children in 2019, according to the most recent population estimates (U.S. Census Bureau, Population and Housing Unit Estimates, Vintage 2019). Although the pace of growth slowed down after 2015, from 2010 to 2019 North Dakota still had the highest percentage increase of children among 50 states (a 20.2% increase), gaining 30,300 children during this time frame.
VIEW TOPIC:CHILDREN & YOUTH / POPULATION TRENDS
JANUARY 1, 2020
Most historically disadvantaged students showed progress in the on-time high school graduation rate, in North Dakota, in the past five years.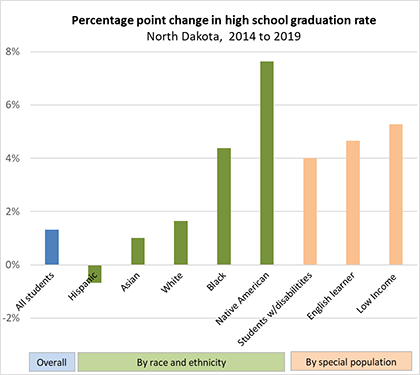 The on-time high school graduation rate is one of the indicators that measure students' progress towards readiness for college and the workforce
The high school graduation rate overall has been fairly steady the past few years in North Dakota, increasing slightly by 1.3 percentage points from 2014 to 2019. In 2019, 88.3 percent of public high school students graduated on time (i.e., in four years after starting 9th grade for the first time).
Compared to 2014, most student groups saw an increase in on-time high school graduation rate. Among them, Native American students led the progress with a 7.6 percentage point increase in the graduation rate from 2014 to 2019. The graduation rate for black students increased 4.4 percentage points, while the graduation rate for Hispanic students decreased slightly by 0.7 percentage points. Among other groups, the graduation rate increased by 5.3 percentage points for low income students, 4.7 percentage points for English learners, and 4.0 percentage points for students with disabilities.
While progress for the most historically disadvantaged student groups is notable, gaps remain considerable in 2019. Compared to students overall, there is a 16.0 percentage point gap for Native American students; 15.9 percentage point gap for English learners; 14.9 percentage point gap for students with disabilities; and 11.7 percentage point gap for low-income students.
Continued support is needed across the education continuum to sustain progress and continue to reduce the gaps.
VIEW TOPIC: EDUCATION/HIGH SCHOOL GRADUATION