Ask A Researcher
July 2015
efargo1 : City Scale Sustainability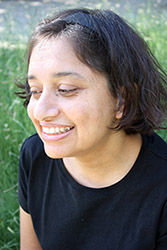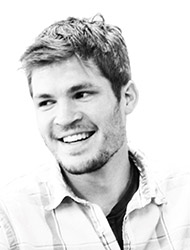 Malini Srivastava is a Certified Passive House Consultant and registered architect. In her roles as a 2014 Archibald Bush Fellow, Assistant Professor at North Dakota State University (NDSU) and co-Principal of Design and Energy Laboratory, she creates design-based solutions for energy issues in the built environment. Projects that Malini has worked on have been recognized with international, national and regional publications and awards for design, preservation and efficiency, including a COTE Top Ten award. Malini serves as the Project Leader for efargo, City of Fargo's participation in the Georgetown University Energy Prize Competition. In addition, Troy Raisanen, a 2015 Master of Architecture graduate, serves as a research and design fellow with efargo through NDSU. He is also an intern Architect with Design and Energy Laboratory. Prior to this he was a Graduate Research Assistant at NDSU, Environmental Design Intern in Nepal, Exchange student in Finland, and trail crew intern in Colorado.
The Eyes of the Future are looking back at us and they are praying for us to see beyond our own time.
-Terry Tempest Williams, Writer & Naturalist
Preventing energy waste reduces energy use, saves money and creates clean air for our communities. When it comes to buildings, there are three major ways in which energy use can be reduced and energy waste prevented: (1) employ a policy-based approach with high performance standards and matching incentives; (2) design, build, and renovate buildings and associated infrastructure to become highly efficient; (3) influence the behavior of those occupying the buildings to reduce energy waste. Although renewable energy systems may be used to transfer energy use from a fossil resource to a renewable and potentially less-polluting resource, renewables do not reduce energy waste.
What is "efargo"?
efargo is an University-City-Utilities partnership to reduce energy use in the City of Fargo while participating in the Georgetown University Energy Prize (GUEP)2 , a nationwide competition to improve the energy efficiency of small cities during a two-year competition period ending in 2016. Participation in the GUEP competition involves implementing energy-use reduction strategies and measuring current energy use against a baseline of data from 2013 and 2014. efargo has set ambitious goals for the competition period, including a 5% reduction in energy use and 5% increase in renewable energy resources by 2016. For community members who choose to participate in efargo efforts, the goals are 5 % reduction in utility bills by 2016. Initial proposals for the GUEP competition entry and quarterfinal phase were written by Srivastava, Commissioner Mike Williams, Senior Planner Dan Mahli, Research Assistant Amber Grindeland and City Intern Kristina Heggedal with supporting letters from 40+ local and regional entities including elected officials. This work resulted in Fargo advancing to the semifinal, two-year implementation phase of the GUEP.
An outcome of Srivastava's doctoral research at Carnegie Mellon University supported by a Bush Fellowship, efargo is envisioned as a series of strategic partnerships and an interconnected framework of events and actions. The efargo team3 is engaged in creating design- and technology-based tools to address urban-scale energy use. NDSU provides expertise, vision, design, grant-writing, and planning of various interlinked frameworks while collecting data and tracking impacts in partnership with the utility companies. The City of Fargo provides crucial community championship and relationship building, policy efforts, fund-raising, planning and seed funding. Other partnerships with local organizations such as K-12 schools, the Plains Art Museum, local theaters, non-profits and businesses are in the making. Ultimately, creating momentum and securing the partnership of each and every citizen is crucial to achieving the goal of measurable reduction in energy waste.
Why "efargo"?
To reduce energy using the policy track, which has the potential to cause large scale change, would require the creation and adoption of new enforceable, high-performance standards and matching investments requiring great political will and vision. This work is starting with small steps and a long-term horizon. To reduce energy via the buildings track would involve the design and construction of highly-efficient building stock, together with assessments and renovation of existing building stock to improve its efficiency. Although innovative research continues at a fast pace to achieve increasingly better efficiencies, the buildings track needs immediate, and depending upon the scale of the impact desired, large financial incentives. Lacking the resources to create major policy shifts or large-scale changes in the existing building stock in the short term, efargo is instead focusing on impacting community behavior patterns, creating awareness around reducing energy waste and making the most efficient use of existing buildings through low- or no-cost efforts (see Figure 1).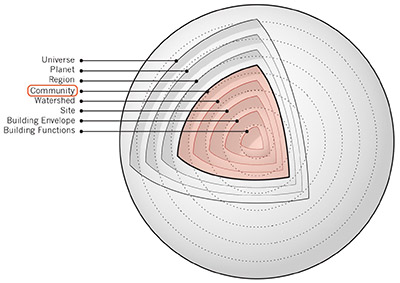 Figure 1: Illustrating community-based action as influencer to regional sustainability impact.Adapted by Troy Raisanen from Nested Systems graphic by Corey Johnston with Bill Reed and 7group4 .

Given North Dakota's cold-climate conditions, its remarkable urban population growth, the strong presence of the fossil fuels industry in the state, and its near-lowest-in-the-nation energy costs (48th lowest retail price for gas and 51st lowest retail price for electricity5 ), it is not surprising that the state ranks fourth-highest in energy consumption per capita6 and dead last in a ranking of energy efficiency policy and program efforts.7 Yet, despite considerable challenges, there is a recognition of opportunity to act, an environment of innovation, and an energized and fast-growing population with active community participation in cities like Fargo. Although cultural and behavioral shifts are difficult to create, they represent the only feasible low-cost strategy in this energized environment.
So, what are we doing?
Currently, the efargo team is researching, designing, planning and implementing a framework of inter-connected events based on the principles of Partnerships & Policy-change, Awareness & Actions, Competition & Challenges and Educational Events or PACE. The team is planning events including a K-12 Energy Challenge in partnership with area schools, a Demonstration Passive House design and construction in partnership with NDSU and Habitat for Humanity, an efargo Urban Energy Game/Race, Top-Ten Tips to reduce energy use for various building types, demonstrations of energy waste in homes, and workshops to educate homeowners about energy waste prevention.
The K-12 Energy Challenge invites area schools to participate in reducing energy waste in their buildings by empowering students with knowledge and the framework to exercise their creativity. As part of the K-12 Energy Challenge, the efargo team has envisioned the evil Dr. Waste-a-Watt (see Figure 2) character who thrives on energy waste. In the spring of 2016, K-12 students from participating schools will design super-heroines and/or heroes to defeat the evil Dr. Waste-a-Watt by creating action plans for their own schools.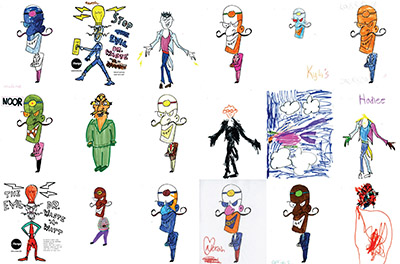 Figure 2: A selection of Dr Waste-a-Watt designs by Mackenzie Lyseng, Mike Christenson and numerous children at the Party for the Planet Earth Day event at the Red River Valley Zoo.
A demonstration Passive House, with a partnership between efargo and Habitat for Humanity, will serve as an educational process for the manufacturing, design and construction industry as well as students in higher education in related disciplines and community members. The project will showcase the possibility of affordably designing and building a home that can reduce energy use by as much as 75% over the average home, thus lowering utility bills dramatically for the home-owner.
The efargo Urban Energy Game is a race that uses the city as a game-board and scoreboard. It involves a series of challenges for individual and group players where they race to impact energy use at the individual, social, organizational and city scales to reduce energy waste in the entire community. Players win prizes that benefit not only themselves but the entire community.
Top-Ten Tips (see Figure 3) for single-family homes are currently available on the efargo.org website. These are no-cost and low-cost efforts every community member can easily implement to reduce their energy waste and their energy bills. Top-Ten Tips for rental properties will be released next with other building types to follow.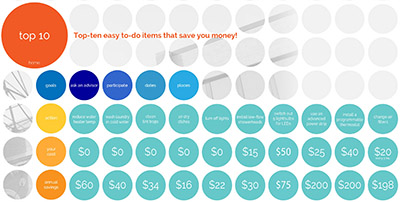 Figure 3: Top Ten Tips for single family homes from the efargo.org website. Top Ten research and graphic by Mackenzie Lyseng. Website implementation by Peter Atwood and Ryan Gram.
Given the pace of growth in Fargo8 and the opportunities with city-scale interventions during the competition period, three major areas of measurements are required: (1) understanding the current picture of energy use; (2) the impact of the PACE framework established by efargo, using knowledge mapping as a device9 ; and (3) the reporting required by the Georgetown University Energy Prize, which will eventually be displayed on the efargo.org website. In 1961 acclaimed architect Louis Kahn was quoted by the Museum of Modern Art as saying, "A great building must begin with the unmeasurable, must go through measurable means when it is being designed, and in the end must be unmeasurable." (7group and Reed, 99) Like a building, there are aspects of the measurable and immeasurable in the efargo effort that will impact the built environment at a large scale. efargo measures energy use and community participation within the parameters of the Georgetown University Energy Prize competition, however, the ultimate win is not the Prize but something even more powerful and ultimately immeasurable. The real long term goal at the heart of the efargo effort is the knowledgeable, aware and strong community voice. The current strategy of influencing energy-use culture in the community can only go so far in creating reductions in energy use by preventing energy waste. These are the proverbial low-hanging fruit with commensurate rewards. Greater shifts can be achieved by creating strong policies such as incentives to improve infrastructure and higher performance standards for built environments. Consistent with the Bush fellowship where these ideas originated, these shifts will only occur if the community has the strong will to create this change, one home at a time, one person at a time, one block at a time, one neighborhood at a time and one city at a time.
To learn more about efargo or the Georgetown University Energy Prize, please visit www.efargo.org
or contact us at malini.srivastava@ndsu.edu or troy.raisanen@ndsu.edu.
1 The efargo trademark is held by Malini Srivastava, AIA. Design and Energy Laboratory, LLC (DandElab) / 612.209.7745 / malini@dandelab.com.