ASk A Researcher
August 2013

Western North Dakota School Administrators Face Challenges
Nancy Hodur, NDSU Department of Agribusiness and Applied Economics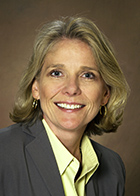 Nancy Hodur is an assistant research professor with NDSU's Department of Agribusiness and Applied Economics. She discusses the impact on local school districts due to the rapidly expanding petroleum sector in western North Dakota.
Q: What is "the Bakken?"
A: "The Bakken" is a term used to describe the Bakken Formation, a geological rock formation underlying parts of western North Dakota which has oil that was previously inaccessible. The Bakken is one formation within the Williston Basin and is largely located in western North Dakota and north eastern Montana. Due to the advent of horizontal drilling and hydraulic fracturing, oil production in western North Dakota has grown at an unprecedented rate. Employment opportunities have attracted thousands of workers creating housing shortages and straining existing infrastructure and the delivery of public services including public education.
Q: What are some of the past trends of population in the Bakken, and how do you see those projecting forward?
A: Beginning in the 1980s and through the 1990s rural counties throughout North Dakota and especially western North Dakota experienced periods of rapid and substantial decline. Some counties lost 20 percent of their population in a 10-year period. School districts were forced to adopt strategies to manage declining enrollments such as school consolidations and combining grades. Beginning in the early 2000s population and school enrollment leveled off and were relatively stable prior to the rapid expansion of activities related to the oil and gas industry. Depending on which projections model is referenced (described below), enrollment patterns from the 2012-2013 school year to the 2017-2018 school year can vary widely. For example, Williston Public School District is projected to grow anywhere from 26 percent (Model 1) to 72 percent (Model 3). For the Nesson Public School District, enrollment may show relative stability (3 percent growth; Model 3) or grow by as much as 66 percent (Model 1).
Q: What are some of the challenges facing schools in the Bakken in meeting the needs of the latest demographic changes and trends?
A: School districts are now faced with managing and planning for increasing school enrollments, which have strained existing infrastructure. School districts have added temporary classrooms and in some cases taken dramatic steps to try to alleviate the strain on physical capacity. For example, in 2011 the Williston Public School District converted a library into a classroom and moved the library into a hall way. School districts have also had to add personnel and, in order to attract teachers to the area, have been forced into the real estate business. Many school districts have purchased homes or made other arrangements to ensure new teachers have housing. Even when existing physical resources have been adequate, school districts are trying to plan for and manage the current and future effects of what in all likelihood will be continued growth.
Q: How does housing and student mobility affect the Bakken school districts?
A: School administrators talk about the number of children they know who are living in campers and RVs. They are technically classified as homeless and administrators cite the challenges that those kinds of living arrangements can present for children in school. While we don't have hard data, I have heard anecdotal reports from school administrators that the lack of appropriate housing contributes to the high mobility rates many schools are experiencing. One school superintendent told the story of how after a snow storm several families and their children left. Now housing may not be the only reason they left—perhaps they weren't properly equipped to handle a ND winter or perhaps work slowed or was impacted by the weather and the parents chose to return to wherever they came from until spring. In any case high mobility is very challenging for school districts—the fall and spring enrollment numbers may not look very different from each other, but the daily enrollment may consist of a bunch of different kids. Also, persistent high mobility rates, especially in the lower grades, do not necessarily translate into increased enrollments in the future in higher grades.
Q: Could you describe the three different scenarios you used to provide the five-year forecast for student enrollment in the Bakken schools? (This information is adapted from the Agribusiness and Applied Economics Report No. 708-S.)
Each of the enrollment estimates was based on a different metric with different underlying assumptions.
Model 1: The first estimate was based on two-year average annual enrollment change. The fundamental assumption is that growth observed in the past two years is reflective of future growth. To what degree that is true is unknown; however, considering that the common consensus is continued high levels of activity associated with the oil and gas industry, the assumption is not unreasonable. Additional information regarding workforce and demographic characteristics would help refine the estimate by providing a better understanding of what portion of the workforce will ultimately become long-term residents.
Model 2: The second estimate was based on an employment model and a population cohort model. Because the oil and gas industry is the driving force behind employment and population growth in western North Dakota, a model was developed based on various oil and gas development scenarios. The population cohort model was used to estimate age-specific projections. The model assumes the geographic distribution of children ages 5-19 will remain the same over the projection period and that changes in youth population will approximate the rate of change in enrollments. A key assumption was that only the population associated with the permanent workforce was included in the estimate. It is important to recognize that even though this model does not consider population associated with the temporary workforce (jobs associated with drilling, fracturing, gathering systems construction, etc.) it is likely that some people that would be considered part of the "temporary workforce" are residing in North Dakota for extended periods of time and are enrolling children in schools in the region. Because of the assumption related to excluding population related to this temporary workforce, Model 2 likely underestimates enrollment potential, at least in the short term.
Model 3 (maximum enrollment): The third model was based on the historic relationship between enrollment and total housing units. The number of new housing units added since 2010 and the number of planned housing units in each school district was estimated using information collected from local sources. A ratio of students to household units was calculated and used as a baseline to estimate student to housing ratios. The student to housing ratio was applied to recently constructed housing and the number of planned housing units in each of the case study districts. Model 3 estimates are based on housing potential. The model assumes that all platted and zoned housing units will be built according to developers' plans within the 5-year study period. The model also assumes that the occupants of new housing units have similar demographic characteristics, such as long-term permanent residency. This assumption may result in an overestimation of future enrollments because it is likely that some occupants of new housing units are associated with the temporary workforce. However, based on housing potential, this model estimates the maximum enrollment potential assuming all housing units are constructed and occupied by individuals with demographic characteristics consistent with the historic long-term permanent population.
Q: How can schools in the Bakken prepare for the future?
A: I wish I had an answer for that question. School districts are faced with a difficult challenge. The changes and impacts associated with the ramp up of oil and gas production in western North Dakota has been nothing short of extraordinary. The unique characteristics of the workforce, especially those associated with activities considered "short-term" (as related to the life span of the oil field), compound the challenges that school districts face as they plan for the future. No system of best practices or standard methods exists that school districts can use to estimate future enrollment. Additional research is needed to help refine estimates and models, specifically related to workforce characteristics and student mobility. Because the circumstances in western North Dakota are unique and unprecedented, the systems and methods used to estimate future enrollments will be an evolving process.
For more information, a July 2013 in-depth article from the fedgazette interviews Nancy Hodur and last month's NDCompass columnist, Dean Bangsund: "Congratulations on your oil boom…now the real work begins."