Ask A Researcher
May 2019
2019 Compass Points: Setting direction for improving the quality of life in North Dakota

Ina Cernusca is a research specialist with the North Dakota Compass project and the Center for Social Research at North Dakota State University. North Dakota Compass provides and promotes the use of reliable, accurate, and unbiased demographic, economic, and socio-economic data to support informed decision-making and community engagement in North Dakota. As a part of the North Dakota Compass team, Ina contributes to the project by creating and implementing strategies to continually grow and improve the quality of the website, by developing and monitoring performance measures, implementing impact evaluation methods, and conducting research projects associated with North Dakota Compass. In this article, Ina highlights the notable trends and data points that appear in North Dakota Compass' newly released 2019 Compass Points.
North Dakota Compass (ND Compass) just launched its signature publication, the 2019 Compass Points. The annual indicator report includes data and analysis about notable trends, key demographics, and a dashboard look at measures of progress in key topic areas in North Dakota. The report uses the most recent data published by national data sources such as U.S. Census Bureau, U.S. Bureau of Economic Analysis, U.S. Bureau of Labor Statistics, as well as local, state specific data sources like ND Department of Public Instruction, ND Department of Health, ND Secretary of State, and ND Job Service. The goal of this publication is to provide data and analysis to better identify and build understanding about the issues and opportunities facing the state of North Dakota.
The most notable trends highlighted in this year's report are:
1. North Dakota's population slightly increased in 2018.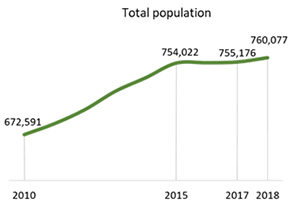 After five years of continuous growth (2010-2015) due to energy development in the western part of the state, North Dakota's population remained relatively unchanged from 2015 to 2017. However, from 2017 to 2018, North Dakota's population increased by 4,901 people. The majority of the increase in population was attributed to natural growth (4,656 more births than deaths). The net migration, although small (218), turned positive for the first time since 2015, with more people entering than leaving the state from July 1st 2017 to July 1st 2018. The 0.6 percent increase in population from 2017 to 2018, ranks North Dakota 19th highest among the 50 states in percentage increase during that time period. With the current estimate, North Dakota retains its status as the 47th most populous state, with only Alaska, Vermont, and Wyoming ranking below.
2. Older adults in North Dakota are more educated than 10 years ago.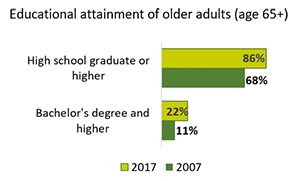 Educational attainment levels of individuals in North Dakota have changed over the recent past. Overall, most age groups are more educated than they were ten years ago, with older adults seeing the largest increase in educational attainment. Compared to 10 years ago, a larger proportion of North Dakota adults age 65 and older have graduated from high school (86% in 2017 compared to 68% in 2007) and attained a bachelor's degree or higher (22% in 2017 compared to 11% in 2007). Higher levels of education provide older workers with a number of benefits. Older adults with higher educational attainment are more likely to work past retirement age and less likely to be employed in physically-demanding jobs or jobs with difficult working conditions. They also are more likely to have access to flexible work arrangements.
3. North Dakota surpassed all other states in median household income increase over the past decade.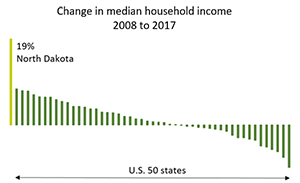 North Dakota's median household income has substantially risen since 2008 when the most recent oil boom began. After peaking in 2015 and slightly decreasing in 2016, the median household income held at $61,843 in 2017. Overall, the median household income increased 19 percent from 2008 to 2017, by far the largest increase of all 50 U.S. states during the time period. It's important to note that changes in median household income are not merely the result of the state of the economy, it also reflects changes in household characteristics, such as the size and composition of households, the employment status, and the educational attainment levels of household members, among others.
4. The age structure in North Dakota is changing.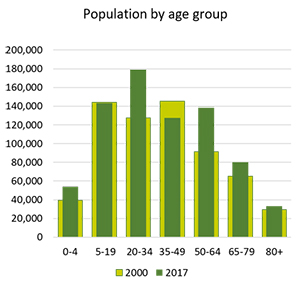 From 2000 to 2017, the number of young children (age 0 to 4) increased by 37 percent and the number of young adults (age 20 to 34) increased by 41 percent. This change was influenced by an increase in the number of births coupled with an influx of young people to the state due to North Dakota's energy development activities. The aging of the baby boomers and increased life expectancy have led to an increase in population age 50 and older. Specifically, the 50-64 year olds grew by 51 percent, from 91,428 in 2000 to 138,139 in 2017. In contrast, the prime working-age population (age 35 to 49) decreased by 12 percent. These changes bring both opportunities and challenges which could have consequences for the society and the economy. Understanding the age structure of a community is essential to plan for services like schools, housing, healthcare, and transportation.
In addition to the main trends, a dashboard provides key metrics in all topics on the ND Compass website, highlighting how they compare to other states and how they are trending.
In 2017, North Dakota ranked first among the 50 states for…
Highest percentage of young children (younger than 6) for whom all parents are working (76.3%)
Lowest percentage of households who are cost-burdened from housing (22.8%)
Highest percentage of the civilian population (age 16-64) who are employed (79.7%)
North Dakota ranked among the top 5 states for…
The percentage of older adults (age 65 and older) who volunteer (41.1%) (3rd highest)
The percentage of babies born at low birth weight (6.7%) (4th lowest)
The percentage of older adults (age 65 and older) with a disability (30.4%) (5th lowest)
North Dakota ranked among the bottommost states for…
The percentage of children (3 and 4 years old) enrolled in preschool (29.4%) (rank 50 out of 50 states)
Homeownership rate (63.4%) (rank 40 out of 50 states)
Compared to 2016, North Dakota significantly improved on a number of measures in 2017:
Older adults (age 65 and older) with a disability (decreased from 34.2% to 30.4% and from rank 20 among the 50 states to rank 5)
Percent of eligible voters who voted in the midterm election (32% increase from 43.8% in 2014 to 57.8% in 2018)
Annual change in real Gross Domestic Product (GDP) (from 4.9% decrease in 2016 to 1.0% increase in 2017)
Compared to 2016, North Dakota trended unfavorably on a number of measures:
Adults (age 18 and older) who are obese (from 31.9% in 2016 to 33.2% in 2017)
Residents (under age 65) who are uninsured (from 8.1% in 2016 to 8.8% in 2017)
Median household income for households headed by older adults (age 65 and older) (from$41,889 in 2016 to $41,237 in 2017)
The North Dakota by Numbers section on Compass Points features notable data points in demographics, economy, health, civic engagement, and workforce. Among the data highlighted are:
Increase in the population of color in North Dakota from 2010 to 2017 (56.9% increase in North Dakota as compared to 14.8% in the U.S.)
Disparity by income in high school graduation rate (73.5% for lower-income students as compared to 91.9% for higher-income students)
Five percentage point increase in obesity rates from 2011 to 2017 (from 27.8% in 2011 to 33.2% in 2017
Large increase in the number of children racially identified as Black (from 2,780 in 2010 to 7,131 in 2017)
All data for the 2019 Compass Points is provided by North Dakota Compass with the most recent data updated in April 2019. Data sources, years, margins of error, and additional notes are available on ndcompass.org.