Ask A Researcher
April 2021
A look inside the 2021 Compass Points.

North Dakota Compass provides and promotes the use of reliable, accurate, and unbiased demographic, economic, and socio-economic data to support informed decision-making and community engagement in North Dakota. The North Dakota Compass team promotes the use of quality data through presentations, workshops, newsletters, and social media. This article highlights the notable trends and data points that appear in the newly released 2021 Compass Points.
North Dakota Compass (ND Compass) just launched its signature publication, the 2021 Compass Points. The 2021 Compass Points brings a new element to this already useful data publication. As the need for timely and relevant data to make immediate decisions and plan for the future in light of the pandemic is paramount, the 2021 Compass Points examines the impact of COVID-19 on North Dakota households and those most at risk. In addition, the 2021 Compass Points continues to capture the current state of North Dakota, how North Dakota fares in relation to other states, and measures of progress over time in key topic areas. The report uses the most recent data published by national data sources such as U.S. Census Bureau, U.S. Bureau of Economic Analysis, U.S. Bureau of Labor Statistics, as well as local, state specific data sources like ND Department of Public Instruction, ND Department of Health, ND Secretary of State, and ND Job Service. The goal of this publication is to provide data and analysis to better identify and build understanding about the issues and opportunities facing the state of North Dakota.
Impact of Covid-19; Placing many North Dakota households at risk
The most notable impacts highlighted in this year's report are:
1. Two in five adults in North Dakota report loss of employment income, for self or household member, since the beginning of the pandemic.

The health and economic crisis caused by the COVID-19 pandemic resulted in the loss of employment income for many people for a variety of reasons (e.g., illness with coronavirus, caring for ill family members, school and child care closures, business closures, furlough and lay-offs). Among North Dakota adults (age 18 and older), an average of 39 percent reported lost employment income since the beginning of the pandemic, either personally or for another adult in their household.
The hardest hit population groups are the youngest adults, population of color, those with lower household income, and those with lower educational attainments. Half of young adults (age 18-24) in North Dakota reported living in a household that experienced loss of employment income at some point during the pandemic. About half of people of color or of Hispanic origin experienced a job or wage loss due to the coronavirus outbreak. The lower the household income, the higher the likelihood that someone in the household to have experienced loss of employment income. Adults with a bachelor's degree or higher were less impacted by loss of employment income in their household than adults with lower educational attainment.
2. Householders with children were disproportionally affected by the pandemic.

Households with children (age 0-17) in North Dakota were more likely to have experienced negative economic effects as a result of the pandemic than households without children.
Almost half of households with children experienced loss of employment income since the beginning of the pandemic. One in three households with children reported difficulty in paying for usual household expenses (e.g., food, rent or mortgage, car payments, medical expenses, student loans). One in four households with children who rent a house or apartment reported not being caught up on rent payments. Food insufficiency was also more prevalent for households with children; one in ten households with children reported not having enough food to eat
3. The pandemic limited access to medical care in North Dakota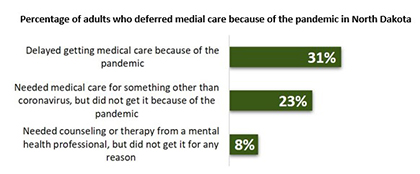 In addition to direct effects of the coronavirus resulting in hospitalizations and deaths, effects from deferred medical care will most likely bring additional challenges for individuals and the healthcare system.
In North Dakota, one-third of adults delayed getting medical care because of the coronavirus pandemic and one-fourth of adults needed medical care for something other than coronavirus, but did not get it because of the pandemic. In addition, although an increased number of people reported symptoms of depression and anxiety due to the pandemic, one in twelve adults in North Dakota reported not getting counseling or therapy from a mental health professional when they needed it. Reduced access to care is a serious impact of the pandemic since delaying medical care can result in health complications and even death.
4. The pandemic disrupted education in North Dakota

Households with children enrolled in public or private school (grades K-12) were impacted by disruptions in the education system during the COVID-19 pandemic. As part of an effort to contain the spread of the coronavirus, many public places such as schools were closed so people could stay home and prevent further spread. Many school systems adapted alternate methods of continuing course work. Three in five adults in households with children enrolled in public or private schools in North Dakota reported that classes were changed to a distance learning format. One in five adults reported that classes were canceled and for one in ten households, classes changed in some other way. In addition, one in ten adults with children in public and private schools reported that the pandemic did not affect how children receive education.
Notes:
All data were obtained from the U.S. Census Bureau's Household Pulse Survey (data collected April 23, 2020-January 18, 2021). The survey is part of a number of experimental data products developed by the Census Bureau. While the data have some limitations due to online administration and lower response rates, benefits are notable since the survey produces near real-time data to help measure the impact of the COVID-19 pandemic on households.
State of the State Dashboard
The state of the state dashboard provides key metrics in all topics on the ND Compass website, highlighting how North Dakota compares to other states and how the state is trending.
In 2019, North Dakota ranked 1st among the 50 states for…
The percentage of the civilian population (age 16-64) who are employed (79.9% - 1st highest)
Real compound annual growth rate of GDP (4.2% - 1st highest)
North Dakota ranked among the top 5 states for…
The percentage of households who are cost-burdened from housing (22.8% - 2nd lowest)
The percentage of children (under age 6) with working parents (76.1% - 5th highest)
North Dakota ranked among the bottommost states for…
The percentage of children (3 and 4 years old) enrolled in preschool (28.5% - rank 50 out of 50 states, lowest percentage)
Homeownership rate (61.3% - rank 46, from highest to lowest percentage)
Compared to the previous year, North Dakota significantly improved on ...
Percent of eligible voters who voted in a presidential election (increased from 61.7% in 2015 to 64.5% in 2019)
Total nonfarm payroll jobs (increased from 434,900 in 2018 to 439,200 in 2019)
Compared to the previous year, North Dakota trended unfavorably on ...
Older adults (age 65 and older) who volunteer (decreased from 41.1% in 2018 to 32.0% in 2019)
Residents (age 16 and older) who volunteer (decreased from 40.3% in 2018 to 35.2% in 2019)
Annual change in real Gross Domestic Product (GDP) (from 4.3% change in 2018 to 0.9% increase in 2019)
Percentage of children enrolled in preschool (decreased from 37.2% in 2018 to 28.5% in 2019)
Data for the 2021 Compass Points is provided by North Dakota Compass with the most recent data updated in February 2021. Data sources, years, margins of error, and additional notes are available on ndcompass.org.
Download the 2021 Compass Points.
Browse ndcompass.org for more actionable data and trends.