Ask A Researcher
November 2019
Risk Behaviors among Women with a Recent Live Birth in North Dakota: Findings from the 2017 North Dakota Pregnancy Risk Assessment Monitoring System (PRAMS)

Grace Njau is the Principal Investigator of the North Dakota Pregnancy Risk Assessment Monitoring System (PRAMS). She also serves as the Assistant Director of the Office of the State Epidemiologist at the North Dakota Department of Health. Grace received her master's degree at the University of Colorado in 2014 and is currently a doctoral candidate at the University of Tennessee.
Nancy Hodur is the Center for Social Research Director at North Dakota State University. Nancy has over 25 years of professional experience in applied research, public policy, and outreach education. Chelsey Hukriede is a research specialist and the PRAMS Project Coordinator at the Center for Social Research. The NDSU Center for Social Research contracts with the North Dakota Department of Health to conduct mail operations and data analysis for ND PRAMS.
In this article, Grace, Nancy and Chelsey discuss the implementation of ND PRAMS and some of the key findings of the study so far.
Tell us a little bit about PRAMS:
The Pregnancy Risk Assessment Monitoring System (PRAMS) is a collaborative agreement research project between the North Dakota Department of Health and the Centers for Disease Control and Prevention (CDC). PRAMS was initiated in 1987 with the overall goal of reducing infant morbidity and mortality. It is the only surveillance system that provides data about pregnancy and the infants' first few months after birth. PRAMS is especially useful in identifying women and infants at high risk for health problems, for monitoring changes in health status, and in measuring progress toward goals for improving the health of mothers and infants (https://www.cdc.gov/prams/about/prams-faq.htm).
In North Dakota, PRAMS is especially relevant given the disparities we see in infant mortality. At 9 infant deaths per 1,000 live births, American Indian infants are more than twice as likely to die in the first year of life compared to White infants (4 per 1,000). American Indian infants are also more likely to be born premature, and to be admitted to the Neonatal Intensive Care Unit at birth. It is therefore important to identify the primary drivers of these poor birth outcomes and also to work on interventional strategies that will help reduce these disparities.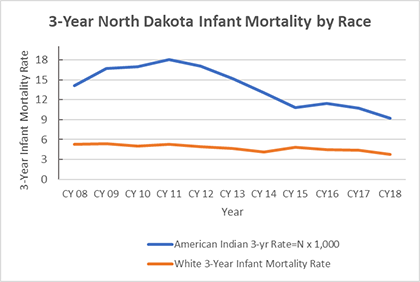 Source: North Dakota Division of Vital Records
Given what we know about maternal and infant disparities in North Dakota, how did you ensure inclusion and cultural competency in implementing the study?
Given the poor historical experiences of many tribal populations with past research efforts, participation in projects such as PRAMS may be severely hindered. With the growth of Tribal Epidemiology Centers and tribal research organizations, working with the existing tribal research infrastructure in these communities was especially important to ND PRAMS. Considering the higher burden of poor maternal and infant outcomes in American Indian populations in the state, one objective of the 2016-2021 ND PRAMS is to foster deep and enduring partnerships by maintaining high-quality culturally-competent research practice/s with American Indian tribes in North Dakota.
To achieve this objective, ND PRAMS created a Tribal Sub-committee within the ND PRAMS Steering Committee. This group consists of members from: the ND PRAMS Program Staff, Tribal Nations Research Group, the American Indian Public Health Resource Center, the Indian Affairs Commission, and key Maternal and Child Health community partners throughout the state. This tribal sub-committee is charged with developing culturally-competent educational materials, outreach to communities, as well as ensuring proper tribal approval at each reservation before study implementation. ND PRAMS also worked closely with the Northern Plains Tribal Epidemiology Center to implement data collection at both the Standing Rock and Lake Traverse Region Reservations.
What are some of the key findings of the study to-date?
Briefly, as reported in the 2017 ND PRAMS, about 41% of pregnancies in the state are unintended. The rate of unintended pregnancy was especially higher among American Indian women at 65% and even higher among teenage women at 89%. Teen mothers make up approximately 3% of the maternal population in the state, representing about 343 births in 2017.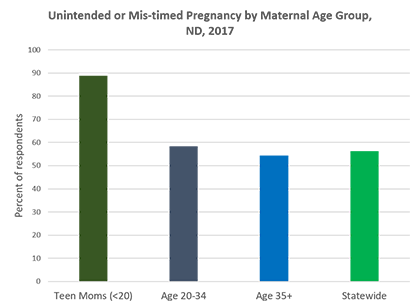 Source: North Dakota PRAMS, 2017
Family planning and pregnancy intention is especially critical in the utilization of preventive services early on in a pregnancy. For example, the American College of Obstetricians and Gynecologists recommends 400 micrograms of folic acid daily before and during pregnancy to prevent birth defects of the brain, spine, or spinal cord. Given the difficulty in achieving this through diet alone, a multi-vitamin containing folic acid is recommended. In 2017, only 40% of women with a live birth reported using a multi-vitamin with folic acid four or more days a week, i.e. 60 percent of women reported not using a multi-vitamin in the month before pregnancy. Among women with an unintended or mistimed pregnancy, this rate was 66.5% as compared to 37.3% among those with an intended pregnancy.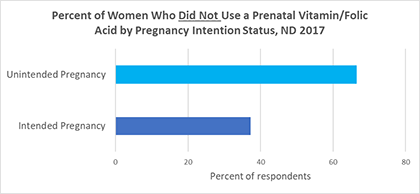 Source: North Dakota PRAMS, 2017
Overall, approximately 88% of women reported that they initiated early prenatal care. Among women who did not receive early prenatal care, the most commonly cited reasons were that they did not know that they were pregnant (18.7%), had no health insurance (14.5%), and could not get an appointment with a provider (12.1%).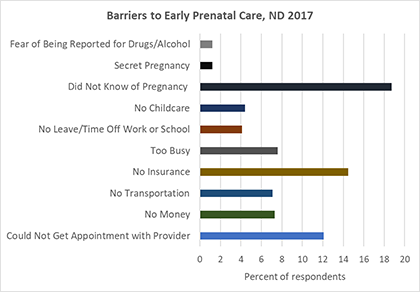 Source: North Dakota PRAMS, 2017
Taking a look at pre-natal dental care, approximately 66% of women with a live birth reported having had a dental visit in the twelve months before pregnancy.
White women were twice as likely to have had a dental visit at 72% compared to women of other races (32%). Among North Dakota Medicaid enrollees, 52% reported having had a dental visit in the preceding year. Additionally, only 47% of women reported having had their teeth cleaned. White women were more likely to have had their teeth cleaned at 53%, compared to women of other races at 25%.
Maternal tobacco and substance use continue to be a challenge in North Dakota. Overall, 13% of women with a live birth in 2017 reported using tobacco during pregnancy. American Indian women disproportionately utilized tobacco at 29% compared to women of other races at 9.6%, and White women at 11.6%. Additionally, 6% of women reported using electronic cigarettes (e-cigarettes) in the last two years. Teenage women were significantly more likely to report electronic cigarette use at 26% compared to women aged 20 through 34 at 6.3%, and women at 35 years of age and older at 0.3%.
Heavy drinking and alcohol use can be a risk factor creating adverse outcomes for both mother and baby. In 2017, 70.4% of women reported alcohol use in the three months before pregnancy. Of those, 3% reported drinking more than 8 drinks a week, which is considered heavy drinking among women. White women and women aged 25 through 34 reported the higher rates of drinking at 3.7% and 3.5% respectively. The highest rate of heavy drinking occurred among those with a high school education at 5.1%.
Taking a peek at the PRAMS data concerning opioid use, statewide, there were 60 cases of Neonatal Abstinence Syndrome reported in 2017. Neonatal Abstinence Syndrome is most commonly caused by maternal opioid use. In 2017, approximately 5% of pregnant women reported taking prescription pain medication during pregnancy. About 10% of American Indian women reported taking prescription pain medication compared to women of other races at 2%. Marijuana use during pregnancy was also more commonly reported among American Indian women at 7.7% compared to White women at 2.5% and women of other races at 2%.
Considering PRAMS data regarding the post-pregnancy period, mental health was one of the issue area indicators that stood out. The rate of postpartum depression among women with a live birth in 2017 was nearly 10%. American Indian women reported the highest rate of postpartum depression at 22%, closely followed by women of other races at 16%. White women reported the lowest rate of post-partum depression at 7.4%. Lower income women enrolled in Medicaid and WIC (Women, Infants and Children Program) were also more likely to report post-partum depression at 17.3% and 15%, respectively. Participation in programs such as WIC does present an opportunity for postpartum screening and referral to medical services.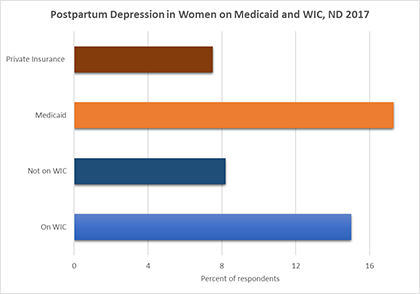 Source: North Dakota PRAMS, 2017
So what are some of the future directions of the program?
North Dakota was funded by the CDC to implement core surveillance through 2021. PRAMS has an ongoing surveillance system in place and in 2018 was funded to add more questions to the survey specific to opioid use and maternal disability.
The core survey has over 300 variables and I look forward to partnering with other researchers in learning from their shared stories and research just what we can do to help each other improve the health and wellness of North Dakota's women, children and families.