Ask A Researcher
March 2023
Every Dad Counts: North Dakota Fatherhood Experiences Survey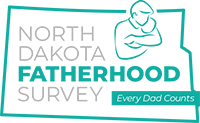 Hannah Hanson is the Men's Health Coordinator at the North Dakota Department of Health and Human Services. She works to promote awareness of men's disparities, father engagement and advocate for collaborative men's health initiatives.
Grace Njau, PhD, MPH is the Director of Special Projects and Health Analytics at the North Dakota Department of Health and Human Services. She will also serve as the Principal Investigator of the North Dakota Fatherhood Experiences Survey. Dr. Njau is passionate about early childhood research, and all-things-data, especially rapid and targeted data dissemination to inform policy and program planning.

Acknowledgements
The Fatherhood Experiences Survey is a collaborative effort headed by the North Dakota Department of Health and Human Services in partnership with the Center for Social Research at North Dakota State University, and the Northwestern Feinberg School of Medicine.
Background
The North Dakota Fatherhood Experiences Survey is a one-year pilot project designed to parallel the North Dakota Pregnancy Risk Assessment Monitoring Survey (PRAMS). The survey will collect paternal perspective data on the transition to fatherhood, men's impacts on maternal and child health outcomes, and identify opportunities to improve men's health.
The Centers for Disease Control's (CDC) Pregnancy Risk Assessment Monitoring Survey (PRAMS) has collected annual state-specific data since 1987, with North Dakota being selected to join the survey in 2017. PRAMS collects population-based data on maternal attitudes and experiences before, during, and shortly after pregnancy. These data is used to identify groups of women and infants at high risk for health problems, monitor changes in health status, and measure progress towards the goals of improving the health of mothers and infants. Historically, this data has only been collected from mothers, without a complementary survey to fathers during the perinatal period and the period of transition to fatherhood. Consequently, collecting data from only the maternal perspective creates an incomplete picture and fails to illustrate the role and impact fathers can have on health outcomes for the whole family. Decades of research demonstrates the positive impacts of paternal engagement on maternal and child health outcomes. Father engagement is associated with earlier initiation of prenatal care, longer periods of breastfeeding, improved social and cognitive development for children, among other positive outcomes.
In 2017, the CDC worked with Georgia Department of Public Health to develop a PRAMS for Dads survey that built on the success of PRAMS to capture the father perspective on the transition to fatherhood. Since then, four other states have developed similar surveys to target efforts in their respective states. North Dakota will be the fifth state to join the effort, by piloting a one-year Fatherhood Experiences Survey starting in June of 2023. The specific aims of the project are as follows:
To improve the health and wellness of men, children and families in North Dakota through surveillance of fathers' social, medical and economic experiences and perspectives.
To examine the risks, benefits and opportunities relating to parenthood, and men's health to inform future programs and education.
Survey & Collected Information
The Fatherhood Experiences survey will comprise of approximately 70 questions, and will collect data on key topics such as, father's health and access to healthcare, attitudes and experiences on early childhood, substance use and concerns, and gaps in information and resources specific to men and fathers. Given the interconnectedness of men's, women's, and children's health, data from this survey will be relevant to a wide variety of programs and stakeholders. It will allow for a more targeted approach to supporting fathers in the transition to fatherhood and identify areas for collaboration between maternal and paternal health initiatives and healthcare providers. The data from North Dakota will also be comparable to the data collected by other states administering paternal experience surveys and contributing to a growing body of national data.
Anticipated Challenges & Next Steps
In North Dakota, limited contact information is collected from fathers on the birth certificate, presenting a challenge in delivering the survey to the intended recipients. Currently, phone numbers and mailing addresses are only collected from mothers for the birth certificate. This limits the survey delivery options to indirectly reaching fathers through the mother's contact information, instead of a Direct-to-Dad approach. Therefore, the Fatherhood Experiences Survey will be sent alongside the maternal PRAMS survey to the mailing address of approximately 60% of the mothers being surveyed. This method was chosen for now because in 2020, North Dakota ranked 7th highest compared to other states for percent of births to married mothers (67.2% mothers married). This suggests that the majority of fathers being surveyed will likely live at the same address collected from mothers and will not require the additional step of mothers delivering the survey to fathers living other locations. It is also worth noting that the rates of births out of wedlock are significantly higher in racial minority populations with American Indian women experiencing the highest rates of out of wedlock births.

Survey Significance
This study will collect novel data on men's health and the paternal impact on birth outcomes, while acknowledging the contributions of fathers and recognizing their significance as parents. It contributes to the understanding of the important role becoming a father may play in men's health, health behaviors, and healthcare use in this time period, and the importance fathers can play in their families' lives. Studies like the Fatherhood Experiences Survey can help quantify men's health behaviors and service needs, which can be used to inform recommended clinical services such as screening for alcohol use, substance use, depression, and oral health. Targeted focus in these areas may lead to better understanding of and interventions aimed at men's increased morbidity from chronic conditions, riskier behaviors, and reduced life expectancy.
This survey will collect data specific to fathers in North Dakota, while furthering the CDC's goal of 30 states having a fatherhood experience survey by 2030. Contributing to a national body of data on fathers will allow for the opportunity of national level change to support the health and wellbeing of new fathers.
The Fatherhood Experience Survey also represents a commitment by the North Dakota Department of Health and Human Services to reinforce the power of 'Family Health' rather than siloed approaches to 'Men's Health' and 'Maternal and Child Health'. Advancing understanding of health and wellbeing for fathers can provide valuable information used to improve programming, policy, and health not only for fathers but also for their families. This survey will provide invaluable information to support initiatives promoting the health and wellbeing of all North Dakota families.
We look forward to hearing from North Dakota dads!