Ask A Researcher
April 2023
North Dakota Compass: 10 years of Measuring Progress and Inspiring Action.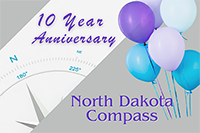 Kendra Erickson-Dockter is a research specialist with the Center for Social Research at NDSU and provides support for projects, such as PRAMS, SOARS, and North Dakota Compass. Kendra received her master's degree in Sociology at NDSU.
As the first ND Compass Project Director, Kendra helps us celebrate an important anniversary: 10 years of North Dakota Compass.
North Dakota Compass (ND Compass) is celebrating its 10th anniversary of service and contributions to the people and organizations of North Dakota. These 10 years would not have been possible without people and organizations believing in ND Compass' valuable work, mission, and goals over the years.
The North Dakota Compass Program
Launched in 2013, North Dakota Compass, a statewide social indicators program, unique in North Dakota, was developed to support, empower, and enable North Dakota nonprofits, community leaders, government agencies, educators, foundations, and policymakers to meet their goals and objectives to positively impact their communities and the state. ND Compass continues to be a centralized source for current, curated, accurate, and unbiased actionable demographic and socio-economic data, placed in context, to support decision making and community engagement in North Dakota.
More than a data provider, ND Compass has always been a data champion. Over the years, we have connected with a broader audience by providing reader-friendly information to increase public knowledge about key issues through articles, data highlights, monthly newsletters, social media posts (Facebook, Twitter, LinkedIn), giving presentations and workshops, and hosting data/demographic conferences. We also recognized the need for data literacy, networking, and community building thus providing resources and education over the years.
We are working to increasing website flexibility and responsiveness to the changing needs and opportunities of North Dakota organizations and communities and will continue to provide a website that contains understandable, simple, and straightforward statistics; statewide trends, charts, analysis and narrative; in addition to valuable tools and resources; among other services.
Thank You
We at ND Compass count ourselves fortunate to have organizations that believed and continue to believe in, support, and invest in ND Compass' mission to measure progress and inspire action. Thank you, especially to the Bush Foundation and Otto Bremer Trust, for making it possible for our program to exist and to impact North Dakota communities and organizations! And thank you to all organizations that provided assistance along the way. Whether through monetary support, in-kind donations or inter-organization cooperation, all partners have an important role in assuring that ND Compass provides and promotes the use of credible data to improve quality of life in North Dakota. And because of their generosity and support, users of ND Compass are able to achieve their goals, create impact, and better North Dakota communities and the state.
Helping create impact in North Dakota is essential for a program such as ND Compass. Early on, it became clear that the impact cannot be measured by the number of charts or articles posted on ND Compass. Although important, these tools are meant to be used to inform decision and policy making, measure progress, and to inspire action. The real impact of the program are the people whose lives have been changed, because of the work that was accomplished with the help of the data and tools ND Compass provided. Thank you to the users of ND Compass! Your work is incredibly valuable. Continue to use credible, trustworthy, and non-biased data and resources to make impact in your communities and organizations.
And if you feel so inclined, we would appreciate you letting us know about the wonderful work that you are doing or have accomplished with the help of data and information tools from ND Compass!
How Does a ND Compass Celebrate 10 Years of Service?
How does a program like ND Compass commemorate 10 years of hard work, service, and use of a valuable data and information program? By analyzing data, of course! Maybe even 10 years of data?!?
To commemorate 10 years of ND Compass, we thought it was fitting to make this year's Compass Points an Anniversary Edition and analyze key trends over the decade – where was North Dakota 10 years ago compared to today?
COMPASS POINTS 2023: ANNIVERSARY EDITION
Compass Points 2023, ND Compass' signature publication sponsored by Dakota Medical Foundation, just launched, and continues to capture the current state of North Dakota, how North Dakota fares in relation to other states, and measures of progress over time in key topic areas. The goal of this publication is to provide data and analysis to better identify and build understanding about the issues and opportunities facing the state of North Dakota.
Below are several of the notable trends highlighted in this year's anniversary edition of Compass Points.
North Dakota's 8 most populous cities accounted for 90 percent of state's total population growth in the past decade.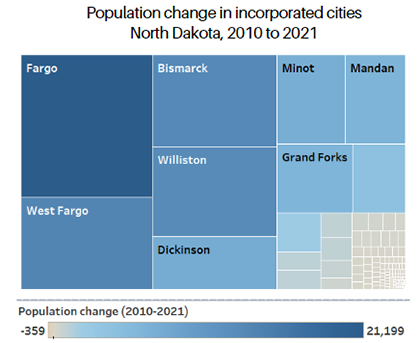 North Dakota has 357 incorporated cities which accounted for 78 percent of the state's population in 2021. Among them, from 2010 to 2021, 136 cities increased their population, 3 cities stayed the same, and 218 cities saw a decrease in population. Overall, the population of the 357 incorporated cities increased by 95,179 people from 2010 to 2021. Combined, the 8 most populous cities of Fargo, Bismarck, Grand Forks, Minot, West Fargo, Williston, Dickinson, and Mandan accounted for 91 percent of this growth and for 90 percent of the state's total population growth from 2010 to 2021. In fact, half of North Dakota's population now resides in the state's seven most populous cities: Fargo, Bismarck, Grand Forks, Minot, West Fargo, Williston, and Dickinson.
Impacted by migration and the aging baby boomers, the age structure in North Dakota changed from 2010 to 2021.
Energy development activities in western North Dakota during the previous decade attracted many younger adults to the state for employment opportunities. This influx of people in their child-bearing years led to an increase in the number of births. From 2010 to 2021, the percentage of children (age 0 to 14) and the percentage of young adults (age 30 to 44) increased by 26 and 33 percent, respectively.
The aging of the baby boom generation, those born from 1946 to 1964, influenced the top half of the population pyramid, as the oldest of this cohort turned 65 in 2011. Therefore, we can see an increase in the percentage of people age 60 to 74 in the total population. This increase was offset by the loss of people age 45 to 59. The loss of people age 45 to 59, which represents not only the prime working age group but also the most common caregiving age range will likely impact the workforce and long-term care of older adults in the future.
Data source: U.S. Census Bureau. Population Estimates Program
Homeownership in North Dakota decreased for all income groups.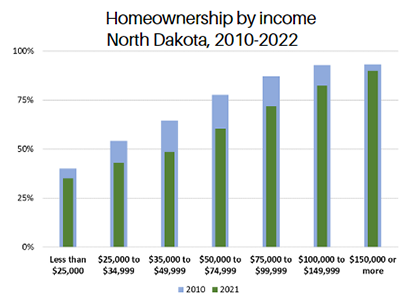 The overall homeownership rate in North Dakota decreased from 66.9 percent in 2010 to 63.1 percent in 2021.
In general, higher household incomes increase the likelihood to own a home. While the median household income increased in North Dakota from $60,475 in 2010 to $66,519 in 2021, the homeownership rate decreased for each income group during the same time period. The largest drop in homeownership was for householders with low to moderate household income ($35,000 to $74,999).
Changes in housing market conditions, consumer preferences, and demographic characteristics potentially contributed to the decline of the homeownership rate for each income category and the increasing income disparity gaps in the homeownership rate.
Data source: Center for Social Research, 2022 North Dakota Statewide Housing Needs Assessment
State of the State Dashboard
The state of the state dashboard provides key metrics in all topics on the ND Compass website, highlighting how North Dakota compares (ranking) to other states and how the state is trending.
North Dakota ranked among the top 5 states for…
Babies born at low birth weight (6.6% - rank 1st out of 50 states, lowest percentage)
The percentage of adults (age 16-64) who are working (77.2% - 4th highest)
The percentage of households who are cost-burdened from housing (25.3% - 5th lowest)
North Dakota ranked among the bottommost states for…
Annual change in Gross Domestic Product (GDP) (0.3% - rank 50th out of 50 states, lowest percent change)
The percentage of children (3 and 4 years old) enrolled in preschool (24.9% - rank 49th, nearly lowest percentage)
Homeownership rate (63.1% - rank 45th, nearly lowest percentage)
Compared to the previous year, North Dakota improved on ...
Older adults (age 65 and older) who volunteered in the past year (increased from 32.0% in 2019 to 36.1% in 2021)
Total nonfarm payroll jobs (increased from 412,300 in 2020 to 416,600 in 2021)
Compared to the previous year, North Dakota trended unfavorably on ...
Residents (age 16 and older) who volunteered in the past year (decreased from 35.2% in 2019 to 29.2% in 2021)
Percent of eligible voters who voted in the mid-term election (decreased from 58.7% in 2018 to 42.9% in 2022)
Real median household income (decreased from $68,441 in 2019 to $66,519 in 2021)
8th graders who are proficient in math (decreased from 37.3% in 2021 to 33.7% in 2022)
Students who graduate high school on time (decreased from 87.0% in 2021 to 84.3% in 2022)
Data for the 2023 Compass Points is provided by North Dakota Compass with the most recent data updated in February 2023, unless defined otherwise. Data sources, years, margins of error, and additional notes are available on ndcompass.org.
Download the 2023 Compass Points.
Browse ndcompass.org for more actionable data and trends.