ASk A Researcher
July 2014
Guard Against Grilling Gaffes: Healthy Grilling and Food Safety Tips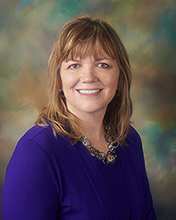 Julie Garden-Robinson is a food and nutrition specialist for the NDSU Extension Service and a professor in the Department of Health, Nutrition and Exercise Sciences. She develops and coordinates nutrition and food safety research and education projects throughout North Dakota for children through adults. She writes a weekly column and blog, and she fields a lot of questions on a daily basis. In this article, she answers some typical questions related to grilling foods.
Q: How do grilling practices affect health?
Besides its widespread popularity, grilling is considered a healthful way to cook. Grilling adds flavor without extra calories, compared with cooking methods such as frying. You can prepare all types of food, including fruits and vegetables, on the grill. Most people do not meet the current recommendations for fruits and vegetables (at least 2½ cups per day). Grilling vegetable and meat kabobs can promote the consumption of colorful, antioxidant-rich foods that can reduce our risk of chronic disease in the long run.
For healthy results, avoid burning or "charring" the meat by keeping the flare-ups under control. Heterocyclic amines, or HCAs, can be formed by the action of high temperatures or a direct flame on beef, chicken, fish and other foods high in protein. Some studies have shown that these compounds may promote cancer in lab animals. Fruits and vegetables are much lower in protein, so nutrition researchers do not have similar concerns. By simply using an acidic marinade that contains salsa, vinegar or lemon juice, you can reduce the HCA formation in meat by more than 90 percent. You can avoid flare-ups when grilling by using lean meats and trimming excess fat. Be sure to keep a spray bottle of water nearby in case a flare-up occurs.
Q: Why is grilling safety important?
Safety at the grill has several meanings, including fire and injury prevention, as well as safe food handling. Most of us are familiar with fires associated with untended grills or hot coals. Maybe you know someone who has seriously burned him/herself when cooking at the grill. Consider these tips:
Pick a safe area. Place the grill on a well-ventilated, flat, level surface away from overhangs, deck railings and shrubbery.
If you are using charcoal, be sure to handle it safely, and never add lighter fluid directly to hot coals. When putting out the fire, cover the grill and close the vents, allowing the coals to cool completely for at least 48 hours, and dispose of them in a noncombustible container.
Never leave a lit grill unattended.
Keep a bucket of water and/or a fire extinguisher close at hand.
Keep children and pets away from hot grills and coals.
Use long-handled tongs and flame-retardant mitts to protect your hands.

Q: What are some food safety tips when grilling?
Remember that food safety begins at the store and continues all the way to the serving table. Food can become contaminated anywhere along the way, but by following basic food safety principles (clean, separate, cook, chill), we can reduce our risk of getting sick. For example, if you shop for groceries on a hot day and travel a distance to a picnic site, bring a cooler with ice to pack your perishable food. According to the U.S. Department of Agriculture, perishable food such as meat, salads and cut fruit should spend no more than two hours at room temperature and no more than one hour on the serving table if the temperature is 90 F or higher.
Before and during food preparation, wash your hands for at least 20 seconds with warm, soapy water. Be sure to clean any food contact areas and use clean knives and other utensils. Avoid the most common cross-contamination error when grilling: don't use the same plate that held the raw meat to retrieve the cooked meat from the grill.
Always thaw meat in the refrigerator or microwave oven. Note that microwave-thawed food should be cooked right away. When you cut meats and prepare salads, be sure to use different cutting boards and knives (or wash thoroughly with soap and hot water in between uses). If you choose to use a marinade, be sure to marinate the meat in the refrigerator, not on the counter.
For safe and high-quality meat, the grill master's best friend is a meat thermometer. Remember that meat and poultry cooked on a grill may brown quickly on the outside and may not be done on the inside. Use a clean, calibrated thermometer and cook meat to these safe internal temperatures:
Poultry (whole, cut-up, ground): 165 F
Ground beef/hamburgers: 160 F
Beef, pork, veal, lamb (steaks, roasts and chops): 145 F with three-minute rest (medium rare); 160 F (medium)
Fish: 145 F
Q: How many people are becoming ill when grilling each year? Are certain populations more at risk for foodborne illnesses and unsafe grilling practices?
We do not have precise data for foodborne illnesses linked with grilling. In general, foodborne illness cases linked to home cooking are believed to be underreported. Would you report Cousin Bob to local health authorities for undercooking the salmon on the grill? One person in six becomes ill due to foodborne illness on an annual basis, according to the Centers for Disease Control and Prevention (CDC). In all, 48 million are sickened, 128,000 are hospitalized and 3,000 die as a result of eating contaminated food. Those most at risk are young children, older adults and those with compromised immune systems.
Cooking outdoors is linked with increased incidence of foodborne illness, according to the U.S. Department of Agriculture. Cross-contamination is a common culprit in foodborne illness outbreaks. In addition, warmer temperatures and the higher outdoor humidly levels can promote bacterial growth. In most cases, people do not have refrigerators and other equipment available outdoors to keep food at proper temperatures.
Q: Are certain types of meat more likely to cause a foodborne illness outbreak?
As we have seen with numerous outbreaks, almost any kind of food can be linked to foodborne illness, including the chicken breasts, burgers, cantaloupe, watermelon, lettuce, potato salad and sun tea that might be on your menu. The best advice is to handle all food carefully. Never partially grill food to "finish" later. If you cook food and need to keep it warm, hold it in an oven set at about 200 F so the food remains at 140 F until serving time.
Because they are the "stars" of many summertime menus, let's consider burgers and chicken as specific examples. Ground beef may be contaminated with E. coli O157:H7, so be sure burgers are cooked to a safe internal temperature (160 F). Unlike steak, which is a whole muscle, any bacteria found in ground beef is mixed throughout the meat. That's why we can enjoy a medium rare steak (where the contamination is on the outside of the meat), but not a medium rare hamburger. Chicken commonly is contaminated with Salmonella or Campylobacter, but cooking all poultry to a minimum of 165 F will kill these bacteria. Be sure to avoid cross-contamination with utensils and other kitchen equipment.
Q: Are there any concerns when purchasing local products to grill?
Buying local can be an advantage. It often gives us access to the freshest foods at their best quality. Try grilling fresh ears of corn on the cob or making kabobs with fresh onions, peppers and tomatoes. After rinsing the fresh produce in cool, running water, brush the vegetables with your favorite oil or marinade and grill them until tender. Locally produced meat is processed following the same safety rules as meat from national companies. We need to follow the same safe handling rules regardless of the origin of our food.
Q: Where can someone go to receive information or training on grilling safety?
Visit www.ag.ndsu.edu/food for free food safety and nutrition resources on a range of topics. Check out these NDSU Extension publications with tips and recipes: "Becoming the Grill Master" (available at www.ag.ndsu.edu/pubs/yf/foods/fn1412.pdf) and "Grill Something Different" (available at www.ag.ndsu.edu/pubs/yf/foods/fn1420.pdf) Periodically, animal scientists in the NDSU's Animal Sciences Department, in collaboration with the NDSU Extension Service, offer face-to-face BBQ Boot Camps, which are publicized on the NDSU Extension Service website and in local papers.