Ask A Researcher
August 2021
COVID-19 Trends Among North Dakota Children, March 2020 – March 2021.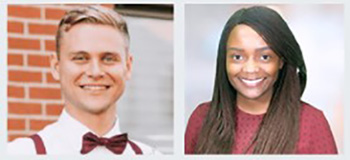 Matt Schmidt is an epidemiologist in the Division of Special Projects and Health Analytics at the North Dakota Department of Health. He is a North Dakota State University alumnus and received his master's degree from the University of Colorado. Grace Njau is the director of the Division of Special Projects and Health Analytics at the North Dakota Department of Health. Grace received her master's degree at the University of Colorado and is currently a doctoral candidate at the University of Tennessee.
This article examines COVID-19 case data among children in North Dakota during the first 12 months of the COVID-19 pandemic. Updates on recent months (April-July 2021), comparisons to national data, and insights from literature are also included.
Background
In the first 12 months of the COVID-19 pandemic in North Dakota (March 2020-March 2021), 13,621 children, an estimated 7.7% of the state population aged 0-17, had been diagnosed with COVID-19. Hospitalization and mortality among children in North Dakota have remained expectedly low, though, case trends and transmission characteristics identify them as an important factor in COVID-19 spread. As families, teachers, and communities prepare for school to begin in the fall, monitoring COVID-19 trends among children can help inform expectations and develop plans for a safe return to the classroom. [1]
How COVID-19 is spread among children in North Dakota
The type of spread between COVID-19 cases is determined through questions asked during case investigations and contact tracing. In North Dakota, 45% of confirmed cases among children in the first 12 months of the pandemic were determined to be contracted through household contact. Shared spaces make isolation and quarantine within the household difficult, resulting in more frequent exposure and transmission among household members. Further, children have more household contacts than the adult population, with 3.5 and 1.7 average household contacts, respectively, in North Dakota. As COVID-19 transmission is complex and still not fully understood, there is no reliable method to determine how many children were the index case (first to be infected and expose the household). The other most common types of COVID-19 transmission were identified as close contact and community spread. [1][3]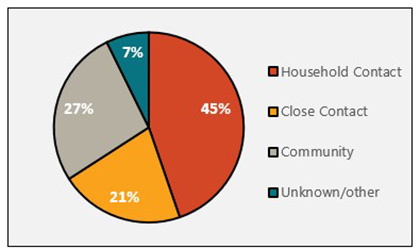 COVID-19 burden in North Dakota children
Among age groups in North Dakota children, adolescents aged 12-17 experienced significant burden. In this group, 6,689 unique individuals, an estimated 12.1% of the population, were diagnosed with COVID-19 in the first 12 months of the pandemic. Individuals in this group also reported symptoms that included but were not limited to headache, cough, sore throat, fever, and rhinorrhea (runny nose) more frequently than children in other age groups. Each of these age groups saw parallel increases in case rates in fall 2020, a period in which all age groups in North Dakota and much of the United States saw similar trends.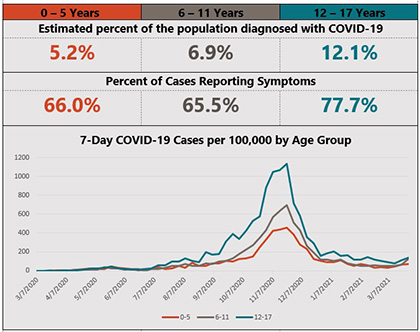 Demographic data on COVID-19 cases (age, race, sex, etc.) are also collected during case interviews or contact tracing. Race was known for 58% of child cases in North Dakota. The highest rate of COVID-19 infection occurred among Asian and Pacific Islander children, though observed rates are comparable to all other races. According to national data, race/ethnicity is available for 63% of reported child COVID-19 cases and occurred at the highest rates in Hispanic/Latino and American Indian/Alaskan Native children. Both male and female children experienced COVID-19 infections at similar rates in North Dakota, with 6,747 reported cases among males and 6,884 among females. [5][8]
While children are susceptible to COVID-19 infection, severe outcomes are relatively rare. During the first 12 months, 57 hospitalizations occurred among North Dakota children. In total, 13% of children aged 0-17 that tested positive for COVID-19 were reported to have at least one underlying health condition. The most frequently observed were lung conditions, neurological conditions, or other unspecified immunocompromising diagnoses. Nationally, at least one underlying condition was reported in 3% of children testing positive for COVID-19, though, data collection during case interviews differs significantly between states. [1]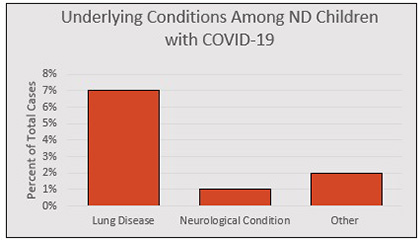 North Dakota percentage of COVID-19 Cases in Children, by Week
Children in North Dakota play an important role in the spread of COVID-19. By the end of March 2021, children comprised 12.7% of all confirmed cases in the state. Since the vaccine rollout began in early 2021, this has increased to over 15% of all confirmed cases. This trend is reflected in national data, as 12.6% of cases in the United States occurred among children as of July 2021. Evidence from studies done across the United States suggests case detection within this age group is lower than others, resulting in an underestimation of cases. CDC modeling of estimated COVID-19 infections predicts that only one in every four COVID-19 infections are reported and that over one-third of US children (ages 0-17) had been infected in the first year of the pandemic. [4][5][6]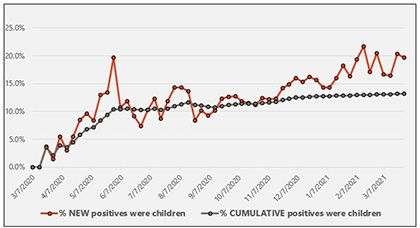 April-July Update
The trend of an increasing proportion of cases in children has continued into summer 2021. From April 1 to July 14, North Dakotans under age 18 represented more than 18% of COVID-19 cases. Unlike the 12 months prior, this period saw spread among children occur primarily through community spread (42%), followed by household contact (40%). Children more frequently reported symptoms (75%) and an additional nine children with COVID-19 infection were hospitalized during this time.
In early May 2021, emergency use authorization for COVID-19 vaccination with the Pfizer-BioNTech vaccine was expanded to children ages 12-15. Among over 2,500 participants in this age group in the phase 3 vaccine trial, the Pfizer vaccine was 100% effective at preventing COVID-19 infection. As of mid-July 2021, it is estimated that 20% of North Dakotans aged 12-18 have received at least one dose of a COVID-19 vaccine. In comparison, nationally, an estimated 34% of this age group has been vaccinated. [7][8]
References
[1] Leeb RT, Price S, Sliwa S, et al. COVID-19 Trends Among School-Aged Children — United States, March 1–September 19, 2020. MMWR Morb Mortal Wkly Rep 2020;69:1410–1415. DOI: http://dx.doi.org/10.15585/mmwr.mm6939e2external icon.
[2] Sisk, Blake, Cull, William, Harris, J Mitchell, Rothenburger, Alexandra, & Olson, Lynn. (2020). National Trends of Cases of COVID-19 in Children Based on US State Health Department Data. Pediatrics (Evanston), 146(6), Pediatrics (Evanston), 2020-12, Vol.146 (6)
[3] Zhu Y, Bloxham CJ, Hulme KD, Sinclair JE, Tong ZWM, Steele LE, Noye EC, Lu J, Xia Y, Chew KY, Pickering J, Gilks C, Bowen AC, Short KR. A Meta-analysis on the Role of Children in Severe Acute Respiratory Syndrome Coronavirus 2 in Household Transmission Clusters. Clin Infect Dis. 2021 Jun 15;72(12):e1146-e1153. doi: 10.1093/cid/ciaa1825. PMID: 33283240; PMCID: PMC7799195
[4] Leidman E, Duca LM, Omura JD, Proia K, Stephens JW, Sauber-Schatz EK. COVID-19 Trends Among Persons Aged 0–24 Years — United States, March 1–December 12, 2020. MMWR Morb Mortal Wkly Rep 2021;70:88–94. DOI: http://dx.doi.org/10.15585/mmwr.mm7003e1
[5] Centers for Disease Control and Prevention. (2021, May 19). Estimated Disease Burden of COVID-19. Centers for Disease Control and Prevention. https://www.cdc.gov/coronavirus/2019-ncov/cases-updates/burden.html.
[6] Waterfield, Thomas, Watson, Chris, Moore, Rebecca, Ferris, Kathryn, Tonry, Claire, Watt, Alison, . . . Christie, Sharon. (2021). Seroprevalence of SARS-CoV-2 antibodies in children: A prospective multicentre cohort study. Archives of Disease in Childhood, 106(7), 680-686.
[7] BioNTech Announce Positive Topline Results of Pivotal COVID-19 Vaccine Study in Adolescents. Pfizer. (2021, March 31). https://www.pfizer.com/news/press-release/press-release-detail/pfizer-biontech-announce-positive-topline-results-pivotal.
[8] Centers for Disease Control and Prevention. (2021) CDC COVID Data Tracker. Centers for Disease Control and Prevention. https://covid.cdc.gov/covid-data-tracker/#datatracker-home.