Ask A Researcher
August 2015
Data you can trust: The Labor Market Information Center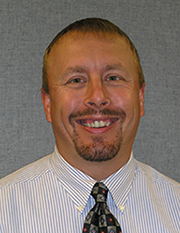 Michael Ziesch has worked at Job Service North Dakota for the past 18 years. He is a Manager (BLS) in the Labor Market Information Center, which is charged with administering the federal/state cooperative programs related to North Dakota's labor market. He also is a member of the state's U.S. Census Bureau Complete Count Committee. A native of North Dakota, Michael holds a bachelor's degree in Business Administration from North Dakota State University.
During an extremely dynamic economy, with a vigorous population growth and employment surge in North Dakota, we cannot stress enough the importance of quality data and information in making the best decisions. The best and most up-to-date labor market information in the state is produced by the Job Service North Dakota, through the Labor Market Information Center (LMIC). North Dakota Compass uses this source of information for the Jobs key measure in the Economy topic.
What is the Labor Market Information Center (LMIC) and what is its role?
The LMIC of Job Service North Dakota gathers, analyzes, and disseminates information related to the state's labor market.
The LMIC produces data related to:
Employment levels
Unemployment rates
Earnings by industry and area
Occupational wage estimates
Online job openings by occupation and area;
Projections data (2 and 10 year) by occupation and industry
Largest employer lists
Initial claims by industry and area
Much of the data are collected via state-federal partnership with the Bureau of Labor Statistics. All states have similar relationships that ensure consistency of data, especially those related to unemployment rates and job counts.
How can these data and information be accessed?
Datasets and publications created by LMIC activities are posted on the North Dakota Workforce Intelligence Network (NDWIN) website. Access to information is available in many formats, including dashboards, PDF's, maps, and excel files. As well, it is always possible to call the Center and talk to myself (Michael Ziesch), or another analyst, at 701-328-2868.
Staff answer labor market information inquiries on a daily basis. Questions are received from business owners, job seekers, students, policy makers, media, researchers, government entities, and the general public, among others. Types of questions include:
What type of compensation package should I offer to entice a qualified candidate?
What types of job openings are available as a job seeker?
What is the unemployment rate in my area?
What are the industry and occupational trends?
What does a certain job pay by experience level?
What are the high wage/high demand occupations?
What are the impacts of changes in oil and agricultural prices?
What other services does the LMIC provide?
Efforts have been made to create publications that encompass a wide variety of information related to the state's labor market, in comprehensive reports. An example is the North Dakota Workforce Review. This report examines population trends, labor force statistics, occupational and industry changes, among other data, over 10 or 20 year time periods.
Area Profiles are premier reports, quick-and-easy overviews of a local area's labor market and economy that summarize economic data from several sources including the LMIC, Census Bureau, and Bureau of Economic Analysis, among others. Profiles are available statewide, and for all 53 counties.
Information associated with the labor market in the state's oil & gas producing counties can be found in the North Dakota Oil & Gas Economy report. In it data are aggregated by the four core producing counties, the balance of producing counties, and non-producing areas of the state.
Analysts with the LMIC also undertake special research projects. Significant projects include comprehensive research into the impact of Oil & Gas Related Employment on the state's economy. The report highlights the impact of oil & gas development by sector and geography in North Dakota. Data are available statewide, by county, and by city.
Other research include linking education and workforce data to better understand the relationship of educational attainment and career opportunities. An example is our Careers in North Dakota publication. Additional education documents are available on our Products Page.
When new datasets are produced and released to the LMIC website email notification is sent to subscribers on our News Alert list. It is the best way to stay abreast of the latest news related to the state's labor market.
LMIC staff also are available to give presentations related to the labor market for different entities including; teachers, students and counselors, business and civic groups, and policy makers, among others. Presentations are free of charge, but may be dependent upon availability of staff to conduct them.