For discussion
October 2013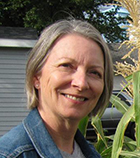 Kay Schwarzwalter is a research assistant and survey specialist for the Center for Social Research at NDSU. Kay is a volunteer coordinator of the Cooper Community Garden, which just started this year. This column anticipates the Community Building Toolkit coming soon to ND Compass.
What is a community garden?
A community garden is an area of land that is gardened by local community members. Community gardens come in all shapes and sizes. They can be large enough to feed 50 families or small enough to squeeze into an urban boulevard. Community gardens can be one communal space, a series of individual plots, or a combination of both.
What does it take to start a community garden? A champion. Jack Wood and Nola Storm are two such champions who have been hard at work building community gardens over the last eight years in Fargo, North Dakota through a project called Growing Together. Jack and Nola, through their respective churches, volunteered to make the project happen. Fargo is home to a large immigrant population. Lutheran Social Services(LSS) is the main hub of refugee resettlement in North Dakota, most of whom reside in Fargo. LSS donated a plot of land several years ago to start the Growing Together community garden specifically for refugees and New Americans as a way to not only integrate them into the community, but also allow them to have experiences similar to what they practiced in their home countries – particularly growing their own food.
Jack's definition of a community garden is "where the community comes together." That belief has translated into his developing three large community gardens. The Growing Together garden, the largest at 220 by 110 feet, is tended by 50 New American families; 30 families tend The Gathering garden, and the Community Homes garden also supports 30 families. Each garden also has a committed group of local volunteers who organize efforts. There is a dedicated work night where families and volunteers gather to tend each garden, and then enjoy a meal together containing freshly harvested produce.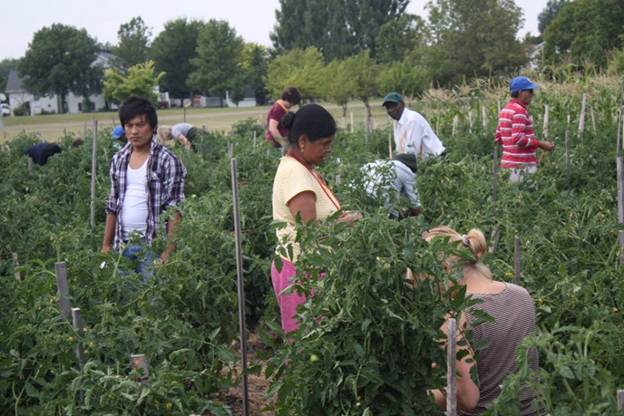 Pruning tomatoes at The Gathering garden. Photo: Jack Wood
Nola describes the sense of pride the gardeners feel when growing their own food. One woman, after becoming involved in the garden, did not need to use all of her monthly food stamp allotment because of the ample harvest. Nola also said that gardeners want to share their bounty with others. They hold farmer's markets every week during harvest and sell their extra produce. One woman was able to save enough money to buy a used car. A family who moved to Iowa was able to use the extra money to establish a community garden at their new location. Still another woman gave her proceeds back to the garden as a way of ensuring it would continue the following year.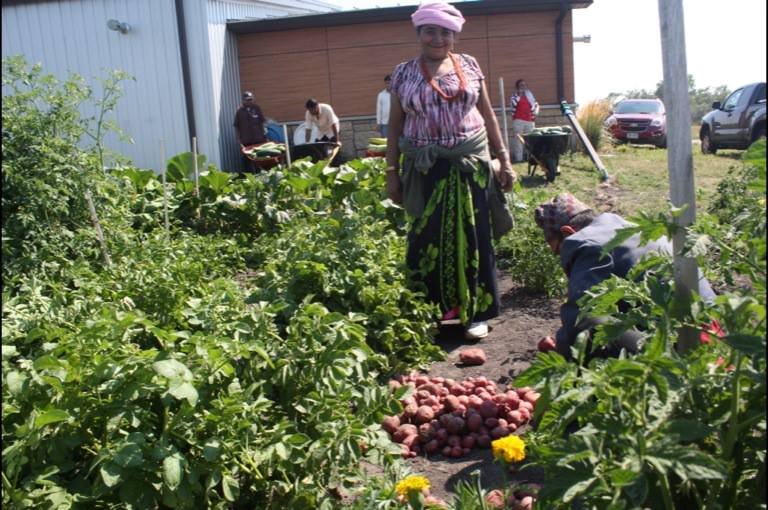 Potato harvest at the Growing Together garden. Photo: Jack Wood
Why community gardens are important
Community gardens are important for several reasons, three of which are filling a necessary need in areas known as food deserts, offering opportunities for neighborhood improvement and community involvement, and providing an opportunity to teach people how to grow their own food.
Community gardens are vital for individuals and families who live in food deserts, where people may have to rely on convenience stores and fast food restaurants for their food sources. Not having access to fresh produce and other nutritious food contributes to an unhealthy diet which in turn may lead to poor health outcomes (e.g., obesity, diabetes, heart disease). Living in a food desert can be especially problematic for lower income families for whom transportation may also be an issue.
The United States Department of Agriculture's definition of a food desert is "a census tract with a substantial share of residents who live in low-income areas that have low levels of access to a grocery store or healthy, affordable food retail outlet". Follow the link to see if you live in a food desert.
If a vacant plot of land can be transformed into a garden the possibilities are endless. For example, the three gardens that Jack and Nola started are located near housing developments so many gardeners are able to walk. In 2009, gardeners gathered more than 10,000 pounds of produce from two of the gardens. If that amount of vegetables were purchased in grocery stores the cost would have been $18,146.76. The total expenses for seeds, compost and other supplies were less than $2,000 – quite a cost savings!
Community gardens do much more than provide fresh produce. They enhance our quality of life by providing open green space in urban neighborhoods; which in turn invites multiple plants and animal species, increases physical activity, and decreases crime. They also contribute to neighborhood improvement and community involvement. The Cooper Community Garden near downtown Fargo was started by a group of volunteers on a vacant lot that was owned by and then donated for garden purposes by the City. The garden consists of 20 individual plots, each 10 by 15 feet, and is adjacent to the Emergency Food Pantry. Two of the garden plots are designated for the Pantry, two for the local Salvation Army and two for the nearby Cooper House, which is permanent supportive housing for people coming out of homelessness. The remaining plots are rented. Volunteers maintaining the garden believe it is vital to provide fresh and healthy food to people seeking services from the Pantry, the Salvation Army, and Cooper House – all of whom are low income.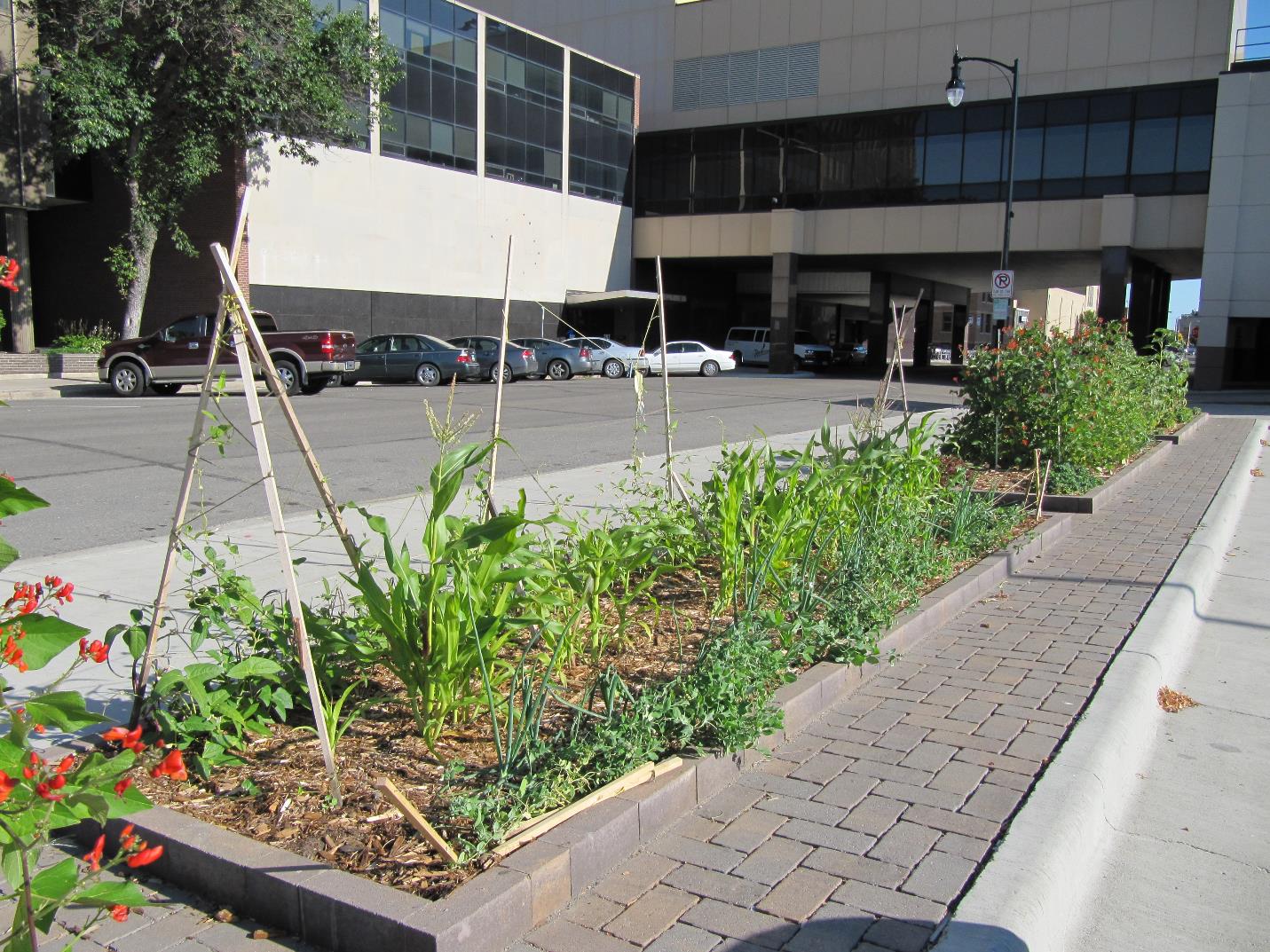 5th Street boulevard across from Prairie Public TV and the Radisson. Photo: Kay Schwarzwalter
School gardens are not only an important food source in school cafeterias, they teach the next generation how to grow their own food. School gardens are popping up all over the country as part of Michelle Obama's Let's Move! campaign. Jamie Holding Eagle, another community garden champion, organized a committee of parents, teachers, and community members in order to build a school garden at a local elementary school in neighboring Moorhead, Minnesota. The wood shop teacher from the local high school recruited students to build three raised beds for the garden. The elementary teachers took the lead in deciding what would be planted, some of whom started the seeds in their classroom and then planted them as a class project. The school garden contains a pollinator garden, a small edibles garden, and a flower garden. Jamie, as a parent herself, wanted the children to have those outdoor learning experiences. But in order to make the garden a reality, she knew the effort needed to be as time efficient as possible for the teachers. Jamie also planted and maintains the 5th Street boulevard garden in Downtown Fargo where tomatoes, beans, and other produce are free for anyone to pick and enjoy.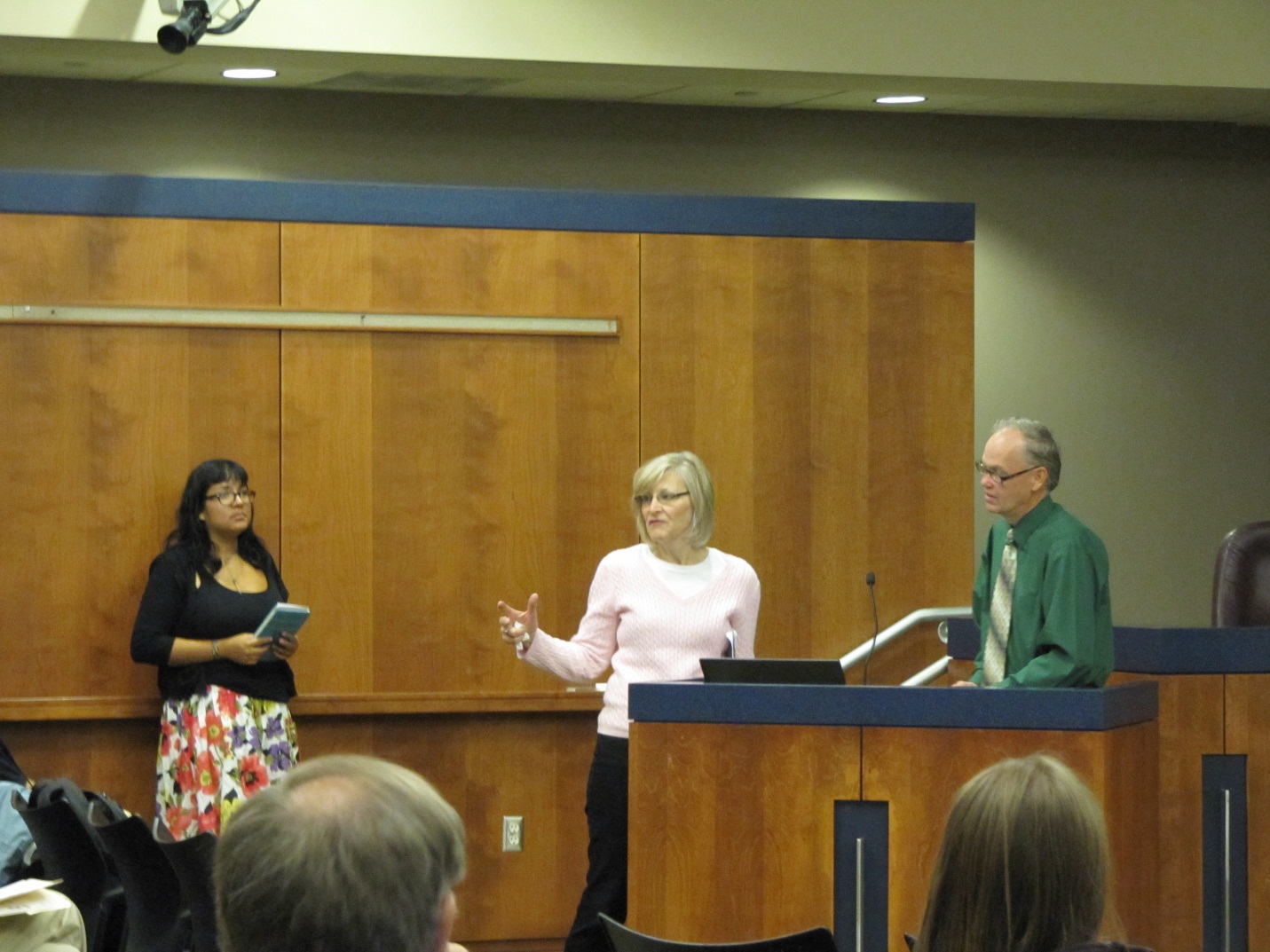 Jamie Holding Eagle, Nola Storm, and Jack Wood presenting at a community garden event. Photo: Kay Schwarzwalter
Jack, Nola, and Jamie have been instrumental in teaching others to grow their own food. Thanks to their efforts the community garden movement is growing in the Fargo-Moorhead area. Currently, there are 11 gardens listed on the City of Fargo website. Don't wait for a champion to start a community garden in your area. Be the champion.
Resources
To learn about starting a community garden in your area or if you have general gardening questions, contact your County Extension Office
Click here to learn about the Growing Together project toolkit
Click here to learn about community gardens
Click here to learn about starting school gardens
Click here to learn about the Peterson Project