For discussion
February 2022
Awesome: When a Foundation isnít a Foundation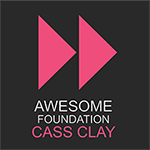 Brandi Malarkey has been the Dean of the Cass Clay chapter of the Awesome Foundation since its start in 2016. She is also a multi-disciplinary artist, writer, and administrator whose work can be seen at itsallmalarkey.com.
For over five years, ten community members have come together to give out grants of $1000 each to projects in Cass and Clay counties, and beyond, that they deem awesome. Through the end of 2021, the group has given out $80,000 to projects in North Dakota and Minnesota under the umbrella of the Cass Clay Chapter of the Awesome Foundation.
What is The Awesome Foundation?
The Awesome Foundation is a global community advancing the interest of awesome in the universe, $1000 at a time. Each fully autonomous chapter supports awesome projects through micro-grants, usually given out monthly. These micro-grants, $1000 or the local equivalent, come out of the pockets of the chapter's "trustees" and are given on a no-strings-attached basis to people and groups working on awesome projects.
Originally conceptualized by Tim Hwang of Boston, the idea of coming together as a group to fund small projects has since spread to include 82 chapters world-wide, almost none of which are registered formally as organizations. Using the format of a foundation, each chapter accepts and reviews applications, then choses a recipient for their $1000 grant. Grant money is comprised of non-tax-deductible donations from each of the participating trustees, who collectively determine which application is the most awesome that grant cycle. Collectively, the various Awesome Foundation chapters have given out over five and a half million dollars thus far.
How does the Cass Clay chapter of the Awesome Foundation work?
Community members submit their ideas via the four question application on the website, and chapter trustees meet once a month to review the applications and discuss which idea they think will add the most awesomeness to the community. Any applications submitted before the end of a month are eligible for consideration the following month and remain in consideration for up to a year, or until the deadline has passed for the project. Once a grant winner has been selected, a trustee will contact them to give them the $1000 gift—no strings attached: No deadlines, no reports to file, and no additional requirements. The group announces the selected monthly grantee on Facebook on the 15th of each month.
What kinds of projects count as "awesome"?
Each trustee has their own idea of what awesome means and votes accordingly. The group is open to projects in nearly any category: art, invention prototypes, community development or outreach, anything that can be declared awesome. While many ideas submitted are serious in nature, the group is open to the surprising, the silly and fun, and the innovative. The 80 projects the Cass Clay chapter has funded in the five years they've been operating have varied widely: Free Little Food Pantries, bringing holiday gifts to kids living in hotels, purchasing princess costumes for fundraising, providing equipment for radio programming, supporting photographic exhibits, renting space for afterschool soccer, publishing books, supporting community gardens, and building goat-proof fences.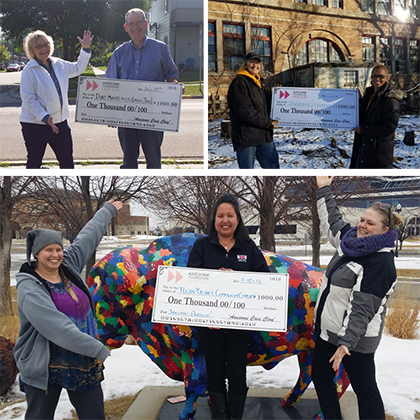 Who can apply?
Individuals, groups, organizations, businesses, anyone with an awesome idea is welcome to apply. Because the group is not a real foundation, there are no requirements or restrictions on who can receive a grant. Applicants do not have to have non-profit status or be associated with a formal organization. Anyone with an awesome idea can apply, and there is no limit to the number of awesome ideas someone may submit. While the group generally gives preference to projects occurring within Cass or Clay counties, it is open to submissions from the surrounding areas and has funded community gardens in Twin Buttes, art in Jamestown, remodeling in Nome, and the purchase of Lakota language learning materials in Bismarck.
Why is giving like this so awesome?
The value of this kind of giving is a foundation of trust and a belief that small ideas and projects can have a great impact. Many funding opportunities are geared toward large ideas or initiatives, with strict requirements of who can apply or how a project should be carried out. This kind of giving acknowledges that small problems are worth fixing, small joys can reap great benefits, and sometimes a small amount of assistance or resources is enough to allow a smaller idea to grow into a larger opportunity. Giving without restriction exhibits the belief that people living in the community know best what will help or add to that community and permits the flexibility to change or alter a project, and take advantage of additional resources, without fear of losing funds for not matching the requirements closely enough.
To learn more about the projects funded by the Cass Clay chapter of the Awesome Foundation, or to submit an Awesome idea for consideration, go to https://www.awesomefoundation.org/en/chapters/cassclay.