For discussion
September 2018
NDSU Extension Takes Creative Approach to Enhancing Communities and Improving Leaders
Jodi Bruns, North Dakota State University Extension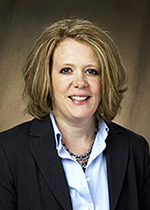 Jodi Bruns, M.Ed., is an NDSU Extension leadership and civic engagement specialist. She has been with Extension for 16 years, serving in various roles. In her specialist role, Jodi has developed research-based programs that assist communities in marketing and strategic planning efforts. She also serves as a trainer and facilitator, and guides organizations through various group-facilitated processes.. In this article, Jodi highlights leadership and civic engagement programing and services offered by NDSU Extension and emphasizes the importance of these education programs to communities throughout North Dakota.
In North Dakota alone, the total number of organizations needing leadership stands at over 8,000. This number is derived from nonprofit organizations and units of government. Many citizens serve on multiple boards or in volunteer roles. In our rural communities, people have to step up and serve to get things done. Leadership and civic engagement programs are recognized as successful community building strategies. Individuals who have participated in Extension Leadership and Civic Engagement trainings are ready and willing to serve and be effective board members and elected officials for communities and organizations.

In many cases, North Dakota communities do not have professional community or economic developers or marketing staff. NDSU Extension specialists and agents help fill some of those gaps by providing leadership-based learning opportunities to North Dakota communities.
Extension state specialists and county-based agents work collaboratively to deliver a variety of educational programs in three key areas: Agriculture and Natural Resources, Family and Community Wellness, and 4-H Youth Development. Specifically, a number of leadership and civic engagement programs are available to individuals and communities to help enhance leadership skills and make our communities the best they can be. Local Extension agents at the county level deliver a number of these programs. Extension specialists also facilitate programs across the state. Below are highlights of available NDSU Extension Leadership and Civic Engagement programs.
Leadership Development
Rural Leadership North Dakota (RLND) - It's an 18-month statewide leadership development program that includes seminars with experts; on-site tours/presentations; meetings with agricultural, business and government leaders; international experience; and personal skills development. RLND improves the health of North Dakota communities by encouraging people to run for public office, improve the local economic, expand services for residents, and build leaders for the future.
Growing Leaders Short Course - This regional, five-week leadership training helps participants build skills, gain confidence, and work together on a local community development project. Citizens determine what is best for their community. Planning processes result in better buy-in, adoption of local policies, and implementation of plans.
Lead Local - This one-day training is for aspiring leaders and those elected or appointed to boards, councils, and committees. Participants will feel better prepared to serve. Lead Local helps people step up to fill 8,314 volunteer organizations' needs and run for office on local, regional, and state levels. North Dakota organizations will save money and time with more effective and efficient meetings.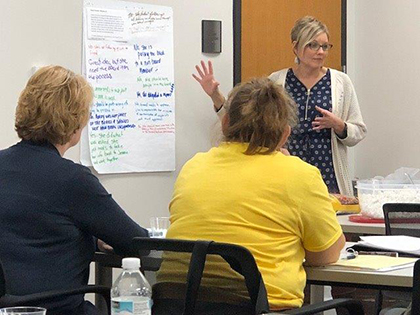 During the training, Andrea Bowman, Extension Leadership and Community Development Program coordinator, works with a group of Lead Local participants on the topic of conflict. To date, NDSU Extension has offered Lead Local trainings in 16 communities across the state and have several sites and organizations scheduled in the future.
Youth Lead Local - The one-day program helps junior and senior high school youth understand effective meeting management, parliamentary procedures, and how to move a project from ideas to action. Positive changes happen in schools, organizations, and communities when youth are civically engaged.
Building Tomorrow's Leaders - This multisession, comprehensive program focuses on youth in grades nine and 10. It is designed to empower students to get involved civically, build confidence and skills to lead, and assist them in developing personal and professional networks.
Soil Conservation and Watershed Leadership Academy - This two-day session is a locally delivered educational program to build participants' skills and enhance their ability to lead watershed, conservation, and community-based projects that will protect water quality for future generations.
Civic Engagement Programs
Community Impressions - This program helps communities learn about their existing strengths and challenges through the eyes of a first-time visitor. The program helps rural communities have a revitalized economy and be seen as clean, safe, friendly, and progressive.
Marketing Hometown America - A community study circle process helps citizens better understand community assets and what residents are looking for as they relocate to a rural community. Rural areas increase resident numbers through asset-based recruitment and retention efforts. This program was developed primarily for communities that do not have a budget to hire a professional marketing firm. Communities have the opportunity to have a deliberate discussion on community assets, and how to market them and to whom.
Welcome to Our Town - This is a customer service program aimed at taking a deliberate look at what the cost of poor service is to an organization or community. The focus is on communication and understanding of what consumers want so they turn into repeat customers. The intended audience is front line workers and really anyone who serves the public. Exceptional customer service is necessary to ensure a customer returns to a particular business, which in turn puts money back into the local economy.
Facilitation
Facilitation assistance - Facilitation expertise is available and NDSU Extension staff can help with strategic planning, asset mapping, or other facilitated events.
From serving on a church council to running for a seat in the North Dakota House of Representatives, community survival is dependent upon citizens who are willing to raise their hand and volunteer to serve in some kind of leadership capacity. Through programs offered by NDSU Extension, citizens are learning the necessary skills to feel confidant serving their communities, state and country.
For more information on these programs, please email Jodi Bruns Jodi.bruns@ndsu.edu or find them on the NDSU Extension website.   https://www.ag.ndsu.edu/lead/