For discussion
June 2013
Addressing the education and support needs of older North Dakotans and their family members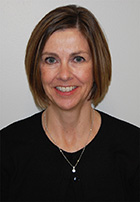 The NDSU Extension Service recently added a half-time Gerontology Specialist, Jane Strommen, to address the education and support needs of older adults and their family members. Jane talks about the reasons for Extension's expansion; Extension's work relating to fall prevention, aging at home, and supporting caregiving; and Extension's vision for the future.
Q: What led the NDSU Extension Service to expand its existing programming areas to include "gerontology"?
The purpose of the NDSU Extension Service is to create learning partnerships that help adults and youth enhance their lives and communities. Extension added the Gerontology Specialist position in response to the state's growing senior population. Between 2011 and 2025, the number of seniors is expected to increase 50 percent, with the overall state proportion of older adults rising to 17.6 percent. In addition, the energy development in western North Dakota has influenced population growth in parts of the state while a shift in population from rural to urban areas continues. These demographic trends will impact the state's economy in many areas, such as workforce, health care services, human services, and housing needs. As the baby boom generation ages, older adults can maintain well-being by staying in good health, having adequate financial resources, and keeping strong relationships with family and friends.
Q: What topics or areas are being addressed by the Extension Service?
The NDSU Extension Service is focusing on three broad areas relating to the education and support needs of older adults and their family members: falls, aging at home, and caregiving.
Area 1: Falls – Evidence-based programs focused on prevention and wellness for older adults are important to keeping seniors healthy and living at home. A new program being offered is Stepping On, a falls prevention training for adults 65 years and older who have fallen or are fearful of falling. Nationally, one out of every three people age 65 years and older fall each year; over 18,000 persons age 65 and older died from unintentional fall injuries in 2007. The medical costs of falls are substantial. In 2000, direct medical costs for fall-related injuries totaled $19 billion nationwide – projected to reach $44 billion by 2020. In North Dakota, falls are the third leading cause of injury-related fatalities behind motor vehicle crashes and suicides. Between 2004 and 2008, 383 residents over age 60 died due to falls. At least one half of all seniors sustaining a fall do not resume independent living. Stepping On is a 7-week workshop that empowers older adults to carry out health behaviors that reduce the risks of falls, improve self-management, and increase quality of life. Subjects covered include: improving balance, strength training, home environmental safety, vision, and medication review. Research has found those completing Stepping On experienced a 31 percent reduction of falls.

Area 2: Aging at Home – Most adults want to remain in their own homes and communities as they age. Increasing age often brings disabilities and physical limitations that make it challenging for older adults to live comfortably and safely in their homes. A home should be a successful fit with the person's needs; otherwise physical differences can cause restriction in activities and independence. A home designed or modified to accommodate for changing needs can help prevent limitations in lifestyle and activities. In an effort to help people remain successfully in their homes, an educational program, Livable Homes, is being implemented by the Extension Service. The program is designed to help people to understand the importance of the home environment on the maintenance of independence and safety, to identify home design features and home safety hazards, and to conduct home modification and home safety assessments. In North Dakota approximately one-half of seniors who live in their own homes live alone, which is the second highest proportion in the nation. This fact, along with the lack of aging-appropriate housing in many rural communities, makes housing an important issue for the state's seniors.

Area 3: Caregiving – Family care is a key factor in remaining in one's home and community, but it comes with substantial costs to caregivers, their families, and society. In 2009, over 42 million caregivers in the country provided care to an adult with limitations in daily activities. The estimated economic value of their unpaid contributions was approximately $450 billion, up 20 percent from $375 billion in 2007. These dollar values do not quantify the physical, emotional, and financial costs of care. Those who take on the role of caregiving are at risk to the stress, physical strains, competing demands, and financial difficulties of caregiving. Family caregiving is now considered an important public health concern. Older adults most in need of care are women, those living alone, and those age 85 years and older. In 2011, North Dakota had the 2nd highest proportion of 'oldest' old adults (i.e., 85 years and older) in the country at 2.5 percent. The NDSU Extension Service is responding to the needs of families by providing education and support to caregivers. A new evidence-based program, Powerful Tools for Caregivers (PTC) is being offered to health professionals, Extension educators, social workers, parish nurses, aging professionals, and others interested in caregiving. The program is designed to train certified leaders who can offer the program to family caregivers in their local community. The curriculum has been shown to improve: 1) self-care behaviors, 2) management of emotions, 3) self-efficacy, and 4) use of community resources. Providing better and more meaningful support to family caregivers may positively impact the well-being of families, workplaces, and health and long term care systems.
Q: What is Extension's vision for the future in terms of helping older adults and their families?
The Extension Service is providing education in other areas, such as grand parenting, mental health, estate planning, nutrition, and positive aging. There are many issues that are important for older adults, including health, finances, family relationships, living arrangements, caregiving, retirement, employment, healthy aging, and much more. The NDSU Extension Service is offering education and consultation in a variety of ways to improve and enhance the lives of the older residents and their families.
Additional Resources:
View the NDSU Extension's 4-page population brief, "North Dakota's Aging Population: Profile and Trends of Seniors Ages 65 and Older"
Explore data and resources related to Aging on ND Compass
Visit the NDSU Extension Service