For discussion
May 2014
Helping Build a Better Community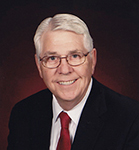 Howard Barlow is an investment specialist with Lutheran Social Services of North Dakota in the Lutheran Social Services Housing Program. Having worked for a number of community organizations, Mr. Barlow shares his experience working with non-profits as a Non-profit Resource Specialist (NRS) with Bremer Bank and serving as a former board member of the FM Coalition for Homeless Persons.
My 13 Years

Serving Bremer Bank and the Fargo-Moorhead community for 13 years as a Bremer Non-profit Resource Specialist (NRS) was an amazing learning and serving experience in my life. Bremer Bank has a different ownership structure from most financial organizations in that its major stockholder is the Otto Bremer Foundation, a private charitable foundation which holds 92 percent of the assets of the Bremer Banks. The job was created to be a link between the non-profits in Bremer communities and the banks and foundation. In effect, the nine NRS's became the "boots on the ground" for the Otto Bremer Foundation and connected me with many non-profit and community leaders.

It was a role that gave me and my fellow Non-profit Resource Specialists opportunities to help make connections between the leadership of non-profits, businesses and communities during a time when our Fargo-Moorhead community had seen exciting and positive growth. The expanding population of our area during that time created many opportunities and along with them, some problems. From my perspective, it was exciting to see the growth and adaptability of the entire area and to lend support in many areas of service. I also gained a growing admiration for non-profit leadership both board and staff, who demonstrate knowledge and compassion in meeting the needs of those they serve.
My Vantage Point Regarding Non-profit Organizations
There have been many new non-profit organizations created to meet some old problems of our citizens and many new ones, not only in Fargo-Moorhead but across the entire area. A couple of newer entities that come to mind are Restore, Inc., created to help support Habitat for Humanity; TNT Fitness, Inc., helping to enable all children, even those with physical limitations, enjoy time in exercise, gain physical strength and have fun doing so. Another newer non-profit organization is Rebuilding Together, which enlists volunteers to help repair homes for people with physical and other difficulties. These responses to problems have happened all across the area as new problems gain someone's attention; it is exciting to see our communities find new ideas and ways to meet those needs.
These organizations are all striving to perform good and needed services to those in our community who haven't the means (i.e., education, finances, or health) to properly care for either themselves or their family without some help along the way. This help may take a variety of shapes. It may be just a friend to help with some guidance and direction. In many instances it will require an institution stepping in to help with many problems short term or for a longer term. This institution may be a church, a financial business, or a non-profit organization that has training in dealing with the specific situation and need.
A Compassion for the Homeless
I have always had a special compassion for those who are homeless and hungry. In January 2006, Fargo City Planning and Development Department called a group of citizens together for a series of study sessions about the homeless situation in our community. I was fortunate enough to be a part of that study and the efforts that developed from it. A major effort was to create a coalition of homeless providers and others who were concerned about the homeless population in our Fargo-Moorhead community. A board of directors was formed to establish the FM Coalition for Homeless Persons and a director was hired. In the past eight years, with time and effort by many community members and organizations, more citizens now see that homelessness is everyone's problem.
Laurie Baker, Executive Director of the FM Coalition for Homeless Persons has worked diligently to continue and expand the work that was envisioned those few years ago. Now when the Coalition holds its monthly meeting, there are 40-50 groups represented around the table. Who deals with the homeless? Homeless shelters, businesses, churches, taxi services, medical facilities, schools (yes there are many homeless children in the public schools), food shelves, social services, and more. Yes, our community has recognized that homelessness is everyone's business and affects nearly everyone in the community in some way.
I've been excited to see the progress that has been made in caring for homeless persons in our communities. Homelessness in the Fargo-Moorhead community was on a downward trend for a few years. Then the North Dakota oil boom began and for a variety of reasons we are affected by rising numbers of homeless again. Some folks come here from throughout the country looking for work but haven't the skills to quickly find jobs. Others come here from the western part of North Dakota forced out by the increased rents and the housing shortage in the oil boom area.
The Church Community and Homelessness

Our local church community has stepped in to house the overflow from the homeless shelters during the cold winter months. Thankfully, because of Central Cities Ministry's church sheltering program, no one has had to sleep unsheltered during this winter's bitter cold nights. The work to eliminate this problem continues with many striving to find solutions. But the FM Coalition for Homeless Persons has been the catalyst that brings people together to seek those solutions. In addition there is an area wide effort to solve this problem. Because our Fargo-Moorhead community and other Red River communities sit on a border between Minnesota and North Dakota, both state homeless coalitions collaborate on solutions. Many persons with periodic employment cross the border from time to time to see relatives, look for jobs or find a place to stay, a system is being developed that will ensure accurate statistics on those needing housing in both states.
Community Organizations Working Together
There are other problems that keep some in our midst from full participation in our communities. In my Bremer role, I was blessed to work with many who are helping those who have come upon hard times and been in need of a hand up. So many organizations work so diligently to solve societal problems. Businesses give their employees time for fundraising efforts. They may encourage an employee to head a fund drive. Their employees serve on boards of non-profit organizations. They may lend a group of employees to not only sponsor but also to participate in a fund walk, or a fundraising dinner. They may sponsor an event that brings people together to try to solve one of the community problems. That is the spirit I've seen at work in our area. It's a spirit that works diligently to make this a great place for all of our citizens.
Fargo-Moorhead Fortunate to Have Many Resources

In this area of our country, and especially right here in Fargo-Moorhead, we are fortunate to have many organizations working diligently to support, encourage and facilitate problem solving that can make this a great community for all our citizens. I appreciate so much the analysis the local United Way organization is doing to help our entire community understand the problems and areas of need here. United Way does a great job helping communities seek the best efforts to solve societal problems through linking business, non-profit and government entities.
Our community is especially fortunate to have the area headquarters of The American Red Cross located here to meet emergencies like the flooding and disasters that periodically occur in our area. We are privileged to have several community funding resources, such as The Fargo-Moorhead Area Foundation, Dakota Medical Foundation, The Barry Foundation, The Sanford Foundation and many others. Foundations, right here in our community, serve the entire area seeking solutions and helping find the answers to problems. They sometimes even foreseeing problems before they happen and then seek ways to help lessen or solve the problem. They put their foundation assets to work to help solve issues.
Community Leader

Finally, having worked with so many community members, non-profit leaders and business people in these years, I can attest that we have some very dedicated, hard-working people involved in our community. That is what makes this such a great place to live. The leadership, staff and board members of our local non-profit organizations are very dedicated, knowledgeable, and passionate about the organizations with which they are connected. We are fortunate to have so many fine dedicated non-profit staff members working with business leaders and community leaders to find and solve the various problems that face our communities and their citizens. My challenge to all citizens is this, "We are a great community in a wonderful area, don't sit on your hands. Find a place where you can plug in and join the effort to make it the very best place we can for all our people."