For discussion
June 2022
Working Together to Nourish North Dakotans
Karen K. Ehrens, R.D., L.R.D. Food and Nutrition Consultant and Advocate
Stephanie Blumhagen, Executive Director, FARRMS
Felicity Merritt, Program Manager, FARRMS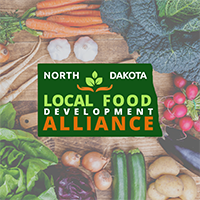 Karen Ehrens is a food and nutrition consultant, registered dietitian, and policy advocate. Karen serves as a public health consultant on food and nutrition security and maternal and child health projects and recently completed 12 years as coordinator for the Creating a Hunger Free North Dakota Coalition.
Stephanie Blumhagen is the Executive Director of the Foundation for Agricultural and Rural Resources Management and Sustainability (FARRMS).
Felicity Merritt is the Program Manager at the Foundation for Agricultural and Rural Resources Management and Sustainability (FARRMS).
......
People and organizations in North Dakota are joining forces to build a vibrant and prosperous local food system to support rural economic development, connect farmers to consumers, and increase access to fresh, healthy and nutritious food, for the benefit of all North Dakotans.
North Dakota Local Food Development Alliance
The North Dakota Local Food Development Alliance (NDLFDA) is a community of local food advocates that includes farmers, nonprofit organizations, local USDA service providers, rural economic development agencies and others. Members of the NDLFDA aim to create healthy, self-reliant, and resilient communities in North Dakota by improving local food systems. NDLFDA functions as a "backbone organization," convening partners across the state to create and promote local food systems in North Dakota. NDLFDA provides a platform for communication to catalyze collaboration within the local food community, and members believe in collective action.
One participating organization is FARRMS, a nonprofit focused on educating beginning farmers and strengthening sustainable agriculture. FARRMS Executive Director, Stephanie Blumhagen, said, "The farmers we serve need a resilient local food system to succeed. FARRMS can't build that system on our own, but through partnerships across the state, we can. Participating in the ND Local Food Development Alliance helps us better serve farmers." Other participants report that the monthly meetings help them stay aware of emerging issues in local food and agriculture, and that the diversity of perspectives presented is valuable. Others say that they leave every monthly meeting with new ideas and renewed enthusiasm.
History
NDLFDA was founded through a partnership of local food leaders and advocates throughout the state. Led by USDA Rural Development, they gathered diverse partners to craft a local food development plan for North Dakota and created a guiding document titled "An Outline of a ND Local Food System Plan.'' The plan described the social and economic benefits of a strategically developed, resilient local food sector in North Dakota. Catalyzed by this document, several local food organizations, including Dakota College at Bottineau, Strengthen ND and Creating a Hunger Free North Dakota, met for an inaugural meeting in October 2017.
NDLFDA became an official 501(c)3 nonprofit in 2018 with by-laws and a volunteer Board of Directors. First actions included gathering people to share dreams and hopes at an inaugural summit. The next year we organized a food hub summit to provide examples and possibilities for expanding the reach of local foods through collaboration and food aggregation. Members defined six core focus areas for mutual work including producer support, financing and resources, aggregation and processing, distribution and marketing, policy support, and Indigenous Food Sovereignty.
In 2020, NDLFDA hired a paid staff member, for the first time, as NDLFDA Coordinator. This AmeriCorps member, supported by the Souris Basin Planning Council, focused on building the infrastructure, recruiting new members, and developing deeper relationships between members. In 2021 we launched a new website built for member communication and collaboration ndlocalfood.org.
Why local food?
Many definitions of "Local Food" exist; the USDA defines local food as "the direct or intermediated marketing of food to consumers that is produced and distributed in a limited geographic area. NDLFDA members define local food as food grown in North Dakota for North Dakotans.
Nearly 90% of North Dakota's land mass is put toward farming or ranching. The 2017 Census of Agriculture showed that farms and ranches occupy 39.3 million acres of land in North Dakota, which is an amazing 89 percent of the total land in the state. And yet, most of the crops and animals raised in the state leave the state for processing and adding of value, returning to us in cans, boxes, and bags.
Distribution of food back into the state has been a challenge to the places that prepare, serve, and sell food. At the beginning of 2010's the challenges began to be revealed by a decline in the number of grocery stores in rural and frontier areas; in a six-year period, North Dakota lost more than 20 percent of its rural grocery stores according to the Rural Grocer Initiative led by the North Dakota Association of Rural Electric Cooperatives. High costs due to long distances, small purchase volumes, limited delivery service, coupled with decreasing rural populations and increasing numbers of dollar stores and big box retailers have led to difficulties in maintaining viable grocery businesses in rural areas.
Supply chain disruptions that were put in motion during the pandemic have added more challenges to food distribution in North Dakota. These disruptions continue to impact schools, long term care facilities, grocery stores, and most all places that prepare, serve, and sell food. A major food distributor backed out of a contract and ceased delivery to half (101 out of 200) school districts in North Dakota in November 2021, leaving school districts scrambling to find alternate distributors from a small list of potential organizations that still deliver to North Dakota's rural areas.
Emerging evidence shows that local food systems served as innovative, flexible, and resilient responders to food needs during the COVID-19 pandemic. Food partners in Cass County, North Dakota and Clay County, Minnesota documented a networked response to food needs in their jurisdictions. Developing networked, resilient and shorter food supply chains across the state of North Dakota can help to ensure that all people can access healthful foods in this state. The NDLFDA is bringing together people and organizations to do this.
NDLFDA is sharing and connecting partners from the west to the Northeastern parts of the state, with partners from the economic development, tribal, farmers market, small farms, new farms, rural advocacy, public health, nutrition, university extension, school, local foods, government, membership and nonprofit sectors to work together. Jan Stankiewicz, NDLFDA member with NDSU Extension states, "I strongly believe that from a community health aspect, including personal physical health, social connections, nutrition and ag education, economic impacts, etc., a robust local food system is a crucial component to creating healthy, vibrant people and communities."
Besides helping to assure resilient and sustainable sources of food, local foods have multiple benefits that include health- and community-building, and economic benefits to those who produce and eat. For example, if each of North Dakota's estimated 320,873 households spent just $10/month on North Dakota-produced foods, we could keep $167 million circulating in North Dakota's economy every year!
Join us!
If you grow or eat North Dakota foods, consider joining us. Membership in NDLFDA is open to anyone interested in improving North Dakota's food systems- local food organizations, individuals representing federal and state agencies, tribal entities, schools, university programs, farmers and producers, and food businesses.
NDLFDA meetings are free to attend and open to all. We meet virtually on the 3rd Tuesday of each month at 2:00 p.m. All are welcome and you can join the meeting at https://ndlocalfood.org/home/meetings. To become a member of NDLFDA, complete the short enrollment form: ndlocalfood.org/home/join. We invite you to join us!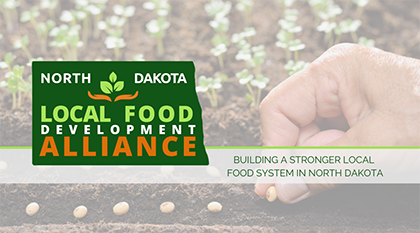 References:
An Outline of a ND Local Food System Plan - bit.ly/NDLFDA_localfoodplan
Local Foods | Agricultural Law Information Partnership - USDA nal.usda.gov/legacy/aglaw/local-foods
2017 Census of Agriculture, U.S. Department of Agriculture, National Agriculture Statistics Service, nass.usda.gov/Publications/AgCensus/2017/Full_Report/Census_by_State/North_Dakota/
"How Global Supply Chain Disruptions are Impacting School Nutrition" The Hunt Institute February 7, 2022, hunt-institute.org/resources/2022/02/supply-chain-disruptions-are-impacting-school-nutrition/
ND Association of Rural Electric Cooperatives, Rural Grocer Initiative, office records, 2016-2019
Local and Regional Food Systems Response to COVID, https://lfscovid.localfoodeconomics.com/
Journal of Agriculture, Food Systems, and Community Development ISSN: 2152-0801 online, ""Cass Clay Food Partners: A networked response to COVID-19," https://foodsystemsjournal.org https://www.foodsystemsjournal.org/index.php/fsj/article/download/958/931/1909
North Dakota Compass, Geographic Profiles, State Profile, North Dakota, https://www.ndcompass.org/profiles/New%20Profiles/North_Dakota_new_.php