For discussion
November 2020
Making Contact: The Experience of a Student Case Worker of COVID-19 in North Dakota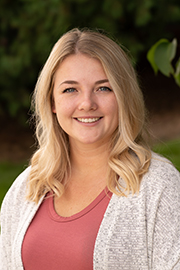 Madison Marion is a second-year student in the Master of Public Health program at North Dakota State University. Her focus is in epidemiology, with a specialization in food safety. Madison is a graduate assistant at the Center for Social Research at NDSU, as well as a case worker of COVID-19 through NDSU and the North Dakota Department of Health.
In this article, Madison describes her experience as a student case worker of Covid-19. This experience provided her the opportunity not only to gain experience in her chosen field, but also to be a source of guidance to individuals in this difficult time and to provide some help to slow the spread of COVID-19.
What is Contact Tracing
Contact tracing has been used by many health departments in the United States as an intervention tool to help control multiple infectious diseases, including HIV and Tuberculosis.1,2 Through contact tracing, health departments are able to identify individuals who have been exposed to the infectious disease and provide them with the proper guidance on testing and treatments available. This can help slow the spread of the disease and prevent outbreaks from occurring. In North Dakota, contact tracing was implemented as a means of combating the coronavirus disease (COVID-19). Individuals across the state, including current local public health employees, registered nurses, and current college students began working as contact tracers.
North Dakota was one of the first states to implement contact tracing for COVID-19. In May of 2020 NPR reported that North Dakota was one of the only states that was meeting the needs associated with the number of contact tracers available.3 In the early stages of the pandemic, the National Association of County and City Health Officials estimated that there was a need of about 30 workers per 100,000 residents. North Dakota and Alaska were the only two states that surpassed this estimate, with 60 case workers per 100,000 residents.3 Recently the contact tracing process was revised to include case workers in addition to contact tracers. Case workers conduct the initial interview with the positive cases and determine the close contacts of the individual along with other information. These close contacts are then assigned to the North Dakota National Guard, where they complete the contact tracing interviews. There are currently over 200 case workers in North Dakota, with an average of 30-50 individuals working daily.
The Case Worker
The North Dakota Department of Health used CDC guidelines to help develop the protocols used for case investigations and contact tracing.4 The case investigation process begins when a test result comes back as positive from the state laboratory. The positive case is assigned to a case manager in the region where the individual lives, who then assigns it to a case worker. The case worker interviews the individual that tested positive to obtain demographic information, identify symptoms they may be experiencing, the onset date, their health history, and any close and household contacts. A close contact is defined as anyone who was within 6 ft of the positive case for at least 15 or more cumulative minutes during the infectious period.4 The case worker then discusses with the individual how long they need to self-isolate and how their symptoms will be monitored, either by email survey, phone call, or text message. The individual is eligible for release from isolation when they have met the following conditions: it has been greater than 10 days since their symptom onset, itís been 24 hours since they last had a fever, and all of their symptoms are either resolved or improving. Once these conditions are met, they are able to return to normal social distancing.
When the positive cases interview is over, the close contacts that were determined are assigned out to the North Dakota National Guard contact tracers and are notified of their exposures. The last day of exposure to the positive case is determined and used to guide the end date of the 14-day quarantine period. During the quarantine period the close contact is asked to remain at home or in a comparable setting. Close contacts are monitored for the onset of symptoms during this quarantine period and are given a recommendation of testing 7-10 days after their last exposure to the positive case. Individuals who start to experience or are already experiencing symptoms upon notification are advised to be tested immediately. Those who complete their 14-day quarantine without any symptom onset or positive test result are able to return to normal social distancing.
My Experience as a Case Worker
As a first-year student in the Master of Public Health program at NDSU I had not expected to be a part of a large-scale public health initiative. The head of the Public Health department at NDSU reached out to students in the beginning of March and offered the opportunity of a part time job working with the North Dakota Department of Health as a case worker and contact tracer of COVID-19. The first task was to complete multiple training programs. Training programs were delivered through various organizations including the Association of State and Territorial Health Officials (ASTHO), the National Coalition of STD Directors (NCSD), the Johns Hopkins contact tracing training, North Dakota specific trainings offered through the NDTrain platform, as well as in person and online shadowing of case investigation phone calls.5,6 Once training was completed, we were assigned our first case investigation.
At first the process was a learning experience for everyone involved. The online database, which now hosts all our resources for conducting case investigations, had not yet been released. As time went on, we used our experiences to help create a user-friendly online platform that is used to conduct the investigations, document connections between positive cases and their contacts, and monitor the symptoms of both cases and contacts electronically. I continue to learn as new challenges arise and systems are modified and improved to ensure that the process is effective and efficient both for the case investigators and the individuals being monitored.
Working as a case worker has given me the opportunity to work alongside individuals from many different backgrounds across the state of North Dakota and has exposed me to the operations of a public health department. This experience has pushed me out of my comfort zone both physically and mentally through learning how to manage my time as both a case worker and a student, as well as transitioning to a work from home environment. One of the most important things that I have learned throughout my time as a case worker is the importance of building trust with those you are working with. Every interview is different. Some individuals are very understanding, cooperative, and wish to work with you as much as possible, while others require more patience and compassion given the potentially devastating outcomes associated with COVID-19. This is a frightening time for all, and as a case worker you must earn the trust of the individuals that you work with. I am fortunate and thankful that I have been given the opportunity not only to gain experience in my chosen field, but to be a source of guidance to individuals in this difficult time and helping to slow the spread of COVID-19.
References
1. STD Program Partner Services. Centers for Disease Control and Prevention. https://www.cdc.gov/std/program/partners.htm. Published April 23, 2020. Accessed October 10, 2020.
2. Contact investigation. World Health Organization.https://www.who.int/tb/areas-of-work/laboratory/contact-investigation/en . Published May 28, 2020. Accessed October 11, 2020.
3. Simmons-Duffin S. States Nearly Doubled Plans For Contact Tracers Since NPR Surveyed Them 10 Days Ago. NPR. https://www.npr.org/sections/health-shots/2020/04/28/846736937/we-asked-all-50-states-about-their-contact-tracing-capacity-heres-what-we-learned. Published May 7, 2020. Accessed October 19, 2020.
4. Contact Tracing for COVID-19. Centers for Disease Control and Prevention. https://www.cdc.gov/coronavirus/2019-ncov/php/contact-tracing/contact-tracing-plan/contact-tracing.html. Accessed October 9, 2020.
5. Making Contact: A Training for COVID-19 Contact Tracers. NCSD. https://www.ncsddc.org/resource/making-contact-a-training-for-covid-19-contact-tracers/. Accessed October 11, 2020.
6. Contact Tracing Tools, Information, and Resources. Johns Hopkins Coronavirus Resource Center. https://coronavirus.jhu.edu/contact-tracing. Accessed October 11, 2020.