For discussion
June 2018
Building Communities for All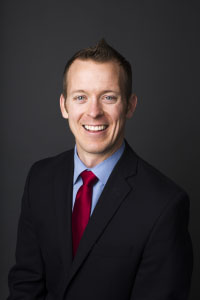 Josh Askvig is the AARP State Director in North Dakota. Josh joined AARP in September 2011 as associate state director for advocacy. He was named State Director in August 2016. Prior to joining AARP, Josh spent five years as a field staffer and government relations director at the North Dakota Education Association. As a former Bismarck City Commissioner, he has a broad background in advocacy and election work. He also has worked as a campaign consultant, advocate and as a former aide to U.S. Senator Kent Conrad. A native of Minot, Josh has an undergraduate degree from Dickinson State University and a master's degree from the Graduate School of Political Management at The George Washington University. In this article, Josh highlights several AARP initiatives and resources that help make North Dakota communities more livable and healthy.
AARP is nonprofit, nonpartisan social welfare organization with 38 million members – 88,000 in North Dakota. We are a group of people age 50 and older who believe that, as we gain life experience, we also gain new perspectives and discover new possibilities. Our mission is to help people turn their goals and dreams into real possibilities, strengthen communities and fight for the issues that matter most to families — such as health care, employment and income security, and protection from financial abuse.
There was a time – not so long ago – when people believed and expected that, as they aged, their opportunities would diminish. Today, we are much more focused on exploring possibility. We recognize that as we grow older, our possibilities for financial security, good health, meaningful work, discovery, and living life to the fullest should not be limited or reduced, they must be ageless.
One of AARP's current projects is the AARP Livable Communities initiative, which works to educate and inspire elected officials, local leaders, planners, and citizen activists on how to identify their community's specific needs and then create and implement the programs, policies, and projects that will help meet those needs.
Today, there is much discussion across North Dakota about making our communities stronger, healthier, and more vibrant. In some communities, we have state and local leaders and community volunteers working to make their communities more livable or redevelop and revitalize a more attractive "main street." One thing to think about is how do we define an attractive main street or what makes a community more livable?
According to AARP, a livable community is safe and secure, has appropriate and affordable housing and transportation options, and includes needed services (e.g., health care) and desirable features (e.g.,  shopping, gathering places and outdoor spaces). A community set up in such a way enhances personal independence; allows residents to age in place; and engages people of all ages in civic, economic, and social life. A livable community is designed with all residents in mind, from the very young to older adults who want to remain in the community they call home. The programs, policies, and physical features that enhance a community's livability include:
Housing options: So people of all ages and incomes can find a home that meets their needs.
Ways to get around: So people of all ages have access to reliable transportation and safe streets for both drivers and pedestrians.
Safe and healthy neighborhoods: So people of all ages can go for a walk, spend time outdoors, and not fear for their personal safety or encounter health hazards.
Engagement opportunities: So people of all ages can live, work or volunteer, play and be active in the community they call home.
The goal of Livable Communities is to make all communities livable for people of all ages and life stages. In many places, that's not currently the case. For instance, roadways intended to facilitate connections become barriers for people who cannot drive. Cultural activities, visiting with family and friends, shopping and other daily activities are off limits when public transportation is not available and walking is not a safe option. A home can become difficult to navigate when it hasn't been designed to accommodate its occupants' changing needs. Remaining in a community often becomes impossible due to a lack of suitable housing options and access to essential services, which is why the above four features become incredibly important in livable communities' for all.
The Age Wave and Resources
Throughout the United States, the aging of the Baby Boom Generation is well on its way. According to the U.S. Census Bureau, currently, one out of three Americans is age 50 or older. At a more local level, by 2029, about one out of every five North Dakotans will be 65 or older (North Dakota Compass). This proportion will change even more drastically depending on location of community within North Dakota as well; therefore, it is important that our communities are ready for this age wave.
To help neighborhoods, towns and cities prepare for the age wave, AARP encourages local leaders to join the Network of Age Friendly Communities. Established in April 2012, the AARP Network of Age-Friendly Communities is an affiliate program of the World Health Organization's Global Network of Age-Friendly Cities and Communities. As of January 12, 2018, there are 201 member communities across the country representing more than 61 million people. Unfortunately, none of those communities are in North Dakota.
While there are no current North Dakota Network of Age-Friendly Communities, AARP has tools to help communities understand their strengths and areas to improve. These tools include fact sheets, how-to-guides, and other resources useful to communities thinking about how to improve their Livability Index.
The Livability Index is a groundbreaking tool of the AARP Public Policy Institute (PPI) that scores every neighborhood and community in the United States for the services and amenities that affect people's lives the most. Using more than 50 national sources of data, the AARP Livability Index provides the clearest picture yet of how well a community meets the current and future needs of people of all ages.
Users can search their community by address, zip code, or community to find an overall livability score. The Index also provides a score for each of seven major livability categories: housing, neighborhood, transportation, environment, health, engagement, and opportunity. Users also can customize the index to place higher or lower emphasis on the livability features of most importance to them.
To learn more about what makes a livable community for all ages, to see specific examples of work other communities have done, and to read more about other livability work being done across the state, region and nation visit our Livable Communities website and subscribe to the free, award-winning AARP Livable Communities e-Newsletter.
Or, tell us about an inspiring livability solution from your community at AARP.org/SharingLivableSolutions.


For more information:
EMAIL
AARP NORTH DAKOTA