For discussion
November 2013
American Indian Health Disparities in North Dakota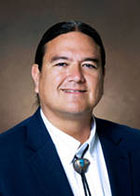 Donald Warne is the director of the Master of Public Health (MPH) program at NDSU. He is a member of the Oglala Lakota Tribe from Pine Ridge, SD. Dr. Warne received his MD from Stanford University and his MPH from Harvard University. He highlights the key health issues facing ND tribes, what can be done to address these health disparities, and how the NDSU MPH Program's new American Indian Public Health track hopes to help.
Q: How did you get involved in medicine and public health?
I come from a long line of Lakota medicine men and traditional healers, so my first exposure to health care was in the form of traditional Lakota medicine and healing. Also, my mother was a public health nurse with the Indian Health Service (IHS) for a number of years, so I was exposed to IHS as both a patient and as a family member of an employee. While I was a child, I was learning from my uncles who are traditional healers, and that was the path I was on—I was planning to focus on traditional medicine. My Lakota name is Pejuta Wicasa which means Medicine Man in our language. However, I was doing well in college while studying physiology and philosophy at Arizona State University, and I was encouraged to consider becoming a pre-med student. When I considered approaching my uncles about this, I was concerned that they would be disappointed in me for wanting to study modern medicine. However, the opposite happened—they were very encouraging about the idea, and one of them, Ray Takes War Bonnet, told me that he thought this was a good idea, but if I pursued it, I needed to commit to it and to learn "their way of medicine" as completely as possible. I found this to be very inspiring, and I have been working in multiple areas of modern medicine, public health, and research for the last two decades, and I am still deeply connected to my cultural traditions and ceremonies.
I went into my modern medical career a bit naively. I thought that I would be able to have a significant impact on the health of American Indians as a primary care physician. I quickly learned that the health issues our populations face occur long before people get to the hospital or clinic, and long before they see a physician. As a primary care doctor, it seemed as though I was working too far downstream, and I wanted to have a greater impact on community health and disease prevention, so that is why I pursued additional training in public health. I prefer to address the broader-based community dynamics that have an impact on population health rather than focus on individual-based medicine that addresses health issues after they have already occurred. The foundation of public health is prevention, and I believe that we have a greater opportunity to improve the health and the lives of people and communities in the public health sector than we do in the medical sector. We also have a lot to learn regarding how to best improve population health in American Indian populations, and as a result, the research needs are great.
Q: What are the key health issues tribes face in North Dakota?
In this state, the average age at death for the White population is 75.7 years, and it is 54.7 years for American Indians. That is a difference of 21 years, and from my perspective, this is a public health crisis. I look at the health issues we face from a number of different perspectives. There are the rates of diseases, mortality rates, determinants of health, and the policy solutions. In terms of rates of diseases, American Indians in North Dakota suffer from high rates of diabetes, cancer, addiction, infant mortality, heart disease, and other public health issues, including unintentional injuries. Regarding diabetes in North Dakota, American Indians have about double the prevalence of the disease, so one would expect that we see about double the mortality rate. However, American Indians have nearly six times the mortality rate as compared to the White population. With diabetes, we see a disparity within the disparity—American Indians have a greater burden of diabetes, but among people with diabetes, American Indians are much more likely to die from it as compared to other populations in the state. The key research questions here are "Why do American Indians have higher rates of diabetes?" and "Why are American Indians disproportionately more likely to die from diabetes than other populations?"
These research questions lead us to trying to identify the determinants of health. We know from research in other populations that have disproportionate rates of diseases like diabetes, social factors such as poverty, lack of access to healthy food options and safe places for physical activity, and poor educational systems are correlated with high rates of diabetes, and these issues need to be studied among tribes in the Northern Plains, including our state. In addition, lack of access to medical services correlates with poor outcomes from diseases like diabetes, such as heart disease, amputations, kidney failure, and premature death. Research into the social determinants of health in North Dakota needs to be expanded so we can identify the best ways to prevent disease, promote health, and reduce disparities. We also need to assess the direct impact of IHS under-funding on poor health outcomes, including high rates of premature death among American Indians with diabetes.
Q: What can be done to address these health disparities?
In addition to expanding the research agenda regarding health disparities and social determinants of health, we know that there are proven methods in public health policy and programming to prevent diseases like diabetes, cancer, and heart disease. However, these programmatic efforts require resources, and the American Indian populations are typically impoverished, and the IHS is under-funded. The strategy moving forward needs to include identifying culturally appropriate public health policies and programs as well as identifying funding opportunities to implement the programs in a comprehensive manner. For example, we know that reducing commercial tobacco use in a population leads to lower rates of heart disease and cancer, and we know that nationally, taxes that raise the price of cigarettes are an effective way to reduce cigarette smoking. In this way, public health policy can have a direct impact on improving population health. Last year, the State of North Dakota passed legislation to reduce exposure to secondhand smoke, and this is another proven policy method to reduce smoking-related diseases in a population. The challenge in tribal populations is that as sovereign nations, they are outside the jurisdiction of much of state law and state taxes, and many tribes in the Northern Plains use un-taxed cigarette sales to generate much-needed funding for the community. Therefore, the strategy needs to balance the needs for improved health with the need for revenue generation in an impoverished community. What some tribes have done is to institute their own cigarette taxes in which the revenue generated from cigarette sales includes a tax that goes to the tribe. The result is that there is less cigarette smoking, and for those community members who do smoke, the revenue generated by a tribal tobacco tax can be used to enhance cessation programs.
Regarding other chronic diseases such as diabetes and heart disease, it is clear that health promotion and disease prevention programs need to be enhanced to create healthier communities, and this is done through policy, systems, and environmental (PSE) changes. This is an entire area of public health research, and adequate data regarding the best policies, systems changes, and environmental changes needs to be elucidated.
Q: How will the Master of Public Health Program at NDSU address health issues in the state?
The Master of Public Health (MPH) Program at NDSU is in its second year of existence, and it includes four specialization tracks:
Community Health Sciences;
Health Promotion;
Management of Infectious Diseases; and
American Indian Public Health.
Each of these tracks provides a vital area of graduate-level training to improve population health. Community Health Sciences was developed to target health professionals who want to expand their skillsets in improving population health and beyond one-on-one clinical care. In this track we have physicians, nurses, pharmacists, health administrators, and psychologists, among others who are expanding their skillsets in public health. The Health Promotion track is provided in partnership with Health, Nutrition, and Exercise Science and focuses on promoting health through policy, system, and environmental (PSE) changes and promoting improved nutrition and physical activity programs targeting populations. This MPH track will prepare students for the Certified Health Education Specialist credential. The Management of Infectious Diseases track is offered in partnership with Veterinary and Microbiological Sciences and focuses on strategies to reduce the burden of infectious diseases in populations. The field of public health has seen significant improvements over the last century in terms of better sanitation, immunizations, and better medications to treat infectious diseases. However, there are still numerous infectious diseases that pose significant threats to the public's health, including HIV/AIDS, tuberculosis, West Nile Virus, influenza, and hospital-acquired infections, among others.
Our track in American Indian Public Health is unique in that NDSU is the only program in the nation that offers this MPH specialization. The coursework includes American Indian Health Policy, American Indian Health Disparities, Cultural Competence in Indian Health, Research Issues in Tribal Communities, and Case Studies in Indian Health. The curriculum is designed to prepare students to work as public health professionals in tribal health programs, IHS, universities, not-for-profit agencies, non-governmental organizations, and private sector health agencies that serve a significant number of American Indians. Although we are only in our first year offering this track, we have six American Indian students in this year's MPH class. In addition to workforce development, the research, policy, and programming agenda for the American Indian Public Health track will expand upon partnerships with tribes, the State of North Dakota, IHS, and other agencies and stakeholder groups to access additional funding streams and opportunities to improve public health in tribal populations. Current activities include a Community Transformation Grant in which we are coordinating tribal outreach and coordinating datasets to be used in community health needs assessments as well as partnerships with Medicaid in North Dakota and with tribes and tribal colleges. In addition to myself, we have Donna Grandbois, RN, PhD (Turtle Mountain Chippewa) and Linda Frizzell, PhD (Cherokee / Lakota) on faculty in this track. Among the three of us, we have approximately fifty years of experience at the doctorate level in American Indian health. We anticipate that this program will grow effectively over the next several years, and we will see an improvement in workforce development, public health research, programming and policy that will reduce health disparities.
Dr. Warne's previous work includes serving as a family physician with the Gila River Indian Community, Staff Clinician for the National Institutes of Health, faculty member at the Sandra Day O'Connor College of Law at Arizona State University, Health Policy Research Director for the Inter Tribal Council of Arizona, and as the Executive Director of the Great Plains Tribal Chairmen's Health Board.