For discussion
May 2016
5 Ways to Join the Compass Community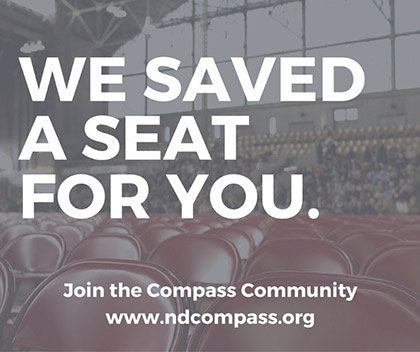 North Dakota Compass provides data that improves the quality of decisions made by businesses, educators, policy makers, non-profits, and community leaders. Our data helps to change lives, propel research projects, and create a brighter future for North Dakota. Change within North Dakota requires dedicated and like-minded individuals collaboratively using data to work towards measurable and effective change. To help further this mission, we are continuing to expand and develop the Compass community.
How can you be involved in a brighter future for North Dakota?
1) Membership:
The purpose of North Dakota Compass is to provide and promote the use of credible data to improve quality of life. With initial funding form the Bush and Otto Bremer Foundations, we are now looking to increase community support and buy-in. Current members help to ensure that ND Compass will continue to provide meaningful data to inspire action throughout our state. However, with the immense growth and changes taking place in North Dakota, it is not enough to just maintain the data and tools already on the website. More depth, specificity, and relevant tools must be added in order to truly make an impact on all communities in North Dakota. With commitment from new members, however, Compass will have this opportunity to delve deeper into the topics and develop tools with increased relevancy to the North Dakota communities.
Great organizations are already helping us improve the quality of life in North Dakota, and we have opportunities for you to financially support ND Compass at a level that's right for you.
Sustaining Membership: $10,000
Champion Membership: $5,000
Community Membership: $1,000
2) Word of Mouth:
Word of mouth is a powerful tool for the dissemination of information and, we'd love to have you share a testimonial about how you use North Dakota Compass! Testimonials are used on our Facebook, website and promotional materials to further the knowledge of Compass as well as your organization. It's a double win! By sharing a story, your point of view can be shared with the rest of the North Dakota; benefitting your peers as well as promoting North Dakota Compass. Contact Morgan at morgan.mairs@ndsu.edu to share your testimonial!
3) Special Projects/Sponsorships:
Do you have a research endeavor coming up? Does it require specific data on one of the topics on the website? Consider collaborating on a special project! We love tackling new and exciting data requests, and we may even already have the information you need available. If you currently don't have any special projects in mind, we'd also invite you to consider getting your name out there for all to see through sponsorship opportunities! From sponsoring promotional materials such as our North Dakota Compass Points to sponsoring the creation of a specific tool, we'd love to hear your ideas and have you take part!
4) Linking Resources:
If you have seen the value of North Dakota Compass data for your organization or for those who benefit from your work, consider linking to North Dakota Compass tools from your website and promoting this valuable resource to others. Widgets, logos, and other useful tools can be found in the toolbox. These can be embedded in your site so all your users have to do is click a link to find even more accurate, reliable, and up-to-date information on a certain topic.
5) Social Media:
Like North Dakota Compass on Facebook and Twitter. Here you will be able to see data from our 12 topic areas ranging from workforce to demographics along with information for geographic breakdowns from cities of over 1,000 people, to legislative districts, to the state of ND. We love posting highlights of what's happening, upcoming events, and meaningful news and data for our loyal followers to rely on. If you want to make a difference in your community, start sharing ND Compass posts and events to get the word out!
____________
We encourage you to promote North Dakota Compass to others who are looking for credible, unbiased information to improve their communities. Whether it is through verbally or socially sharing our message, utilizing our tools on your own website, sponsoring innovative publications, or considering financial membership, we'd love to talk to you more about ways you or your organization can get involved! The work we do is a game-changer for the state of North Dakota, but we can't carry it out without your help. Contact Morgan at morgan.mairs@ndsu.edu for more information and to take action today!
For more information on how others are joining the community, search #joinNDcompass on Facebook and Twitter for testimonials, partnerships, and more about our mission. Your organization could be the next to #joinNDcompass!