For discussion
April 2015
Have the facts about your State Legislative District?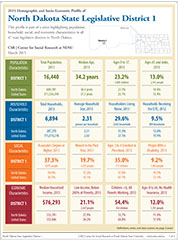 Once again, North Dakota Compass and North Dakota KIDS COUNT have teamed up to create demographic and socio-economic profiles for each of the 47 North Dakota State Legislative Districts (2013-2022 boundaries). Check out the population, household, social, and economic characteristics for your legislative district. Each profile compares district information with North Dakota and the United States. The goal of these publications is to inform, educate, create awareness, and generate discussion. These profiles are downloadable and completely free for anyone who is interested.

View Legislative District Profiles
Of the 16 measures included in the Legislative Profiles have been compiled based on information obtained from the U.S. Census Bureau's 2009-2013 American Community Survey 5-year estimates. What is the American Community Survey (ACS) you may ask? The ACS is a nationwide, continuous survey, conducted by the Census Bureau, designed to provide communities with reliable and timely demographic, housing, social, and economic data every year. The ACS provides a continuous stream of updated information for states and local areas by age group, race, and sex. The one exception is the measure that looks at Households Receiving the Earned Income Tax Credit, which comes from the Brookings Institution.
Please note that caution is needed when using the multiyear estimates for assessing year-to-year change in a particular measure. This is because four of the five years in the 5-year estimate overlap with the next year's estimate. Ideally, trend analysis with multiyear estimates should be done using estimates from non-overlapping periods (i.e., 2008-2012 and 2013-2017).
View Legislative District Profiles
Would you like to see the legislative district profiles to continue to be produced annually? Do you find them useful? Tell us about it! Please take a moment to contact us to help North Dakota Compass and North Dakota KIDS COUNT determine the value of this resource going forward.