For discussion
September 2014
Soybeans – Growing an Important Commodity for North Dakota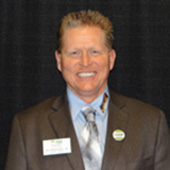 Agriculture is an important sector of North Dakota's economy and soybeans have become an increasingly important commodity, ranking second behind wheat in production value. Soybeans have a variety of uses from food products and animal feed to hundreds of industrial applications. Edwin Erickson Jr. – national director for the state of North Dakota on the American Soybean Association's Board of Directors and Nancy Johnson – executive director of the North Dakota Soybean Growers Association provide some insights into the soybean industry and the organizations who represent the soybean growers and work to improve the prosperity of soybean grower members and of the entire soybean industry.
Q: How are soybean growers organized?
There are a number of organizations representing soybean growers throughout the country. We, the North Dakota Soybean Growers Association (NDSGA), are a statewide soybean growers organization, which is a not-for-profit, member-driven organization focused on policy advocacy. Our mission is to create partnerships to proactively improve the profitability and representation of all North Dakota soybean growers and to develop quality community leaders. To achieve this mission, we focus on four areas: membership services, government affairs, leadership, and strong association.
This North Dakota organization is one of 26 soybean-producing states affiliated with the American Soybean Association (ASA). These grower associations, at both the state and national level, are governed by volunteer boards elected by soybean farmers. The mission of the ASA is to serve farmers by protecting and increasing the market value and opportunities for soybean farmers. The ASA goals are to play an effective role in policy development; provide value, opportunities, and benefits to its members; develop domestic and international markets; partner with other organizations to benefit the soybean industry; and deliver educational programs to growers.
Looking back to 1983, soybeans were a minor crop in the North Dakota agricultural landscape. However, over time, the North Dakota soybean production increased dramatically with 2012 attaining a record high of over 160 million bushels. As the production increased, we had to develop additional markets and invest in research and education. In order to do that, a soybean checkoff program was introduced, which is an assessment that farmers pay on the net market price of soybeans that is collected at the first sale (usually at a grain elevator). The money is collected and invested by our sister organizations, North Dakota Soybean Council (NDSC) at the state level and to the United Soybean Board (USB) at the national level. The checkoff dollars are used for research in production methods, new uses, and education for both consumers and growers. The main goals of the NDSC and the USB are to effectively invest and leverage the soybean checkoff resources to increase the value of the soybeans and profit opportunities for all soybean farmers.
We try to educate people on the difference between our organizations. The NDSGA and ASA do policy work and the checkoff is administered by NDSC and USB. We all represent the soybean growers, we all are made up of farmers who volunteer their time on the board. The NDSC and USB use checkoff money strictly for research and education. For instance, for every dollar collected and spent through the checkoff, farmers get $6 worth of return on their investment. It is important for farmers to understand that. It is also very important for farmers to understand that this checkoff money cannot be used to advocate. Advocacy is where we, the NDSGA and ASA, take over and this is our job.
Another component of the soybean growers' organization is the U.S. Soybean Export Council (USSEC), an organization whose mission is to maximize the use of U.S. soybeans internationally. Select ASA and USB members are represented in this organization.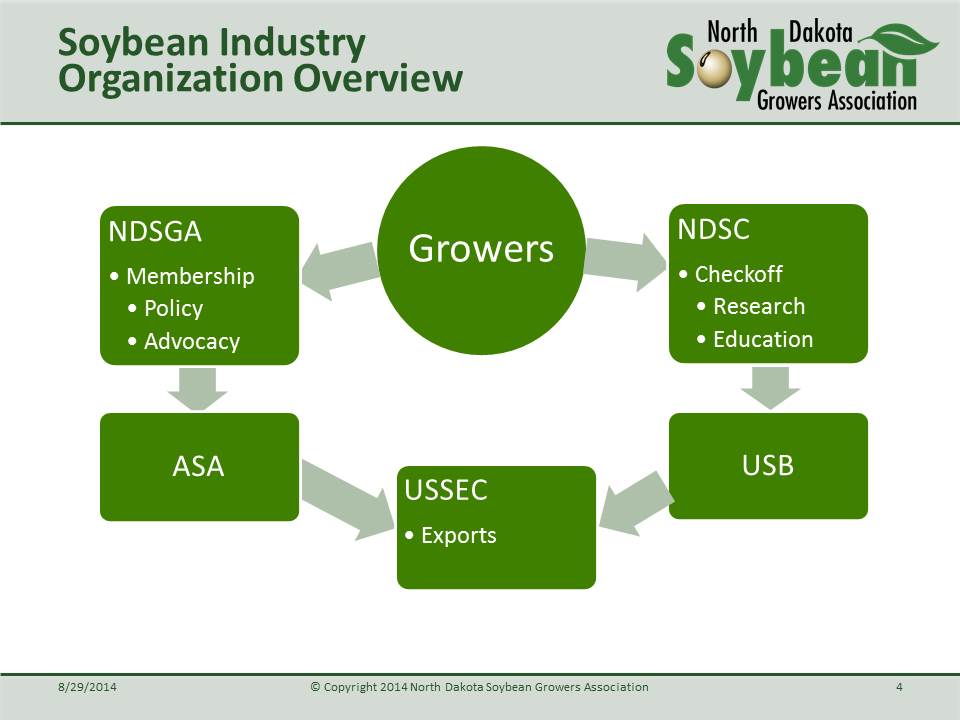 Q: What are soybean grower organizations doing for North Dakota farmers?
There are approximately 6,000 to 8,000 soybean farmers in North Dakota. We have a very specific need to represent these growers and we all work together within the agricultural community to improve the future of rural North Dakota. We provide information to formulate legislation, review legislation during sessions, and attend meetings during the interim. We also work with our Congressional delegation on efforts like the Renewable Fuel Standard and transportation.
One of our highest priorities is to improve infrastructure in North Dakota, to build and maintain roads and bridges with high enough weight limits to support bigger and a larger number of vehicles. During the last 30 years, roads and bridges have received minimal maintenance. You cannot have agriculture in North Dakota without roads and bridges. Farmers need to be able to get the crops out of the field; therefore, this has become one of our greatest legislative pushes. We advocate for this in Bismarck and Washington, D.C. In order to do so, we recognized the need to hire a dispassionate third party who would collect and analyze information for us and support our suppositions with strong facts. The Upper Great Plains Transportation Institute was contracted to collect a large amount of data and have done a staggering amount of analysis. I don't think any other states have this amount of information. Now, we can take this information to the legislators and advocate for the need of a better infrastructure. We also collaborate with other commodity organizations, because we all have common interests and we have coalitions with other groups, such as the Association of Counties.
There is also a continuous need to educate farmers as we experience soybean expansion in North Dakota. In 1983, soybeans were grown primarily in Richland and Cass counties. Since then, soybean production has expanded from the eastern part of the state westward, which contributes to the continuing increase in the number of acres planted and bushels produced throughout the state. Although soybeans are now grown throughout North Dakota, the western counties experience more challenges due to the drier climate and the area being traditionally known for its ranch type of operations. However, as the climate changes and the growing season becomes longer, the soybean has found a really good home in North Dakota, which allowed for the increased soybean expansion into the central and western parts of the state. As soybean production expands, growers throughout the state need our support. We organize meetings to educate farmers about soybean production and about how we can help them.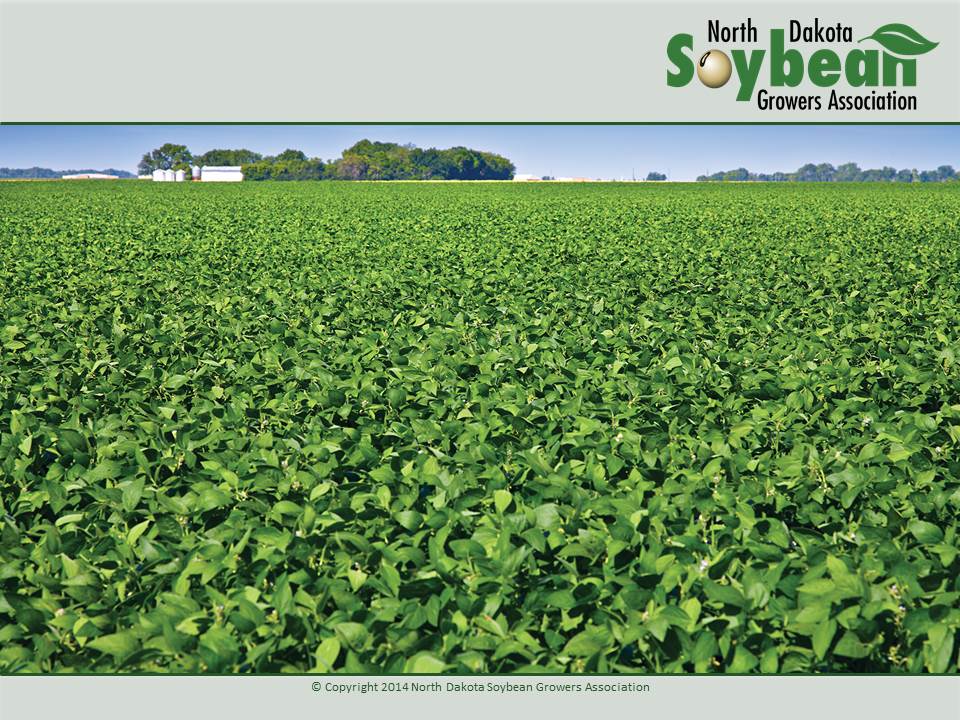 To improve the prosperity of farmers takes a huge amount of work. All our boards are volunteer-driven. We volunteer our free time to make things happen. We are working to increase membership so we can have better farmer representation. We now have over 850 members in NDSGA and this will allow us to have a second ASA state director representative, which will give us more influence at the national level.
Q: What can you tell us about the soybean industry in North Dakota?
This year we experienced a large increase in soybean acres, about 6 million soybean acres planted, more than ever. North Dakota is fourth in the country for planted soybean acres overall. The more favorable climatic conditions supported the acreage increase in soybeans. Our projections for 2014 are 32 bushels on average. With 6 million acres of soybean planted, this means 180-200 million bushels predicted for 2014. It's unbelievable for North Dakota to have this kind of production. So, the bar is very high right now. However, we still need a late frost for a great crop this year. In 2012 we had top soybean production. And in 2013, four North Dakota counties (i.e., Richland, Cass, Stutsman and Barnes) were ranked in the top 20 soybean producing counties in the U.S. by the number of bushels produced.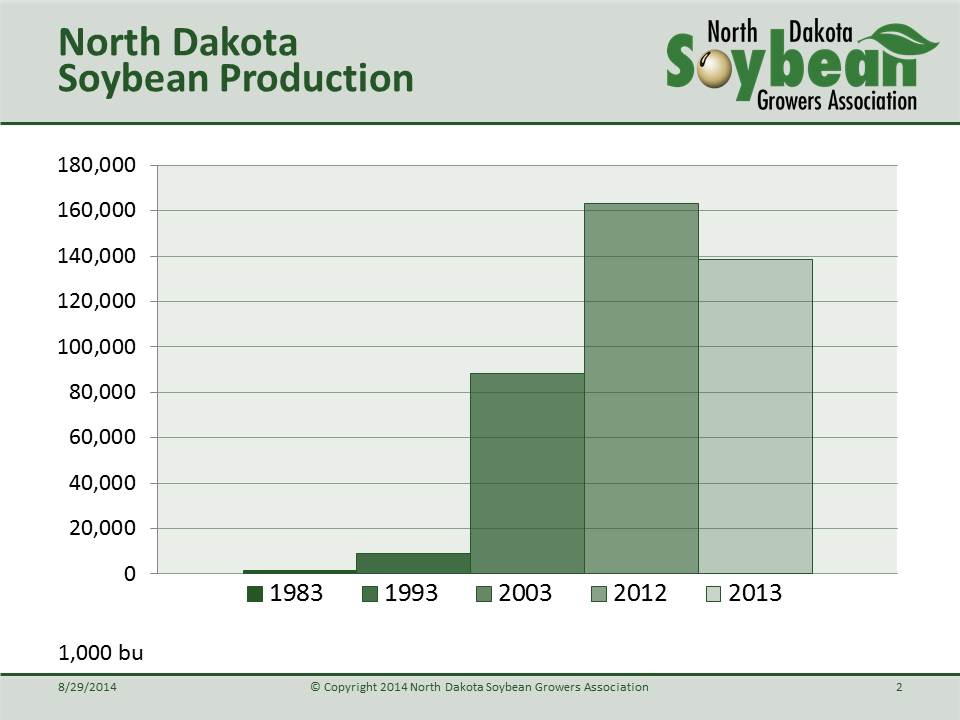 Soybeans are currently in high demand throughout the world, because it is a protein crop. Since 1990, the soybean demand increased 168%, while corn went up by 104%, and wheat 26%. In addition, researchers are finding more and more uses for soybeans. It is one of the most amazing crops, because it has a multitude of uses.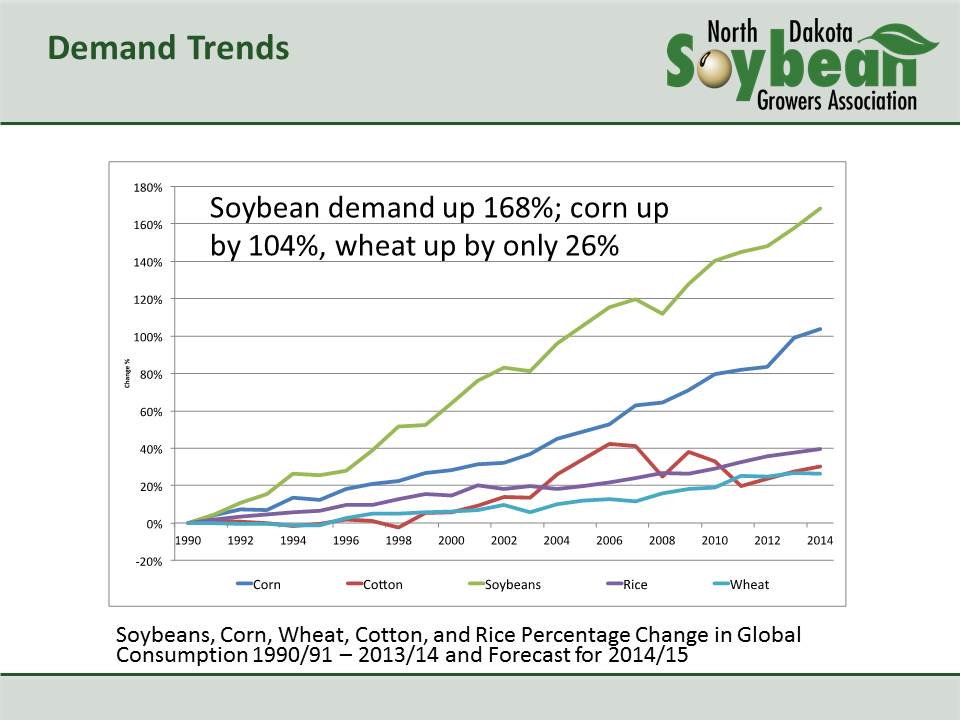 The vast majority of soybeans produced in North Dakota (94%) leave the state. Approximately 70-75% of soybeans are exported out of the U.S. As an interesting fact, North Dakota is China's closest supplier of soybeans. About three-fourths of North Dakota's soybean production is shipped to the Pacific Northwest ports to be shipped to Asia. Soybeans produced in other parts of the U.S. or even soybeans produced in Brazil must be shipped through the Panama Canal and it takes a much longer route, which means it takes more time.
When looking at a quick snapshot of the economic impact of soybeans in North Dakota, it is estimated that for each acre planted, approximately $893 in total economic activity is generated. Each bushel of soybeans produced about $29.22 in business activity in North Dakota and an average of $23.74 in tax revenue is generated.
Q: Ed Erickson Jr., can you tell us about your international work?
This summer I went to Morocco, as part of the USSEC. Our delegation consisted of a marketing specialist, a nutrition specialist, and myself as a farmer. We went to Morocco to talk to poultry producers about how they grow their poultry and how they can make more money doing it. They were really interested in talking to me, asking me questions, and getting my firsthand perspective as a farmer who is growing the soybeans. We all work together to meet with importers to get them to use our soybeans. Ultimately people buy from people and it is very important to establish relationships and educate people on soybeans across the world.