For discussion
October 2016
Heart-n-Soul Community Café: A place where all are welcome to enjoy a local, healthy, and delicious meal no matter their ability to pay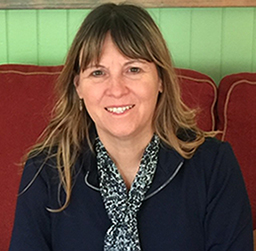 Leola Daul is the Founder of the first community café in North Dakota, Heart-n-Soul Community Café. The Heart-n-Soul Community Café originated from a love of finding the best in people in the community and great local food! Growing up in a family with many traditions and acts of caring from sharing a meal prepared from scratch with love, Leola has memories of food bringing family, friends, and even strangers together. Leola graduated from North Dakota State University with a Bachelor of Science degree in Home economics and a major in Child Development. Throughout her career, she has partnered with parents and the community to advocate for emotional, social, and academic success for children. She has worked with strength-based goal setting for families and focused on building partnerships with the community to break down barriers for all individuals. Her desire to meet the needs of all in the community is reflected in her work with the Heart-n-Soul Community Café. Leola is excited and passionate about growing the Community Café with the support and partnerships from a variety of stakeholders in the community.
The Heart-n-Soul Community Café is a community café that provides everyone in the Fargo-Moorhead community with the opportunity to enjoy meals prepared with fresh, local ingredients. The Community Café is a nonprofit café where all are welcome and served with dignity and respect regardless of a person's ability to pay. We currently operate many of our cafés at Josie's Corner Café, 524 Broadway N. Fargo, as a pop up café. As a pop up community café, we are using under-utilized kitchens and spaces to serve our meals. The current location is closed for business on days that Heart-n-Soul Community Café uses the space.
Typically, community cafés like Heart-n-Soul emphasize seven core aspects:
Pay-what-you-can pricing
Variable menu
Patrons choose own portion size
Healthy and seasonal foods
Patrons can volunteer in exchange for a meal
Volunteers are utilized to the greatest extent possible
Paid staff earn a living wage
The "pay what you can" pricing model used by the Café gives individuals and families who may be experiencing chronic, seasonal, or temporary food insecurity an opportunity to enjoy a local and nutritious meal with a price that is affordable to them. "Pay what you can" options include:
Pay what you can
Pay a suggested amount
Pay it forward to help a neighbor who may not be able to pay the suggested amount
Volunteer at the café or another organization in exchange for a meal.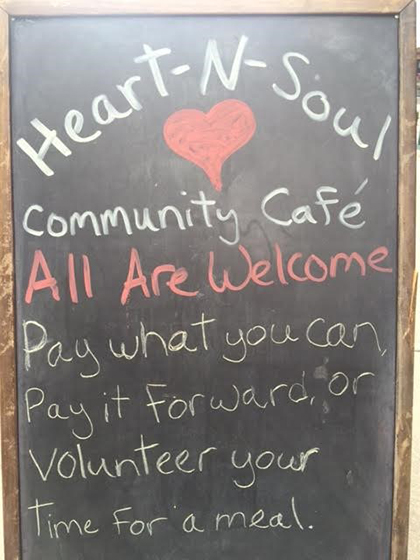 The hope is to have pop up community cafes throughout North Dakota, which build off of the community strengths and gives back to the community by buying locally sourced food.
Heart-n-Soul Community Café uses local resources and works to prevent food waste. Statistics show that on average over 27% of food produced never makes it to a dinner table in the U.S. (Great Plains Food Bank). The Café partners with local farmers to purchase food and contributes to building a sustainable community. Local community gardens and community members donate from their gardens and local farmers also sell at a discount or donate imperfect food.

The Community Café also prides itself on engaging community members to share their talents and utilizes volunteers to the greatest extent possible to put a meal on tables. examples of people who have donated their time include college students, service groups, organizations for serving and preparing food, and guest chefs from the community.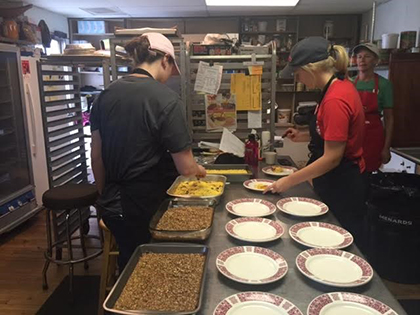 Dietitians from NDSU Real Food Challenge put on the finishing touches of a locally sourced egg bakes and oatmeal bakes. The students planned, prepared, and served the meal.
The mission of Heart-n-Soul Community Café is to reduce food insecurity and bring people together in the Fargo- Moorhead community. According to Feeding America, food insecurity exists when individuals lack sustainable physical or economic access to enough safe, nutritious, and socially acceptable food for a healthy and productive life. In North Dakota, 8% of the overall population (59,320 people) experienced food insecurity and 11.4% of children (19,070 children) experienced food insecurity in 2014 (Feeding America). In Cass County, ND 9.6% of the population and in Clay County, MN 10.0% of the population experienced food insecurity in 2014 (Feeding America).
Providing more than food
A community café is successful when everyone in the community comes together to enjoy a meal. Building social connections with community members is another important goal of the Heart-n-Soul Community Café. Research indicates the importance of connectedness for wellbeing for all ages. Professor of Psychology at the University of Chicago John Cacioppo and colleagues have identified three core dimensions of connectedness, which is linked to healthy relationships that people of all ages can focus on to improve social connectivity and negate feelings of loneliness:
Intimate Connectedness: Comes from having someone in your life you feel affirms who you are.

Relational Connectedness: Comes from having face-to-face contacts that are mutually rewarding.

Collective Connectedness: Comes from feeling that you're part of a group or collective beyond individual existence (Psychology Today – Maintaining Healthy Social Connections Improves Wellbeing).
Heart-n-Soul Community Café provides all three of these dimensions for the individuals in the community. Within the community café, our chefs feel affirmed in their skill of cooking, the guests and volunteers build relationships with one another, and everyone working together forms a collective connectedness. Volunteers' and patrons' strengths are utilized to benefit the Community Café, the community food systems, thereby the community at large.
The Café can help form new relationships by creating a space where individuals from all socio-economic backgrounds may gather around the concept of a shared meal. The Café also builds community and understanding of one another and acceptance. All in all, the gathering into one place and sharing of a meal is a good way to promote optimal physical and mental health.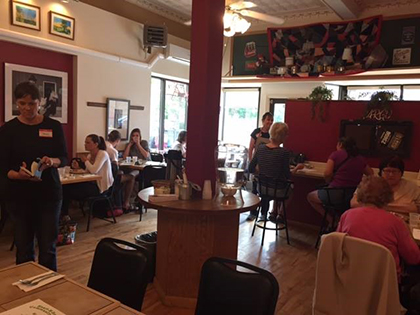 The pop up at Josie's Corner Café in Fargo. Come for a delicious meal and leave nourished – body, heart, and soul.
Frequently Asked Questions
How is a community café different from a soup kitchen?
Dining patrons from all social sectors patronize community cafés. Patrons come for the delicious and creative food, prepared by trained professional chefs and/or those with cooking or restaurant experience; they come to meet their neighbors and participate in compassionate action. At the community café patrons are served a meal at their table and it is usually impossible to distinguish what guests are paying for their meals. Most community cafés bring in an average of 80% of dining patrons who are able to donate the full suggested amount or more for their meal (One World everybody eats).
Who are your partners and volunteers in the community?
Heart-n-Soul Community Café partners with agencies that serve individuals and families who are experiencing food insecurity. This includes local and state extension offices and SNAP educators. We partner with our local farmers' market and with local farmers within 25 miles of Fargo-Moorhead for all of our produce, oats, wheat, and meat. A local café and a commercial kitchen has also offered their licensed kitchens and dining rooms for our pop up cafés.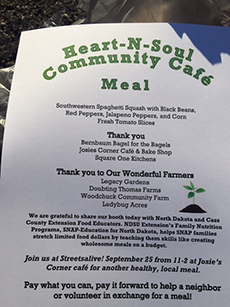 Heart-n-Soul Community Cafe partners with local farmers and organizations to prepare and serve a healthy, local delicious meal for all.
Heart-n-Soul Community Café also has partnered with Ugly Food of the North, a Fargo-Moorhead based organization committed to building a more sustainable Fargo-Moorhead food system through education, networking, and community organizing. Together Heart-n-Soul Community Café and Ugly Food of the North bring awareness and education of the use of imperfect food and food waste. every year, 40% of food resources go to waste while millions of Americans go to bed hungry. Instead of wasting it, why not make a meal for those who want it or need it (Natural Resources Defense Council's paper - Wasted).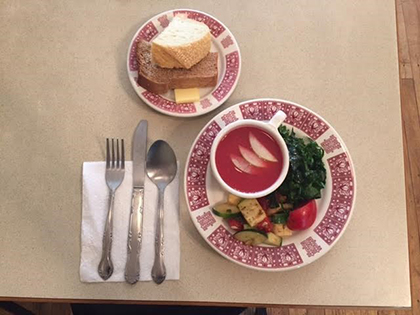 In late August, Ugly Food of the North put out a call for imperfect food to partner with Heart-n-Soul Community Café. Chef Chris Olson prepared Beet Apple Soup along with an Autumn Salad with produce from local gardeners and food gleaned from the Red River Market.
We have been an ongoing pop up community café for the local StreetsAlive events, where the streets of Fargo and Moorhead are closed, and the community has the opportunity to bike and walk through the street where games and information about healthy living are made available to the community.
In addition to connecting with local service groups, we are continually looking for college and university partnerships where students can serve and gain knowledge from their experience. We have students from a North Dakota State University - Real Food Challenge applying their skills they have learned as dieticians and from the pharmacy fraternity, Kappa Psi-Beta Sigma, volunteering with us as well. Fargo Cass Public Health plays a role with planning and promotion of the café and in overseeing dietetic interns that assist at the café.
It is also very important to note local resident volunteers have approached us. We would not be serving our community without their time and talents!
Why a pop up community café?
We are fortunate to have two licensed kitchens, and we want to serve all in our community. Currently, we are doing outreach throughout the Fargo-Moorhead community to reach individuals who may have transportation barriers and want to join us for a healthy delicious meal. In addition, we continue with the pop up café model to reach as many people as possible in our community. We hope to pop up in a community near you!
How do people find out when there is a pop up café?
We post on our "Heart-n-Soul Community Café" Facebook page and also share the information with many local nonprofits, faith communities, and businesses through email and social media. Upcoming pop up cafes will be held from 11:00 am to 2:00 pm on the following dates and locations:
Sunday, October 9 – Josie's Corner Café, 524 Broadway N., Fargo
Sunday, November 6 – Square One Kitchen, 1407 1st Ave N., Fargo
Sunday, November 13 – Inspire Innovation Lab, 423 Main Ave., Moorhead
Continue to check your email and our social media and website (Coming Soon!) for additional pop up café dates!
Do you plan to reach out to seniors?
Yes! The Great Plains Food Bank reports that 1 out of every 9 individuals served in North Dakota were people using a charitable feeding network, and of those, 11% were seniors. Seniors may also have health and dietary restrictions and need access to a meal on the weekend. Heart-n-Soul Community Café serves local, healthy, and delicious meals on many Sundays when senior centers are closed. In addition, we provide opportunity for social connection and volunteerism, which research has shown contributes to good health and wellbeing as we age. We can see the use of the café as a resource to help seniors, and therefore, we are planning to reach out to seniors in the future.
How will you include families with children?
Right now we do have families with children coming to the café. We recently partnered with Inspire Innovation Lab, which serves children in the area with day camps and programs promoting learning and fun through STeAM (Science, Technology, engineering, Arts and Mathematics) education. We will continue to look for partnerships to continue to serve children, as the benefits of eating healthy at a young age are carried into adulthood.
How can we help?
We invite you to come join us at Heart-n-Soul Community Café and bring a friend. And if you are interested in learning more or partnering with the Community Café, please contact heartsoulcc@gmail.com.
We encourage you to come experience the Café and leave with a full belly and nourished body, heart, and soul.
Check out Heart-n-Soul Community Café's:
Facebook page – @HeartnSoulCommunityCafe
Website – COMING SOON!