For discussion
January 2019
Creating Community with the use of Technology and Youth Leadership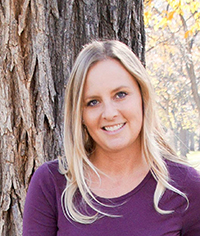 Lindsey Leker, PhD, serves as the lead specialist for 4-H Science programming for youth ages 5-18 and the role it plays in their lives including career development. She also serves as the lead specialist for defined aspects of the organized camping program, the majority of which takes place at the North Dakota 4-H Camp near Washburn, North Dakota. As part of North Dakota State University Extension, 4-H provides hands-on, real life experiences through projects, activities, and events. The program is available to all youth and offered in every county in North Dakota. 4-H is the largest and the only research based youth organization in the state.
IStarting in 2017, youth leaders have been making a change in their communities through innovation and leadership as a result of a partnership between 4‑H and Microsoft, youth can lead positive change in a digital-driven world. North Dakota has been identified as a state that lacks access to digital technology resources. Many families and communities in rural North Dakota do not have reliable internet thus limiting their abilities and knowledge with current technology.
Through an opportunity called, "The 4‑H Tech Changemakers initiative", Microsoft is equipping young people with the knowledge, resources, and empowerment to lead in their communities through technology.
Teens across the country are combining their skills with the power of technology to bring people together, solve problems, and create economic opportunities in their communities. These tech-savvy and community-oriented young people are called Tech Changemakers. Maxine Nordick, a former Cass County extension agent, selected older 4-H'ers of Cass County who have technology interests to be part of the grant.
The 4 H Tech Changemaker Contest was sponsored by Microsoft as part of National 4 H Council and Microsoft's combined efforts to equip young people with the digital skills and resources they need to make a positive impact in their communities.
Cass County 4-H in North Dakota was lucky enough to be part of this contest, and was awarded a $23,000 grant from Microsoft in 2017 and 2018. The grant allows older 4-H youth to plan and lead digital activities such as computer coding, robotics, and agricultural technology in North Dakota, specifically in Cass County.
One reason Cass County was awarded the grant is because the Microsoft headquarters are located in Fargo. After receiving the grant Governor Doug Burgum held a press conference in Fargo with Microsoft chief financial officer, Brad Smith, explaining the opportunities associated with the grant for North Dakota.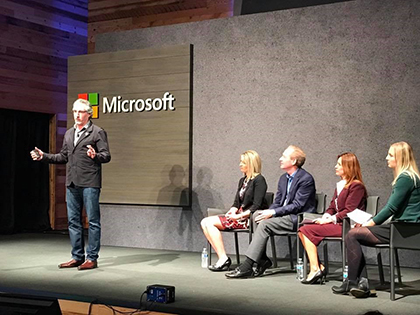 Microsoft press conference in Fargo. Governor Doug Burgum, Taya Spelhaug, Brad Smith, Kirsten Baesler, and Lindsey Leker. .
As part of the grant, Cass County 4-H youth between the ages of 13 and 22 were recruited to serve as youth leaders. The grant is unique in that the youth leaders have the autonomy to plan the activities and programs they lead within Cass County. As part of this planning process, youth leaders have traveled to Redmond, WA and Washington D.C. to network and plan with legislators, Microsoft staff, and other state youth leaders that received the grant.
The initiative that the Cass County 4-H Tech Changemakers have decided to pursue is to create community through activities using technology, specifically computer coding and application development. The Cass County youth leaders pointed out a divide between current residents of Cass County and new residents of Cass County. The Tech Changemakers have focused on helping new residents feel more confident in our community by teaching digital activities, and incorporating job opportunities associated with the digital activities. The Tech Changemakers expressed interest in working with Lutheran Social Services, CHARISM (A neighborhood support center that offers support services), and English Language Learners (ELL) professionals in Fargo-Moorhead schools. The Tech Changemakers chose these organizations because of their commitment of service to new residents and underprivileged populations.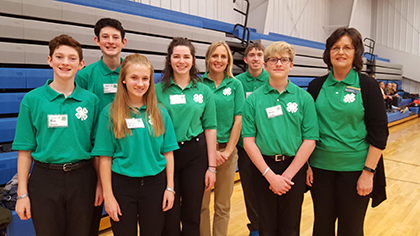 Lindsey Leker, and Cass County agent, Maxine Nordick, with Cass County 4-H youth leaders at the Hour of Code Activity in Kindred, ND.
In 2017, the older 4-H'ers worked weekly with students from two middle schools - Carl Ben Eielson in Fargo (as part of the Fargo CHARISM program) and Cheney in West Fargo (as part of an after school STEM program).The 4-H'ers also were involved in Microsoft's Hour of Code event for elementary students at Kindred (N.D.) School. The elementary students learned about coding, which is the language that allows us to create computer software, apps, and websites.

Lindsey Leker working with Carrington youth on Drone technology.
In 2018, the older 4-H'ers expanded their weekly work with middle school students from Carl Ben Eielson and Cheney to include LEGO robotics and a video game challenge. Part-time coding and app development staff have also been hired to help the Tech Changemakers lead robotics and coding activities. Lindsey Leker has been expanding the grant to other counties in North Dakota by traveling to counties outside of Cass County. Lindsey has been focusing on bringing digital technology to rural communities by facilitating informational sessions on Scratch programming (an educational coding program for youth of all ages) and how programming is used in drone technology.
The future of the grant is focused on expanding grant funds and efforts to extend technology to rural communities in North Dakota. This includes access to wireless and internet technology and also educating youth on careers and opportunities in technology, agriculture, and engineering.
We are always looking for new youth leaders (Tech Changemakers) as part of the Microsoft and 4-H grant. Youth leaders must be interested in joining 4-H, between the ages of 13 and 22, and interested in working with youth and technology. Please contact Lindsey Leker with questions or inquiries.
Contact information:
Center for 4-H, NDSU Extension
4-H website: https://www.ndsu.edu/4h/
1400 Centennial Blvd, Family Life Center 219
Fargo, ND 58108
701-231-7251
Author contact information:
Lindsey Leker, State STEM Specialist
Lindsey.leker@ndsu.edu
701-231-7039