For discussion
December 2014
Giving the Gift of Hope for the Holidays
By Sharz Miar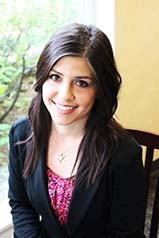 Sharz Miar, YWCA Cass Clay Communications Manager Sharz Miar is the YWCA Cass Clay Communications Manager. She earned her degree from the University of Minnesota Twin Cities and is working towards an additional degree in graphic design. Prior to relocating to Fargo, Sharz worked for a start-up company in Minneapolis.
At the YWCA Cass Clay, we operate the largest Emergency Shelter for women and children in North Dakota and northwestern Minnesota. In 2013, we provided 21,892 nights of shelter to 1,339 women and children. Women and children who seek safe shelter and supportive services with us are homeless; the number one reason they find themselves at our door is domestic violence, followed by economic devastation. In the last 12 months, 91% of those we have served had experienced violence.
A woman working to escape poverty and violence needs more than just a safe place to sleep - she needs support and guidance to truly change her life and reach her full potential. Without judgment, we offer safe shelter, food, clothing, childcare, education and employment services, and transportation assistance on each woman's personal journey to independence. Our unique empowerment approach and comprehensive programs, designed to break the cycles of poverty and violence for women and their families, have made the YWCA an enduring resource in our community.
As we embark on another holiday season at the YWCA Cass Clay, we begin preparing for our annual Unique Boutique holiday shopping event on December 12, 2014. For many families staying with us at the Shelter or in Supportive Housing units, purchasing gifts for their loved ones simply isn't an option because of other critical financial priorities like food, clothing, and paying off debt. This event gives the women we serve the opportunity to "shop" for family members free of charge, making their holiday season a little brighter. The boutique features a variety of gifts to choose from, all generously donated by individuals, organizations, and churches in our community.
At Unique Boutique, we want to make the shopping experience memorable for all of the families staying with us. Staff and volunteers unite at the Shelter to help organize the boutique, wrap gifts, and assist participants as they select gifts for their loved ones. This is a special time for women and children staying with us at our Shelter and everyone involved, which is why we continue to host this event year after year. Last year, one woman who never had the means to buy holiday gifts for her family told us that her experience at Unique Boutique was incredible, and for the first time in a long time, she felt loved. It is heart-warming moments like this that inspire us at the YWCA Cass Clay. As we look to a new year in 2015, we will continue providing hope and the tools each woman needs to build a life free of poverty and violence.
Please visit www.ywcacassclay.org to learn more about Unique Boutique and the YWCA Cass Clay.