For discussion
September 2015
AARP - Discover Your Possibilities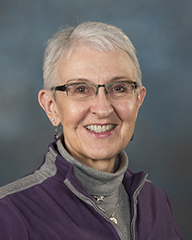 Janis Cheney is the AARP State Director in North Dakota. Prior to joining AARP, Janis worked for the North Dakota Insurance Department as the Director of the Life and Health Division and the Senior Health Insurance Counseling Program. She also served in the Governor of North Dakota's office as the Director of Special Projects and Assistant to the Chief of Staff. In addition, Janis previously worked as a writer and multi-media specialist for the Basin Electric Power Cooperative. She has a BA from the University of Massachusetts and a MA from North Dakota State University.
How well do you know AARP? We are a nonprofit, nonpartisan organization of millions of people age 50 and older who believe that, as we gain life experience, we also gain new perspectives and discover new possibilities.
In North Dakota, the AARP team consists of talented staff and volunteers who work diligently to share reliable, life-enhancing information on a variety of topics like planning for retirement, avoiding fraud and scams, caregiving for loved ones, brain health, exploring new careers and work, and re-imagining life opportunities. Our work with and for our 85,000 members is focused on the AARP vision of "A society in which all people live with dignity and purpose, and fulfill their goals and dreams," and the mission supports that vision as we work to "…enhance the quality of life for all as we age. We champion positive social change and deliver value through advocacy, information and service."
Our motto, articulated by our founder, Dr. Ethel Percy Andrus, echoes our vision in its directive- "To serve, not to be served." It is often through service that we find dignity and purpose, and there is great satisfaction in using our experience and wisdom to fulfill not only our own goals and dreams, but the goals and dreams of others as well.
There was a time – not so long ago – when people believed and expected that, as they aged, their opportunities would diminish. Indeed, many people didn't even get to age all that much. Around the time that Dr. Andrus founded AARP, more and more people were finding themselves anticipating the life stage called retirement, but again, it was a place and a perspective largely defined by aging and doing less.
Fast forward to 2015 and we are much more focused on exploring possibility. Times have changed dramatically over the last half-century, and there is increasing recognition that our hopes, dreams, goals, and desires need not be limited by age. We recognize that as we grow older, our possibilities for financial security, good health, meaningful work, discovery, and living life to the fullest should not be limited or reduced, they must be ageless.
There are so many ways we, as we age, can have an impact on our community, our state, and even the world. In the words of Ethel Percy Andrus, "Each of us has powers of which we are unaware, each of us has a circle of influence. Our limitations are the product of our own thinking and self-evaluation. If only we think, we can!"
Each new day and year brings challenges we have not yet foreseen, but if we believe we can make a difference, we can. It isn't necessarily easy or comfortable, but it is important. We are here for such a short time – whether in the context of a project or job, or in terms of our time on the earth – and we owe it to ourselves and each other, and to our children and their children to make the most of our time and to leave the world, or our little corner of it, better than we found it.
AARP in North Dakota continues to have a significant impact through a regular, active presence on state and federal legislative issues as well as an unwavering commitment to strengthening and protecting Social Security and Medicare for all generations. Our work often spans generations as we recognize the importance of family connections and the opportunities presented by advances in technology.
Through regular member and volunteer surveys, we keep up-to-date on the issues and concerns that matter most to our members. In addition, North Dakota Compass has become a great resource for helping us consider population trends and changing demographics in our state.
At AARP we value and encourage volunteers to take part in our organization. As we move into the second half of 2015, we have two interesting and important opportunities for volunteers to consider:
Fraud Fighters are people willing to present fraud and scam information to small groups and clubs in communities across North Dakota. We'll be conducting a "train-the-trainer" workshop on AARP's Fraud Watch Network on October 6, at our office in Bismarck, and we invite you to consider this as a way you can make a difference for people in your community. You'll be provided with valuable, up-to-date resources and information to share with people so they can protect their resources.
Life Reimagined® Guides will help people explore and discover their possibilities, focusing on what they really want to do. Life Reimagined is a new way of thinking about what's next in life. It is powerful step-by-step approach to help people prepare for change and accomplish their dreams. Guides will be equipped to facilitate Life Reimagined check-ups with various community groups and personal networks. Life Reimagined check-ups are two-hour self-exploratory sessions that use a structural framework to help people figure out what they want to do next. The next Life Reimagined training will take place October 15-16 in Fargo, following the Northern Plains Conference on Aging and Disability.
Those attending either training will be reimbursed for travel costs, including hotel, meals, and mileage reimbursement. Your efforts can have a real impact in your community and region.
For more information, please contact Doreen Riedman at driedman@aarp.org or 701-355-3643. You can also find us at www.aarp.org/nd or like our Facebook page at www.facebook.com/AARPND .