For discussion
December 2019
North Dakota needs you to complete Census 2020 to receive equitable funding when every resident is counted.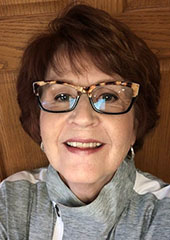 Louise Dardis had a career of 40+ years in education, with 34 years in the West Fargo School District and 20 of those years as an administrator. The last 14 years Louise served as an assistant superintendent in the fastest growing district in the state. Upon retirement, she worked for five years as the North Dakota Program Manager of Succeed 2020, a $25 million education and workforce grant from Hess Oil Corporation geared to developing education programs that inform and assist students in becoming college and/or career ready. Currently, Louise works with several area nonprofit boards and joined the ND Census 2020 team as state co-chair in May 2019.

Counting everyone living in North Dakota
Census Day, April 1, 2020, is drawing closer. This date initiates the count of all residents in North Dakota at the location in which each person spends most of their time – where they live. This is true for college students living in dormitories or off-campus housing, military men and women living in barracks or off-base housing, individuals currently in prisons, group homes, homeless situations, nursing homes or assisted living facilities, and individuals living in multiple dwellings or individual homes. Article 1, Section 2 of the U.S. Constitution dictates the count of residents to occur every ten years, and mid-March through June 2020 is the designated time for all residents to be counted.
The Census Bureau protects your data
Census information is very secure and restricted to usage guidelines. The information from Census respondents will never be shared with other government agencies, and the law reads that there is up to a $250,000 fine and/or up to five years imprisonment for wrongful disclosure of Census data. The collected data remains embargoed or restricted for 72 years (Title 44, U.S. Code), which is the average lifespan of an individual. That means the 2020 Census data reported on a one-year-old child will remain confidential in the federal Census Bureau until that child reaches the age of 73 or year 2092. Reports and/or data from the Census Bureau will be published in a manner that no personally identifiable information is disclosed. For a state with a low resident count, such as North Dakota, the reports and/or data are narrowed and published to address regions, geographic areas, or the entire state in order that no respondent's personally identifiable information can be determined within a given community or neighborhood.
Questions asked and their importance
The Census asks only 10 simple, non-invasive questions related to people living or staying in a home – name, phone number, age, gender, race, number of persons in a household, and his/her relation to the homeowner or renter. There is confusion at times with the American Community Survey and Census 2020, which run concurrently. As stated, there are only 10 questions on the Census, but the American Community Survey is much longer and has a greater specificity to its questions. Information from both the decennial Census and the American Community Survey are important as both provide information for community and business development, community expansion and/or infrastructure planning, emergency preparedness, job creation and needs, building of schools or hospitals to meet student population needs, etc. An accurate, complete count of residents from North Dakota Census 2020 will provide information to make informed decisions by both the public and private sectors. If you reside in our state, drive on our roads, have children that attend our schools, use health services, purchase goods or services in our businesses – you benefit from completing a Census form and the decisions derived from using the data/reports.
North Dakota Census 2020 Task Force
North Dakota has taken an active role in Census 2020. A state level Census 2020 Task Force established by Governor Burgum, headed up by co-chairs Louise Dardis and Linda Svihovec, and supported by the Department of Commerce, developed a subcommittee structure and plan that encourages every resident to be counted. These State Task Force volunteers work with a marketing firm to plan messages specific to our State's undercounted populations – Native Americans, Bakken oil field workers, college students that are legal residents elsewhere, recently arrived immigrants or refugees, Federal military that may be legal residents elsewhere, and retired snowbirds with more than one residence. Although the messages are tailored to these specific undercounted populations, the message is the same – BE COUNTED! COMPLETE the CENSUS 2020 FORM!
Complete Count Committees
At yet another level, Complete Count Committees comprised of volunteers have been established at the local, county, and/or regional levels across the state. These volunteers are the trusted voices and community champions that represent local business, government, education, religious and community organizations, nonprofits, etc. They have been tasked to brainstorm ideas, develop, and implement local or regional ideas, solutions, messages, and activities to help make sure everyone responds to the Census form when it arrives at their homes. They promote the message of BE COUNTED! COMPLETE the CENSUS 2020 FORM!
Why we conduct this count
Why is there such a big push to have every North Dakota resident counted in Census 2020? The Census determines equal representation in the political process. Although the North Dakota Congressional delegation will not change, two senators and one representative are the minimum for a state, the local political districts may change as they are based upon resident counts from the most current Census data. The results or participation in the Census 2020 will determine your local representation at the state level for the next 10 years. BE COUNTED! COMPLETE the CENSUS 2020 FORM!
Secondly, the Census establishes North Dakota's proportion or share of all federal funds for the next 10 years. If our State residents are undercounted, the State receives less of the share of federal funds that support programs like Medicaid, Head Start, SNAP, WIC, Low Income Energy Assistance, education, highway and infrastructure construction, etc. If our statewide Census is off by 0.1 percent, $15 million is lost over the next ten years. In fiscal year 2015, the Federal obligation for North Dakota was $1.45 billion. These federal funds are based on head counts, so everyone needs to complete the census – BE COUNTED! COMPLETE the CENSUS 2020 FORM!
How can you help North Dakota?
• Be a Community Champion – be a positive voice in the community that promotes a high Census 2020 count to family, friends, neighbors, co-workers, organization members, etc.
• Be a Community Champion - join your local or regional Complete Count Committee (CCC) of volunteers. Contact your city auditor for information.
• Be a Community Champion – apply for a paid Census position in your area. Apply at 2020Census.gov/jobs
• Become knowledgeable of the Census at both the Federal and State Levels: https://www.commerce.nd.gov/census/ https://www.nd.gov/news-events/census-2020
• BE COUNTED! COMPLETE the CENSUS 2020 FORM!