Featured Article
Strapped for Safety: Exploring Insights into Car Seat Knowledge Among North Dakota Mothers.
Samuel Faraday Saidu and Chelsey Hukriede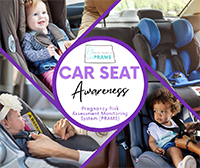 Samuel Faraday Saidu – is a student at North Dakota State University, pursuing a master's degree in public health with a specialization in Epidemiology and a sub-plan in maternal and child health. He currently works as a Graduate Research Assistant at the Center for Social Research (CSR). Samuel holds a bachelor's degree in public health with an emphasis on Health Education and Promotion from Brigham Young University-Idaho..
Chelsey Hukriede is a research specialist with the CSR, providing support to various projects. She is also the Project Coordinator for North Dakota PRAMS, SOARS, and the Fatherhood Experiences Survey. Chelsey received her master's degree in Sociology from the University of North Dakota.