Data Highlight
With more diversified economies, Fargo and Grand Forks metropolitan areas continued to grow in 2016 despite the drop in state GDP.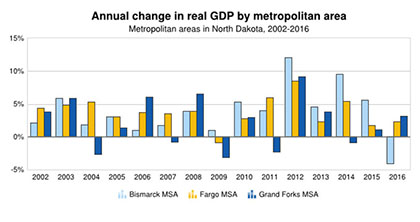 Featured Article
Through scientific eyes: Building homes and hope with Lake Agassiz Habitat for Humanity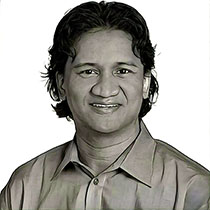 Josh Hoper has served on the Lake Agassiz Habitat for Humanity board of directors for about 6 of the nearly 18 years he's lived in Fargo. He's a scientist at heart, having earned a Bachelor of Science degree with a major in Natural Sciences and a minor in Psychology from the University of North Dakota. His career has spanned a variety of sectors, with the most recent 17 years in the software and consulting businesses. His current business is a consulting practice whose purpose is to empower entrepreneurs to make fearless decisions through financial analysis, budget creation and review, virtual CFO services, and business coaching. He is a Director Consultant for BNI (Business Network International) of Minnesota, providing support and education for the BNI chapters in the Red River Valley. He is a facilitator for Co.Starters, an education program for entrepreneurs who want to turn their concept into a business. He's also on the organizing team of GROUP THINK, a community conversation platform, where community members gather to hear interesting speakers talk about various topics to spur enlightened discussion in the community. Josh joined the board of directors of Lake Agassiz Habitat for Humanity in 2012 and has served as board secretary in 2013, vice president in 2014 and 2015, and president since January of 2016. In this article, Josh gives a brief overview of the Lake Agassiz Habitat for Humanity organization and how he tries to find ways to promote the importance of data to others in the organization.