Welcome To
North Dakota Compass
By tracking and analyzing trends in areas that affect our quality of life, Compass gives everyone in our state – policymakers, business and community leaders, and concerned individuals who live and work here – a common foundation to act on issues to improve our communities. More >
For Discussion

Growing a Food Cooperative from the Ground Up
Heidi Demars is the Outreach Coordinator for the BisMan Community Food Co-op. She was selected by the Bush Foundation as a 2013 Bush Leadership Fellow and is working to increase food literacy in the community and to create connections and strong relationships between consumers and producers in the region.
Ask a Researcher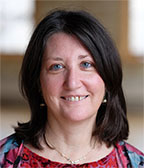 Community Food Systems: Food Charters and More
Abby Gold is an Associate Director for the Master's in Public Health Program at North Dakota State University and a Nutrition and Wellness Specialist for NDSU Extension Service. She received her doctoral degree in Communication from NDSU and her Masters of Public Health from the University of Minnesota. Her research areas of interest include: nutrition and health education, food access, health promotion and communication, and diverse populations. In this article, she describes the food landscape in the United States and in North Dakota and discusses four promising community-grounded strategies to build a community food system.