Welcome To
North Dakota Compass
By tracking and analyzing trends in areas that affect our quality of life, Compass gives everyone in our state – policymakers, business and community leaders, and concerned individuals who live and work here – a common foundation to act on issues to improve our communities. More >
For Discussion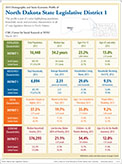 Have the Facts about your State Legislative District?
Once again, North Dakota Compass and North Dakota KIDS COUNT have teamed up to create demographic and socio-economic profiles for each of the 47 North Dakota State Legislative Districts (2013-2022 boundaries). Check out the population, household, social, and economic characteristics for your legislative district. Each profile compares district information with North Dakota and the United States. The goal of these publications is to inform, educate, create awareness, and generate discussion. These profiles are downloadable and completely free for anyone who is interested.
Ask a Researcher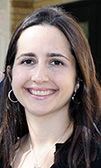 The Science of Suicide Prevention
Kathryn Gordon is a clinical psychologist in the NDSU Department of Psychology. Her program of research investigates the impact of emotion dysregulation and interpersonal stressors on disordered eating and suicidal behavior. In this article she provides some insights into the scientific theory behind the act of suicide, the importance of the research, and how information can be used to help in suicide prevention.