For Discussion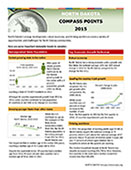 Compass Points – 2015! A New Feature on North Dakota Compass
North Dakota Compass is proud to introduce a new feature to the project- North Dakota Compass Points! The newly released 2015 Compass Points includes notable trends, key demographics, and a dashboard look at measures of progress for 10 topic areas represented on the website and gives a snapshot of the quality of life statewide. The North Dakota Compass team looks forward to sharing the Compass Points with communities, organizations, and agencies throughout the state.
Ask a Researcher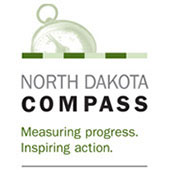 Tell a Story with Data! The Importance of Cradle-to-Career Success
North Dakota Compass website sets a standard for unbiased, up-to-date, and credible data and information. Moreover, by presenting data in a variety of topics that define quality of life it provides a broader picture and can offer solutions to complex issues. In this article, the North Dakota Compass team illustrates the impact of an increasingly diverse population as they develop and enter adulthood and the workforce. Understanding trends in the child population helps us plan for and improve student development, learning, and accomplishments, and ultimately, the future. An investment in North Dakota's young children is an investment in the future economy and workforce of the state. The more we know about our children, the better equipped we are to make smart investments in our future.