Welcome To
North Dakota Compass
ND Compass provides and promotes the use of credible data to improve the quality of life in North Dakota.
A project of the Center for Social Research at North Dakota State University, ND Compass provides reliable and consistent information needed by North Dakota's community, policy, organizational, non-profit, and business leaders who must plan for the future in an environment of continuous change. More >
Data Highlight
Population change in North Dakota, especially in the western counties, is highly influenced by the oil and gas economy.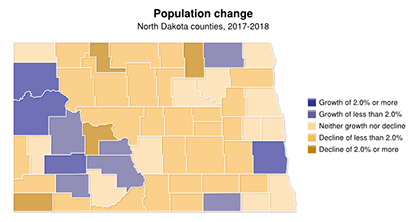 Featured Article
"Giving rope and pulling it back": Parental dilemmas to prevent adolescent substance use
Shweta Arpit Srivastava (formerly Shweta Sharma) is a doctoral candidate in the Department of Communication at North Dakota State University. Dr. Ann Burnett is a Professor of Communication and Director of Women and Gender Studies at North Dakota State University.