Welcome To
North Dakota Compass
ND Compass provides and promotes the use of credible data to improve the quality of life in North Dakota.
A project of the
Center for Social Research
at
North Dakota State University
, ND Compass provides reliable and consistent information needed by North Dakota's community, policy, organizational, non-profit, and business leaders who must plan for the future in an environment of continuous change.
More >
Data Highlight
Percent of North Dakota young adults with a bachelor's degree or higher continues to push upward.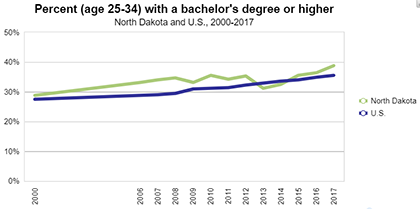 Featured Article
Statewide Group Working to Improve Oral Health for Older Adults in North Dakota

Dr. Nancy Hodur is the Center for Social Research Director at North Dakota State University. Nancy has over 25 years of professional experience in applied research, public policy, and outreach education. At the Center, Nancy and other staff evaluate a number of the North Dakota Department of Health's Oral Health Programs. In this article, Nancy gives a brief overview and resources of one of these evaluated oral health programs that works towards improving oral health care for older adults living in long-term care facilities in North Dakota.