Featured Article
COVID Hardship on North Dakota Households: New study on the impacts on North Dakota households that lost employment income during the pandemic .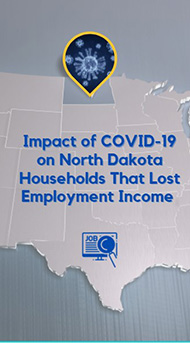 Kendra Erickson-Dockter is a research specialist with the Center for Social Research (CSR) at North Dakota State University (NDSU). Kendra has been with the Center since 2006 and served as project director of North Dakota Compass from 2013 - 2019. Currently, Kendra provides support for numerous CSR projects, such as North Dakota Compass and North Dakota Pregnancy Risk Assessment Monitoring System (PRAMS). Kendra received her master's degree in Sociology and is a doctoral student in Human Development at NDSU. Ina Cernusca is the project director for North Dakota Compass and a research specialist within the CSR. With extensive experience in market and social research, she has participated in many projects that involved quantitative and qualitative research and outreach activities. Ina earned her MBA from the University of Missouri and worked as a marketing research specialist with the Center for Agroforestry at the University of Missouri prior to moving to North Dakota.
In this article, the authors highlight a new study and the new associated data dashboard developed by North Dakota Compass and the Center for Social Research at NDSU.