Data Highlight
About half of North Dakota adults received at least one dose of the COVID-19 vaccine as of end-April, but one-fourth of adults are hesitant to receive the vaccine.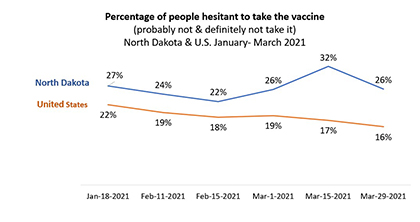 Featured Article
NEW! PRAMS Points – A Brief Infographic using North Dakota PRAMS Survey Data.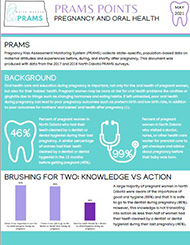 The North Dakota Department of Health and the Center for Social Research (CSR) at North Dakota State University (NDSU) continue their collaboration - with the North Dakota Pregnancy Risk Assessment Monitoring System (PRAMS), a project that focuses on gathering state-specific data on maternal attitudes and experiences before, during, and shortly after pregnancy to improve the health of mothers and infants. Chelsey Hukriede is a research specialist at the CSR and serves as the Project Coordinator for two statewide surveillance projects, PRAMS and North Dakota Study of Associated Risks of Stillbirth (SOARS). Chelsey earned her master's degree in Sociology from the University of North Dakota. Kendra Erickson-Dockter is a research specialist with the CSR and provides support for projects, such as PRAMS, SOARS, and North Dakota Compass. Kendra received her master's degree in Sociology and is a doctoral student in Human Development at NDSU.