Featured Article
A look inside the 2021 Compass Points.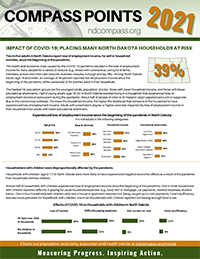 North Dakota Compass provides and promotes the use of reliable, accurate, and unbiased demographic, economic, and socio-economic data to support informed decision-making and community engagement in North Dakota. The North Dakota Compass team promotes the use of quality data through presentations, workshops, newsletters, and social media.
This article highlights the notable trends and data points that appear in the newly released 2021 Compass Points.